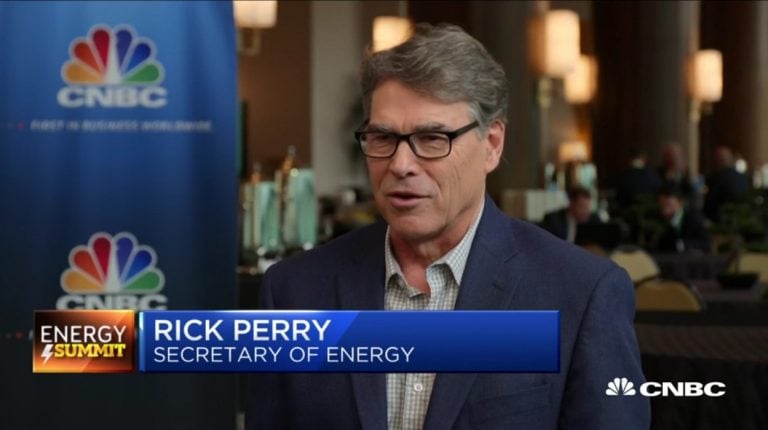 First On CNBC: CNBC Transcript: Energy Secretary Rick Perry Speaks with CNBC's Brian Sullivan at CERAWeek by IHS Markit Today
WHEN: Today, Monday, March 11, 2019
WHERE: CNBC's "Squawk Alley" – live from CERAWeek by IHS Markit in Houston, TX
Gates Capital Management Reduces Risk After Rare Down Year [Exclusive]
Gates Capital Management's ECF Value Funds have a fantastic track record. The funds (full-name Excess Cash Flow Value Funds), which invest in an event-driven equity and credit strategy, have produced a 12.6% annualised return over the past 26 years. The funds added 7.7% overall in the second half of 2022, outperforming the 3.4% return for Read More
Q4 hedge fund letters, conference, scoops etc
The following is the unofficial transcript of a FIRST ON CNBC interview with Energy Secretary Rick Perry and CNBC's Brian Sullivan on CNBC's "Squawk Alley" (M-F 11AM – 12PM) today, Monday, March 11th, live from CERAWeek by IHS Markit in Houston, TX. The following is a link to video of the interview on CNBC.com:
Watch CNBC's exclusive interview with Energy Secretary Rick Perry
MORGAN BRENNAN: It is a perfect time, speaking of, to get some perspective from a member of the President, President Trump's cabinet. Let's head to Houston now where Brian Sullivan is sitting down with Energy Secretary Rick Perry. Brian.
BRIAN SULLIVAN: Morgan, thank you very much. I am pleased be joined here at the CERAWeek conference by Secretary Perry. Secretary, thank you very much.
RICK PERRY: Glad to be here.
BRIAN SULLIVAN: Wow, a lot to get to in a short time. Let's jump right in. Trade negotiations are under way. I know that's not necessarily your domain, but energy is a massive part of our exports and imports to and from China. How does energy's role in trade effect the ultimate outcome?
RICK PERRY: Now, obviously that is Ambassador Lighthizer's world, and he does a fabulous job by the way, a very good negotiator. It is part of the mix. It may not be the driver, but it's always hanging out there as part of the matrix if you will. So very important. And America now has the ability to use that in a very positive way when it comes to trade negotiations.
BRIAN SULLIVAN: Is it sort of a lever that we have to pull?
RICK PERRY: Yeah, sure it is.
BRIAN SULLIVAN: Specifically, liquified natural gas?
RICK PERRY: Well, across the board, when you really think about it, the U.S. is -- whether it is our technology on the renewable side, whether it's small modular reactors in the nuclear field, obviously the fossil fuels, as well. But all of it plays a role. America is a leader in the energy sector, all of those sectors, not just in fossil fuel side. Obviously, that's really changed with our ability to deliver 34 countries, now 5 continents of LNG. It matters and it matters a lot.
BRIAN SULLIVAN: Yeah, and you guys have recently fast tracked some LNG projects. But here's the thing, Secretary. The demand numbers and the export numbers are off the charts. However, there's about 20 more projects that are in some phase in the United States. Is there at some point where we have to slow down?
RICK PERRY: Not in my estimation. I mean the fact is this is a fuel that will clean up the environment. As we look at India, as we look at China, these massive economies, we need probably more projects than what we've got on the books today to be able to meet that demand.
BRIAN SULLIVAN: Here's the thing: all of those resources, many of them are in the United States. We need to get them from where they are taken out of the ground, to the LNG or the crude oil export ships. To do that, we need roads, people, trucks, pipelines. You and I have talked about it. Are we any closer to a real energy infrastructure deal from the federal government?
RICK PERRY: Yeah, I think so. And the states really matter on this, as well. So, you know, it's one of the things I'm a bit critical about: states that try to block pipelines, like New York, for instance. I mean, they've got a real need to be able to have that -- the diversity of supply in their state, yet won't allow pipelines across their states. States like Texas, states that have the resource there to be able move it to the export facilities, they are going to get ahead economically and they are going to get ahead substantially economically because they have that mentality of we need to build the infrastructure. Big projects out there. It's going to take a while. In the Appalachian region, the President is working with a group of people in those four states, in particular: Pennsylvania, Ohio, Kentucky, West Virginia, to build an infrastructure there, sitting on top of the Marcellus, on top of the Utica, take that natural product, crack it, be able to add value to it, and then move it to the ports. That is happening. It is in the works. The federal government and state governments—they need to just, in some cases, get out of the way and let the private sector come and do these things. It is one of the reasons we tried to speed up our permitting process. We need a couple of FERC commissioners to get the permits done. But once that's done, grab a deep seat. Because we're going to take off and go at a great speed.
BRIAN SULLIVAN: So, to be clear, Secretary, do you believe that we will get some kind of a federal spending plan specifically designed to target energy infrastructure this year?
RICK PERRY: Yeah, I think people get a little confused sometimes about thinking that it has to be a federal spending plan to make this work. Frankly, what the private sector would like to do is if government will speed the process up, if you'll get out of our way, if you'll get us the permits, we'll take care of the spending side of it.
BRIAN SULLIVAN: So it could be continued deregulation, continued fast tracking of these permits.
RICK PERRY: Correct.
BRIAN SULLIVAN: Secretary Perry, a real pleasure. We've got to stop meeting like this.
RICK PERRY: Good to see you. Good place to come enjoy some barbeque while here.
BRIAN SULLIVAN: Thanks very much. Secretary of Energy, Rick Perry.