Emerging market equities are the best place to invest for the next decade according to Jeremy Grantham, the 79-year old co-founder of GMO, the Boston-based asset-management company.
In a letter to investors sent out last month Grantham told investors, "What I would own is as much emerging-market equity as your career or business risk can tolerate." He went on to say that he believes emerging market stocks are the only assets with a realistic shot at delivering 4.5% real returns annually over the next decade.
Three Factors Underpinning Emerging Markets
Grantham believes in emerging markets because his figures suggest that these economies will lead returns during the next seven years, growing by 5% per annum through 2019, more than double the pace of developed nations, according to Bloomberg composite forecasts GMO also points to fewer "fragile" nations, attractive currency valuations and declining inflation rates.
Compared to developed market equities, there are plenty of reasons to like emerging markets. For a start, they are much cheaper. The MSCI Emerging Market index trades at a forward P/E of just 13, although this cheapness is not uniform across the spectrum. Mexico for example traded at 16.6 at the end of January and the MSCI China A traded at 14.6.
Still, these valuations look extremely attractive when you compare them to the growth opportunity in front of emerging markets. For example, 50% of India's 1.25 billion population is still under the age of 25 and populations in India and China are only really just starting to adopt a consumerist lifestyle. Chinese policymakers under the stewardship of president Xi Jinping are trying to push the country towards a global consumer economy, supporting growth in consumption, urbanization and the economy.
Even though economic activity across emerging markets has recovered steadily over the past few years, it remains below its peak. Emerging market GDP growth was closed to 9% year-on-year pre-crisis and immediately post-crisis before falling to a low of nearly 2% in 2015. It has since recovered to around 4.5% but remains depressed compared to history. Export growth and retail sales also sluggish compared to the post-crisis period.
And while Grantham and GMO believe that emerging markets are set to continue their growth trajectory over the next decade, economists at Capital Economics seem to disagree with this view.
In a research report published earlier this week, CapEcon's emerging market economics team argues that the consensus growth forecast for emerging markets is to "rosy" and the economic cycle is close to peaking.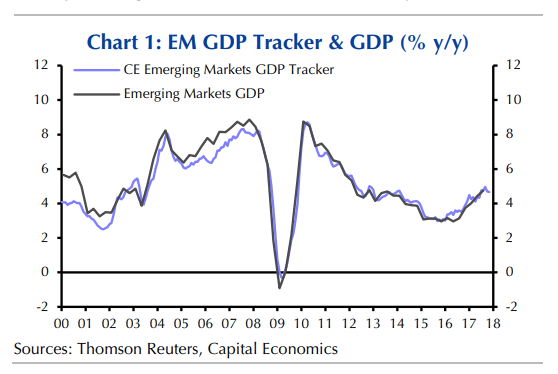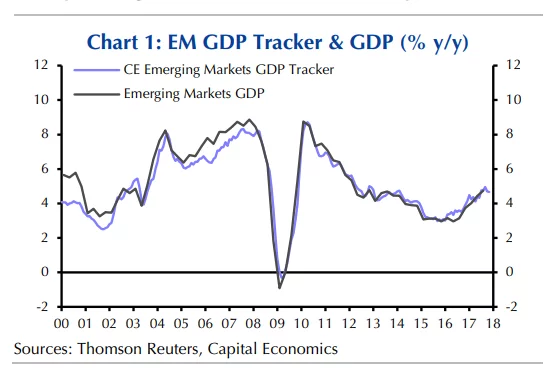 The report argues the following many years of economic expansion, some emerging markets are now close to full capacity, which will mean slower growth in the years ahead. "Economies towards the left –likes Romania, Turkey, Hungary, and Poland – have now exhausted their spare capacity" the report notes while "economies towards the right -- such as Brazil and Russia-- are still operating well below potential." So, there is potential for growth, but it will be slower than in the past.
In Central and Eastern Europe, regions where CapEcon's data shows that output gaps have now closed, the number of firms reporting difficulty in hiring workers has risen to levels well above those seen at the peak of the last cycle in 2007. These economies are now enjoying the benefits of a tight labor market, including wage growth and record low unemployment "yet this sweet spot may not last for long." Signs that underlying inflation pressures are already starting to build implying, "having kept policy extremely supportive in recent years, central banks are now likely to shift onto tightening mode."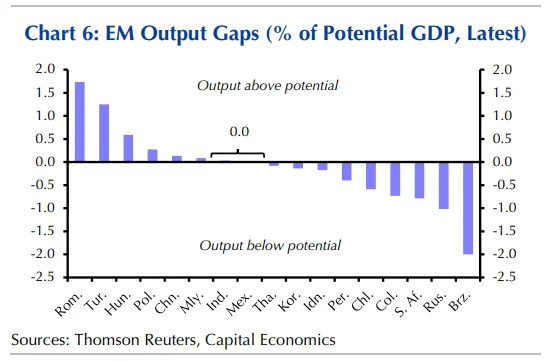 As well as Europe, the economists also see pressures building in China "by far the most important emerging economy where we think the output gap is now in positive territory." According to CapEcon's own China Activity Proxy, the economy is currently growing at a pace of around 5.5% with the growth rate expected to slow to 4.5% this year and next.