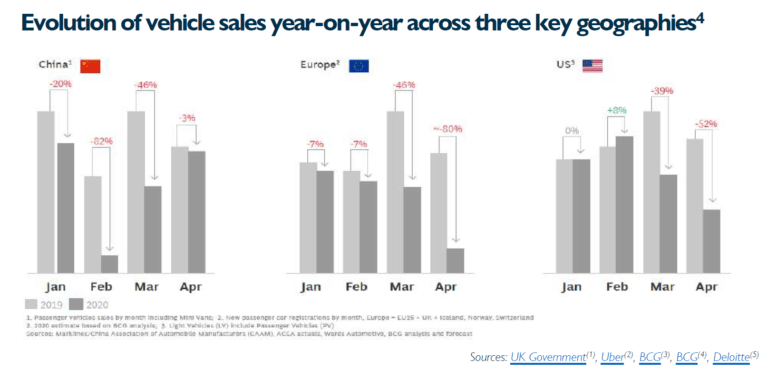 The automotive technology sector has been hit hard by Covid-19. Lockdown measures worldwide and extensive governmental restriction on long- and short-distance travel mean fewer people have been using and buying cars. At the height of Covid-19 restrictions on movement in April, the number of cars on UK roads dropped down to levels last seen in 1955.1
Q2 2020 hedge fund letters, conferences and more
Ride-hailing services have also been impacted: at the height of the crisis, demand for rides on Uber dropped by 80 percent and revenue fell by 29 per cent year-on-year. The company cut 3,700 staff during the pandemic.2
Gates Capital Management Reduces Risk After Rare Down Year [Exclusive]
Gates Capital Management's ECF Value Funds have a fantastic track record. The funds (full-name Excess Cash Flow Value Funds), which invest in an event-driven equity and credit strategy, have produced a 12.6% annualised return over the past 26 years. The funds added 7.7% overall in the second half of 2022, outperforming the 3.4% return for Read More
Between April 2019 and April 2020, vehicle sales declined by 80 per cent year-on-year in Europe; by 52 per cent YoY in the USA; and only by 3 per cent YoY in China, recovering after two months of alarming decline. Over the whole of 2020 and year-on-year, automotive sales will likely decrease between 14 and 22 per cent among the China, US and European markets.3
On the manufacturing side, initial concerns over a disruption in Chinese parts exports in early 2020 quickly pivoted to large-scale manufacturing interruptions across Europe. In the US, assembly plant closures added to the intense pressure on an increasingly distressed global supply base. Some of the potential long-term impacts on automotive companies include:5
The truncation of consumer demand could continue to impact automaker revenues and profitability.
Auto companies may be forced to divert capital to shore up continuing operations, starving R&D funding for advanced technology initiatives and other discretionary projects.
Suppliers facing liquidity issues may succumb to rapidly deteriorating market conditions.
A significant amount of restructuring may be expected in the auto retail sector as dealers are unable to pivot quickly enough to changing demand conditions.
Strategic decisions to exit unprofitable global markets and vehicle segments may be accelerated, significantly lowering output as manufacturing capacity is rationalised or consolidated.
The transportation and automotive sector, therefore, will potentially see its deal volumes and valuations multiples impacted.
However, some strategic investments could support longterm gains in the face of Covid-19. While some buyers are still in shock or sorting out short-term steps, some acquisitive companies in this space are quickly moving to exploit opportunistic M&A and gain first mover advantage.
COVID-19 has significantly impaired activity in Q2 2020 – but with disruption come new opportunities for consolidation and inorganic growth.
M&A Summary
Automotive technology sector sees slight dip in deal volume
M&A activity in the automotive technology sector has declined in terms of deal volume, with an 11 per cent dip between 2H2019 and 1H2020. This comes as no surprise, as the automotive industry was paralysed by fears of a looming recession starting early 2020. Furthermore, the market saw a mere $4 billion in disclosed transaction value, signalling a lack of blockbuster deals..
However, valuation multiples were level with – and in some cases even outperformed – 2019 metrics, with the revenue multiple reaching a comparatively high 2.1x. Unfortunately there were not enough disclosed EBITDA multiples to illustrate any substantial trend this half-year.
Private equity cautious
The first half of 2020 saw only three transactions carried out by private equity buyers against six in the previous reporting period. Although private equity buyers are generally acquisitive with a lot of dry powder, they are not currently deeming the automotive technology space as a hot sector.
Top Trends & Largest Transactions
Cross-border deals decline, as travel restrictions prevail, and disclosed deal sizes cannot keep pace with previous years
Tech giants continue to penetrate the AV and EV spaces while OEMs insist on being "tech" companies
Triggered by increased online retail due to the lockdown as a result of COVID-19, logistics companies gear up with freight and transportation assets
Electric vehicle makers and other automotive players merge with blankcheck companies to receive funding or go public
Merger between Fiat-Chrysler-Jeep (FCA) and Peugeot-Citroen-Opel (PSA) creates the world's fourth largest car firm "Stellantis", is under threat after the two conglomerates failed to respond to concerns from the EU
Geographical Breakdown
Over the past 30 months, 54 percent of automotive technology targets were headquartered in North America, while 34 per cent were based in Europe. Looking only at European targets, 66 per cent were bought by acquirers that were also European.
This figure jumped all the way to 100 per cent for Q1 2020 - all of the European targets were acquired by European buyers.
While the deal count drastically dropped from Q1 to Q2 2020, the trend of more regional deal-making prevailed. This is likely due to travel restrictions and local lockdown measures strongly impacting the prospects for intercontinental M&A. Of all European targets in Q2 2020, only 29 per cent were acquired by non-European buyers.
North American targets maintained their majority share of deals, accounting for 61 per cent of all deals in Q1 2020. However, in Q2 North American targets accounted for only 36 per cent of all M&A deals. There is reason to believe this is directly linked to the performance of – and general uncertainty throughout – the US economy during this pandemic.
Enterprise Applications
Sub-sector overview
Transaction volume in the Enterprise Applications subsector has experienced highs and lows over the past years.
In the first half of 2020, we still saw a solid 19 deals recorded.
VWextends digital sales competence
Volkswagen continues to invest in the development of its software competence and has acquired the remaining outstanding shares in the Stuttgart start-up Diconium. The OEM acquired 49 percent of the digital expert in November 2018 and had secured a right of first refusal for the remaining shares.
VW wants to build a global online sales platform that will enable customers of all group brands to purchase and manage digital services and on-demand functions for their fully networked vehicles. As a result of the takeover, 1,200 new Diconium employees move into the software unit of VW.
Diconium, one of Germany's top 10 digital agencies, will continue to operate as an independent company and will not be rebranded.
Automotive players merge with blank-check companies to go public
One of the biggest deals this half-year was the acquisition of Open Lending by Nebula Acquisition. Nebula is a special purpose acquisition company, sometimes called blank-check or shell company, that has no operations but plans to raise funds for the target of the acquisition or go public in a reverse merger. Nebula was backed by True Wind Capital and dropped $1.1 billion on the automotive lending enablement SaaS – earnout not included.
Open Lending provides lending enablement and risk analytics to credit unions, regional banks, and finance companies in the US. It offers 'Lenders Protection Program', an auto lending enablement platform.
Internet Commerce & Content
Sub-sector overview
The Internet Commerce and Content segment saw the strongest decline in 1H2020. Transaction volume dropped to 5.
All of the closed deals were done by acquirers headquartered in the same country as the target.
Capital infusion for ShiftTechnologies
Repeating the blank-check-acquirer-story, Shift Technologies was snapped up by Insurance Acquisition. Insurance Acquisition paid $380 million in the reverse acquisition at 2.2x revenue for the online used car marketplace.
In this scenario, the goal is to support Shift's product expansion and execute on its growth strategies with the help if the accompanying capital infusion. Shift operates as an online, peer-to-peer, marketplace for consumers to buy, sell, and test drive used cars. The company also provides point-of-sale software and targets urban, densely populated markets.
The newly combined company will be listed on NASDAQ under a new ticker symbol and its pro forma implies market capitalisation is around $730 million.
Aftermarket remained at the forefront
In March, AutoAnything, backed by Kingswood Capital, picked up Morris 4x4. Morris 4x4 is located in Florida and was founded in the 1990s, and the acquirer's intention is to cater to Jeep and off-road enthusiasts and to expand AutoAnything's reach in this very distinct community.
AutoAnything was founded in 1979 and is headquartered in San Diego, California. It is a leading online retailer of automotive performance parts and accessories. AutoAnything was
acquired by Kingswood Capital in early 2018 and has since made this acquisition in order to focus on strong enthusiast categories.
Embedded Software & Systems
Sub-sector overview
M&A activity in the Embedded Software and Systems subsector has seen a decline in volume since 1H2019, with 8 transactions recorded in 1H2020.
Noticeably, focus of current transactions lies with more mature targets, focused mostly around AI-based technology.
Incumbents are strengthening their core competencies, as illustrated by Continental's current process spinning off Vitesco, a company that will separately continue to develop powertrains.
AmazonZoox deal
The acquihire of the self-driving car unicorn Zoox by Amazon came with a hefty price tag: $1.3 billion in cash, a $30 million bridge loan until closing, and several more bonus and stock agreements for key employees. The valuation had dropped from a whopping $3.2 billion valuation and breaks down to $1.4 million per employee.
Zoox had been on the verge of running out of money when Amazon stepped in, expanding its custom robotaxi vision in line with the investment in Aurora. Amazon plans to work with Zoox to create a fleet of selfdriving taxis, in competition with Alphabet'sWaymo.
AI-basedautonomous driving
In line with the overarching AI-based autonomous driving trend, this year Luxoft acquired CMORE Automotive for an undisclosed amount. CMORE is a a strategic autonomous drive development partner to major German automakers and their key suppliers.
The company will strengthen Luxoft's capabilities in data-driven development and validation of AD/ADAS for Level 3 to Level 5 autonomous functions. Luxoft provides engineering services in several industries specializing among others in automotive.
Mobility & Fleet Management
Sub-sector overview
M&A activity in the Mobility and Fleet Management subsector has seen a slight uptick in volume since 2H2019, with 9 transactions recorded in 1H2020. We foresee that this segment will remain a key valueadd in the automotive sector post-Covid and anticipate volumes in 2021 more in line with previous years.
Intel reinforces automotive ambitions
Chip giant Intel confirmed its latest move to grow its automotive division by acquiring Moovit, an Israeli startup that analyses urban traffic patterns and provides transportation recommendations with a specific focus on public transit. The transaction valued Moovit at $900 million.
The acquired tech will be used to expand and enhance Mobileye's "mobility as a service" (MaaS) offering and is supposed to support Intel's plan to become a complete mobility provider, including robotaxi services, which is forecast to be an estimated $160 billion opportunity by 2030.
Streamlining
In May, Omnitracs acquired VisTracks for an undisclosed amount to further enhance its device agnostic hardware and OEM strategy.
VisTracks provides white-label, location-based electronic driver log management SaaS and compliance services to fleets and businesses. It will extend Omnitracs reach in the SMB market. Omnitracs aims at providing access to enterprisegrade solutions that unify fragmented technology.
Since many fleets are committed to a specific OEM, they look for flexible solutions that can leverage their existing hardware and software products.
Conclusion
The automobile industry was dramatically impacted by the pandemic in the first half of 2020. It remains to be seen what the long-term impact on car usage and buyer habits will be post-Covid.
In any case, it is clear that OEMs and suppliers were distracted from M&A while putting out supply chain fires and dealing with reduced demand for new vehicles. Covid impacted deal-making, which declined in volume virtually across the board and became characterised by much more regional activity.
Later, as 1H2020 closed out, we noted a recovery in China and we anticipate that the market will improve in 2H2020.
We believe OEMs and suppliers will continue to make strategic acquisitions to remain relevant as they need to acquire innovative technologies rarely developed internally, especially in areas such as electrification, predictive analytics, autonomous driving, customer retention, mobility and connected vehicles.
See the full report here.
---
About Hampleton Partners
Hampleton Partners is at the forefront of international mergers and acquisitions advisory for companies with technology at their core.
Hampleton's experienced deal makers have built, bought and sold over 100 fast-growing tech businesses and provide hands-on expertise and unrivalled international advice to tech entrepreneurs and the companies who are looking to accelerate growth and maximise value.
With offices in London, Frankfurt, Stockholm and San Francisco, Hampleton offers a global perspective with sector expertise in: Automotive Technology, IoT, AI, Fintech, Insurtech, Cybersecurity, VR/AR, Healthtech, Digital Marketing, Enterprise Software, IT Services, SaaS & Cloud and E-Commerce.