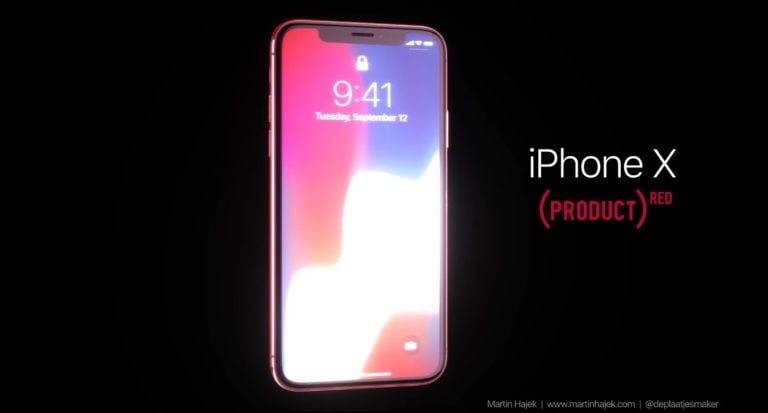 A well-known designer and 3D renderer has released a concept image showing what a (PRODUCT) RED iPhone X.
Martin Hajek is the designer behind the red iPhone X, and while it's important to keep in mind that this is a fan render rather than an official red iPhone image from Apple, it's still a familiar design that falls in line with what we expected from the previous few generations of the mobile device.
Apple, like many other major companies, frequently releases a red iPhone in order to support (PRODUCT)RED in order to support the charitable campaign.
Fund Manager Profile: Kris Sidial Of Tail Risk Fund Ambrus Group
A decade ago, no one talked about tail risk hedge funds, which were a minuscule niche of the market. However, today many large investors, including pension funds and other institutions, have mandates that require the inclusion of tail risk protection. In a recent interview with ValueWalk, Kris Sidial of tail risk fund Ambrus Group, a Read More
RED is a charitable organization with a main goal of fighting against AIDS. This is one of Apple's several charitable contributions, although it's relatively unique in that the red iPhone X will be an entire product line devoted to raising money for this great charity.
With the iPhone 7, we saw a gorgeous red exterior that gave us a phone that was both beautiful as well as beneficial for an important charity doing great work. The sales were quite high, with customers really latching on to an option that is a little different from the standard black or silver we've come to expect from Apple. When compared to a lot of other smartphone manufacturers, Apple doesn't have as many options when it comes to the color of their phones. The release of a red iPhone X should help give the product line a little bit of a boost during a time that is quite slow for sales, as well as adding some more funds to a charity with an important cause.
It's important to reiterate that this is simply a red iPhone D render from a designer that isn't affiliated with Apple rather than an announcement from the tech giant themselves, but considering that Apple saw great success with the previous attempts at a red iPhone, we may be able to see the device launched sooner rather than later.
The new red iPhone is based on designer Hajek's existing iPhone X model with a red overlay placed on top that gives us a sense of what we might be able to expect from this yet-unannounced phone. We assume that the release would be similar to past generations – adding a new color without adding any hardware or performance improvements over the base iPhone X.
If we're truly to see a red iPhone X, it would be a good time of the year to do so. There are speculations from a number of outlets that suggest that the company will attempt to revive the ailing sales of the iPhone X by announcing either a Blush Gold or Red iPhone in order to once again gain some traction in a competitive smartphone market that is currently focused on Samsung with the release of the Galaxy S9.
It remains to be seen whether the red iPhone X actually materializes, but it might be just what Apple needs to help them out as they wait until fall to announce their trio of new smartphones. While the iPhone X did manage to capture the attention of the smartphone market over the holidays due to the unique design and the innovative FaceID technology, the phone still fell short of sales expeditions – even after becoming the fastest selling iPhone in history. If Apple wants to keep their numbers high and continue to get their phones in the hands of consumers moving forward, they may need something fresh and new to convince people to make the jump to the new generation of iPhone – and there's certainly a possibility that a red iPhone X will do just that.
As far as a release date for the red iPhone X goes, there are several people that are anticipating a Q3 2018 release – meaning we may see it sooner rather than later. While the red iPhone X concept video will likely prove to be pretty accurate if past generations are indication, we likely have a little while yet to confirm whether or not this new shade is actually in development.