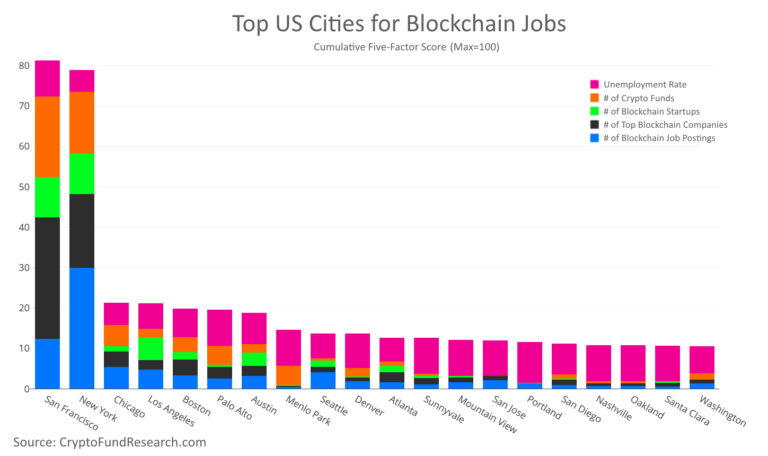 The most comprehensive study of the US blockchain job market was released today. The in-depth analysis was conducted by Crypto Fund Research and has San Francisco and New York topping the list of the 20 best US cities for blockchain jobs.
Q1 hedge fund letters, conference, scoops etc, Also read Lear Capital
Guy Spier And Mohnish Pabrai On What Makes A Great Investor
"I am a better investor because I am a businessman, and a better businessman because I am no investor" - Warren Buffett In the past, the value investor Mohnish Pabrai has spoken about why investors need to have some first-hand business experience. Pabrai started his own IT consulting and systems integration company, TransTech, Inc, in Read More
San Francisco and New York have long been centers of the technology sector. That they are also the best cities for blockchain jobs will come as little surprise to many. However, some less likely candidates also make the cut. Austin, TX and Nashville, TN both placed among the top 20 cities for blockchain jobs.
Whereas previous studies have looked purely at the number of job postings on job sites, this data-heavy study includes four additional factors that serve as strong indicators of the overall health of the blockchain market. The five factors examined for each city are:
Number of unique job postings for blockchain and cryptocurrency
Weighted analysis of top blockchain companies
Prevalence of new blockchain startups
Number of cryptocurrency and blockchain investment funds
Overall unemployment rate
The five-factor approach employed by Crypto Fund Research paints a much broader and more realistic portrait of the blockchain job economy than previous attempts that relied on job postings alone.
"A single category of data is insufficient to understand the complex blockchain job ecosystem," Josh Gnaizda, CEO of Crypto Fund Research, said. "The sector is growing and evolving so rapidly that a more holistic, data-driven, approach was necessary."
With eight cities placing among the top 20, the Bay Area was the clear standout in the study. The area has attracted a sizable number of blockchain startups, largely due to its existing technology infrastructure as well as access to capital via a well-established network of venture capital.
Top 20 US Cities for Blockchain Jobs:
San Francisco, CA
New York, NY
Chicago, IL
Los Angeles, CA
Boston, MA
Palo Alto, CA
Austin, TX
Menlo Park, CA
Seattle, WA
Denver, CO
Atlanta, GA
Sunnyvale, CA
Mountain View, CA
San Jose, CA
Portland, OR
San Diego, CA
Nashville, TN
Oakland, CA
Santa Clara, CA
Washington, DC
The full list of the top 20 US cities for blockchain jobs can be viewed here: https://cryptofundresearch.com/top-20-cities-blockchain-jobs-us/