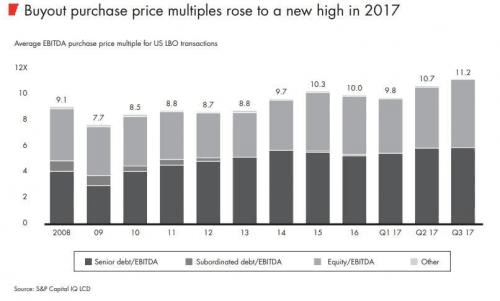 The Berkshire annual letter to investors arrived two weeks ago and presaged some disconcerting trends. Warren Buffet explained that the party was in effect over and that markets were overpriced across the board. Warren Buffet, a value investor, often seeks to buy assets when they are priced lower than their net present value.
Check out our H2 hedge fund letters here.
The famed investor who has become one of the wealthiest men in the world by predicting market trends is not alone in his assertions concerning the potentially overpriced market. According to Reuters, private equity professionals also sound the alarm with cries that the bull market has run its course. Some private equity professionals have even compared present conditions to pre-crisis 2007, claiming that there are startling similarities between the two periods. As the debate ensues, the uncertainty is bound to cause a stir, as one analyst ostensibly contended in saying "whether today's robust conditions consistent a bubble, as purchase price rise, jumbo buyouts proliferate and deal terms become more aggressive."
Short-Seller Spruce Point Highlights Its Latest Canadian Consumer Short: Saputo
Reputed short-seller Spruce Point Capital Management released its latest short report this week. The firm is shorting Canadian dairy and grocery manufacturer Saputo. Spruce Point chief Ben Axler believes the company is entering a phase of declining growth and highlights the financial stress and growing challenges he sees it facing, not only in Canada but Read More
Another indicator cited by insiders as a cause for concern is the LBO multiple, which reached a record high in 2017 at 11.2x EBITDA. This is up from 10x EBITDA in 2016, according to Bain & Co.
There has been substantial activity in the buyout world as Blackstone's $20bn buyout of Thomas Reuters' Financial and Risk division finalizes. Also, there is an imminent buyout of Akzo Nobel's specialty chemicals division, setting a new record for average buyout size at $675MM during Q3 2017.
Although debt markets have experienced substantial demands, private equity is taking a shift towards more conservative ventures as they look for companies that can weather a recession. Gregor Bohm, co-head of Carlyle's European Buyout business spoke at a Berlin's SuperReturn conference and said, 'You have to sell all the companies that you don't want to hold through a recession."
Others were not so restrained in their declarations: "I think we're now in bubble territory," said Frode Strand-Nielsen, founder of Nordic private equity firm FSN Capital. He went on to explain that the next five years could be a tumultuous environment for private equity and leveraged debt. This is especially the case for buyouts that featured the use of incredibly cheap debt.
Still, more have chimed in with their calls for reservation: co-president Scott Perling said that "Thomas H. Lee Partners is focusing on less cynical growth businesses which are better positioned to weather a downturn that could have a similar magnitude to the last financial crisis."
"It's certainly not a brave new world that includes no cycle...base case incorporates a recession of the size of 2008. The swings can be reasonably violent so you have to recognize how that could affect capital structures."
The bulls disagree with these sentiments claiming that the global macroeconomic backdrop is much stronger than it was in 2007. They assume that interest rates will remain lower for a more extended period than last 2008 crisis. They also cited that fixed charge cover ratios, which measure how comfortably businesses can meet operating cost, are higher for leverage companies this time around.
The bullish assumption rest on low debt servicing cost which does not that instills great confidence. Critics believe it is certain that a correction for the market's record nine-year bull is well overdue. "We're watching a movie where we know what the ending is," said Guthrie Stewart, global head of private investments at PSP Investments. "
Citi's chief of credit, Matt King, sums up the bearish position when asked over the weekend his considerations of the markets, to which he responded "we know that central banks are doing... why are we so slow to price that in"