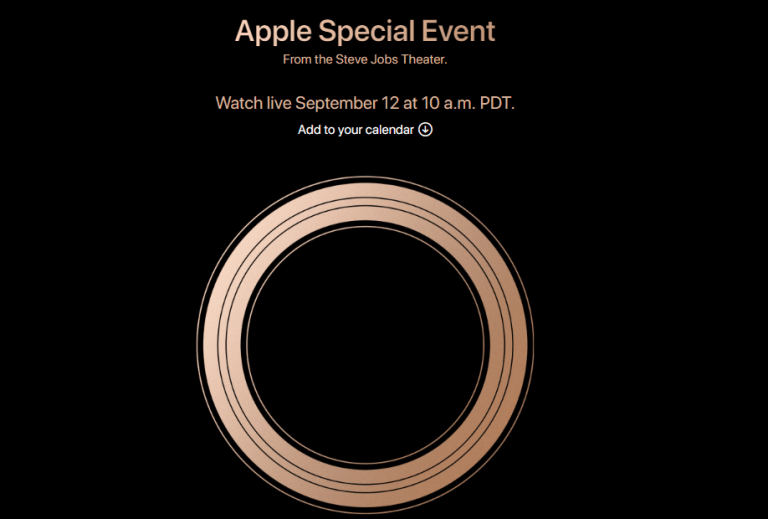 Apple has a bunch of new stuff to show off this month, including the iPhone XS and next-gen Apple Watch. The tech giant has already sent out media invites for its September 12 event. Apple fans may have a lot of questions in their minds. When will the iPhone XS event start? How and where can I watch the live stream? What products should we expect at the September 12 event? Here we answer all your questions related to Apple's upcoming iPhone XS event.
iPhone XS event date, place and start time
The event will take place at 10 AM Pacific Time on Wednesday, September 12 at the Steve Jobs Theater at Apple's new 'spaceship' campus in Cupertino. For people living in New York, the start time is 1 PM ET on Sept.12. That's 6 PM London Time and 10:30 PM IST.
Apple's invitation for the event highlighted the gold color and included the cryptic note "Gather round." The 'Gather round' note as well as the gold-hued discus could refer to some new hardware product. Apple's keynote events often start on time, but the executives spend the first few minutes bragging about customer satisfaction, sales reports, etc. The iPhone XS event should last around two hours.
According To Jim Chanos, This Is The Biggest Story No One Is Talking About
When a liquidity crisis struck China's Evergrande Group in the summer of 2021, it shook the global markets. Debt payments by China's second-largest property developer by sales were estimated in the hundreds of billions of dollars, and the company missed several payments. Those missed payments led to downgrades by international ratings agencies, but the Chinese Read More
How can you watch the live stream?
Not everyone will be able to attend the iPhone XS event in person. Fortunately, Apple will live stream the big event for its fans around the world. You'll be able to watch it right from the comfort of your home if your device meets Apple's hardware requirements.
Watching it on Mac or PC
According to Apple's invitation, your Mac should be running the Safari browser on macOS 10.12 or later to be able to watch the live stream on Apple's website. If you want to stream it on a PC, fire up the Microsoft Edge browser on Windows 10 and head over to this link at 10 AM PT.
Watching it on iPhone, iPad or iPod
The iOS devices are most suitable for watching Apple's keynote events. You need an iPhone, iPad, or iPod Touch using Safari browser on iOS 10 or later. When the event starts, go to this link to live stream it in the Safari browser.
Watching it on Apple TV
You'll also be able to live stream the iPhone XS event on your Apple TV via the Apple Events app. When you launch the Apple Events app, you would see the option to live stream the event. If not, check back in a while. Streaming to Apple TV requires a 2nd generation or later Apple TV with software 6.2 or later.
What if you miss the event?
If you couldn't live stream the iPhone XS event for some reason, don't worry. You'll be able to watch the keynote even after the event is over. Just go to the Apple Events page or launch the Apple Events app on your Apple TV.
What to expect at the Sept.12 event?
Three new iPhones
Of course, the iPhone XS and its two siblings will be the biggest highlight of the event. Recent reports have revealed that we would see a 5.8-inch OLED iPhone XS, a 6.5-inch OLED iPhone XS Plus, and a 6.1-inch LCD iPhone 9. All the three models would sport a display notch and the TrueDepth camera system that enables Face ID and Animoji features.
The OLED variants are said to feature 4GB RAM and dual cameras, while the iPhone 9 would get only 3GB RAM and a single lens on the back. According to TF International Securities analyst Ming-Chi Kuo, the iPhone 9 with a price tag of $600 to $700 will be far more affordable than the other two models. Kuo predicts it will also be the most popular iPhone this year. All three models will be powered by the A12 chipset based on the 7nm manufacturing technology.
Apple Watch Series 4
The Apple Watch badly needs a design makeover, and the Series 4 is going to bring a new design. Multiple leaks have indicated that it would have slimmer bezels and a 15% larger display. The new Watch will be available in 39.9mm and 45.2mm screen sizes, according to Ming-Chi Kuo. The Series 4 Watch will also offer improved health tracking. Also, Apple is expected to ditch the non-cellular version this year, meaning all variants of Series 4 would offer LTE connectivity.
New iPad Pro
The iPad Pro is also getting a new design this year, though it will keep the same 12.9-inch and 10.5-inch screen sizes. The new iPads will have reduced bezels, no 3.5mm headphone jack, and no physical home button. They will get the TrueDepth camera system that supports Face ID technology. Thanks to the slimmer bezels, Apple will be able to offer the same screen sizes in smaller form factors. Face ID on the new iPads would work in both vertical and horizontal modes.
AirPower
Apple fans have waited way too long for the AirPower charging mat. It was announced at the last year's iPhone launch event, but hasn't started shipping yet. Ming-Chi Kuo has told investors the AirPower would start shipping in the third quarter. Apple is expected to show off its new charging mat at the iPhone XS event. It allows you to wirelessly charge your AirPods, Apple Watch, and iPhones by placing them on the charging mat.
Apple is also rumored to refresh the MacBook and iMac lines. But it will reportedly hold another event in October to unveil those devices.