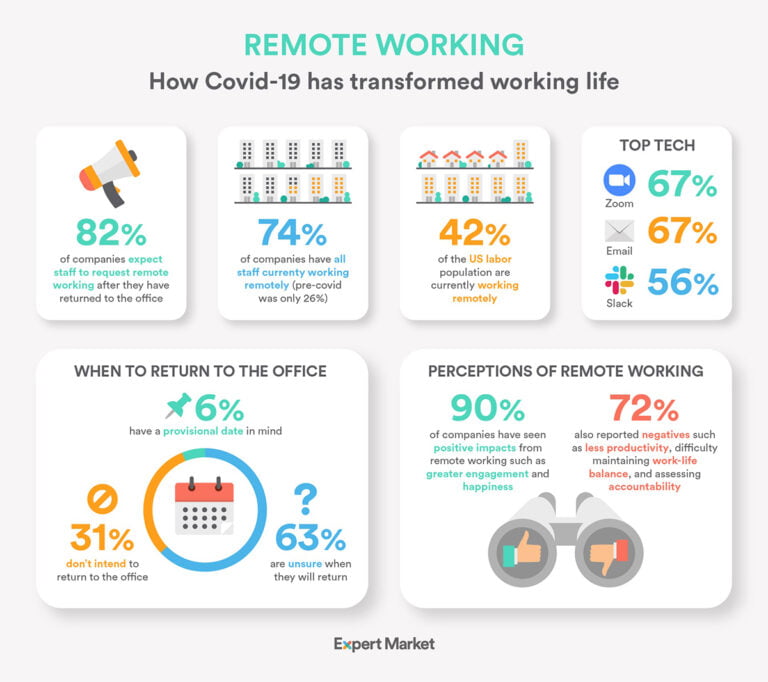 ---
74% of office-based businesses are working remotely, with 31% intending to stay that way into the future
Q3 2020 hedge fund letters, conferences and more
In the past year, the world has become reliant on technology to stay connected, which has had a huge impact on the nature of the workforce. It is predicted that 42% of the US labor force is currently working from home full-time.
Fund Structures For More Efficient Taxation And "Doing Well While Doing Good"
Tax time is still months away, but it's never too early to consider how fund structures impact your investments. Additionally, many people start looking for more ways to do good, including with their investments. In a recent interview with ValueWalk, Michael Carrillo of fund services provider Apex Group explained how most of the intellectual maneuvering Read More
Majority Of Employees Are Working Remotely
The team at Expert Market were interested in how companies have found the switch, and what their plans for the uncertain future are. They surveyed 100 businesses based in North America and Europe from a range of industries and found:
74% of business owners and CEOs said all employees at their company are working remotely
Before the pandemic, only 7% of participants said the majority of employees were working remotely
72% anticipated employees will want to remain working from home, even once the organization returns to the office.
The overwhelming majority of businesses (90%) see positive benefits in working from home including increased employee engagement and happiness, yet at the same time, 71% said they have witnessed negative impacts, such as a reduction in productivity, difficulty maintain work-life balance, and difficulty assessing accountability.  63% of businesses are unsure when their employees will return to the office, but the most anticipated times for returning were January 2021, Spring 2021, or introducing staggered return times. 67% reported using Zoom and Email to keep in touch with colleagues, followed closely by Slack. Skype, which has seen a fall in popularity over recent years, was only reported by 12.7% of respondents.
The Challenges And Positives Of Remote Working
We also interviewed business owners and CEOs on their challenges and positives of remote working:
Challenge: creativity
Jamie Love from Monumental Marketing commented: "We develop websites and creative assets for our clients. What used to take 10 mins huddled around a table now takes hours over Zoom. We've found a nice remedy by setting up a drop-in office in my house where we can come together (when needed and allowed) to increase our productivity"
Challenge: assessing accountability
"It has been a challenge to determine exactly how productive all of my employees are. Creating check-in times and assigning clear deliverables has been very helpful for accountability but that is the toughest part of having my workforce be at home. We have every task assigned in Basecamp to keep things tracked and organized" - Kevin Miller - the word counter
Challenge: staying motivated
"In sales, daily check-ins, and weekly pump up meetings are required. It is difficult to know that everyone is excited, doing work, and keeping up with their responsibilities." - Justin Loncaric of JL Realty Group
Positive: connecting with true motivation
"Remote working has given us more chance to reconnect with our true motivation, why we do what we do, and refresh that initial spark. This pandemic has simply hardened our resolve in realizing that we always need to be on our toes to be at the forefront of our industry. Someone said to me once, If you're not the lead dog, the view never changes… COVID-19 has proven that to be so true!" - Aleksandra Horwood - Happy Stance Yoga Therapy
Positive: a happier workforce
"Having the optionality to work remotely or in-office is key — and having control over your time and being productive when works for you is essential in a happy workforce". - Alison Bernstein - Suburban Jungle
Other information in the full article:
The changing face of workplace communication stats.
The state of workplace communication stats.
The importance of good workplace communication: team building, increased trust and loyalty, giving everyone a voice.
Engagement in the workplace: daily standups, regular company communication, using project management software, frequent check-ins.
Remote working: enabling technology stats: email, phone, VoIP, Zoom, Skype, Google Meet, Slack.