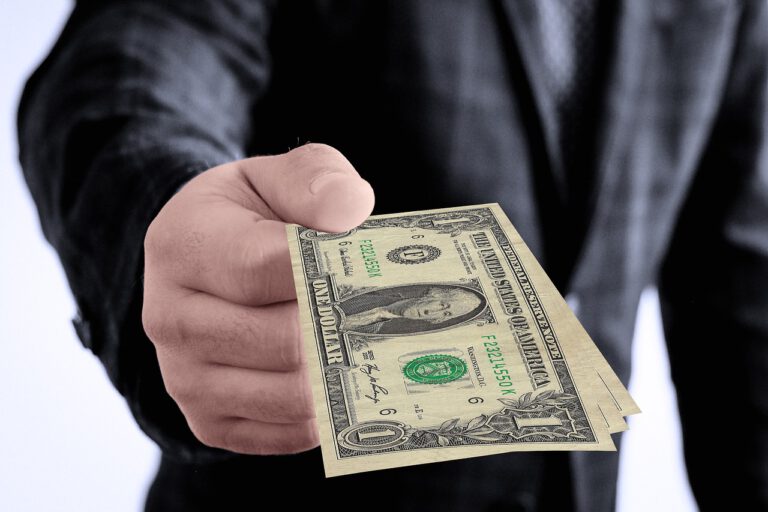 Plagued by serial refunding, hardest hit small businesses face upwards of £1,000 in refunds each month

Q3 2020 hedge fund letters, conferences and more
New data from Paymentsense has shown which parts of the UK are hotspots for Brits' refunded purchases.
Morningstar Investment Conference: What To Do During The Fed Rate Hiking Cycle
The U.S. Federal Reserve is treading carefully with raising rates amid the widespread economic, macro and geopolitical uncertainties sweeping around the world. The Fed raised its target level as high as 20% in the early 1980s to deal with runaway inflation, but we're a far cry from that today — a time when inflation threatens Read More
It has been reported that pre-pandemic shoppers were returning a huge £7 billion purchases every year. On top of this, cash use declined by 60%, and Buy Now Pay Later (BNPL) adoption grew by 39% since the start of the year, set to double by 2023.
So, with consumer behavior changes and the decline of cash, it's no doubt that refunding goods has become easier, but are people doing it honestly?
BOLTON Has The Most Expensive Refunds With £1.3k Being Refunded By Businesses Each Month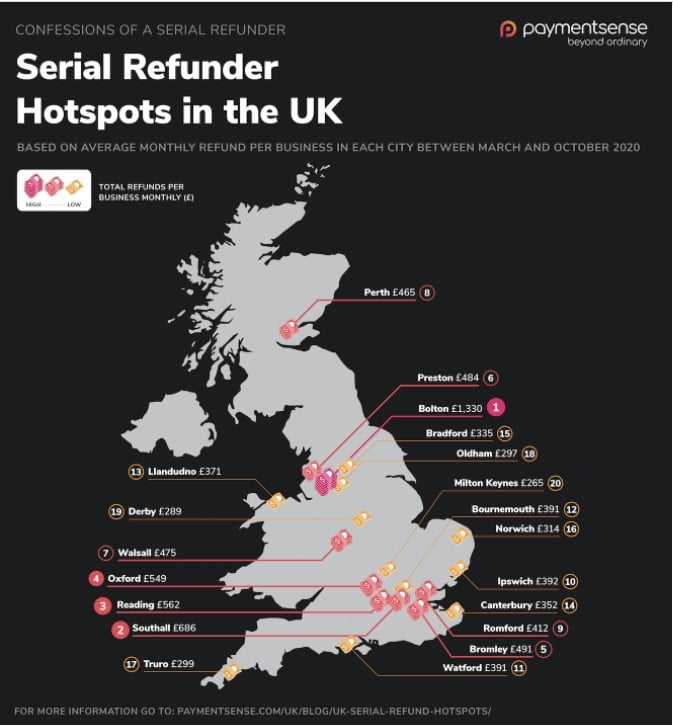 The UK's top serial refunding hotspots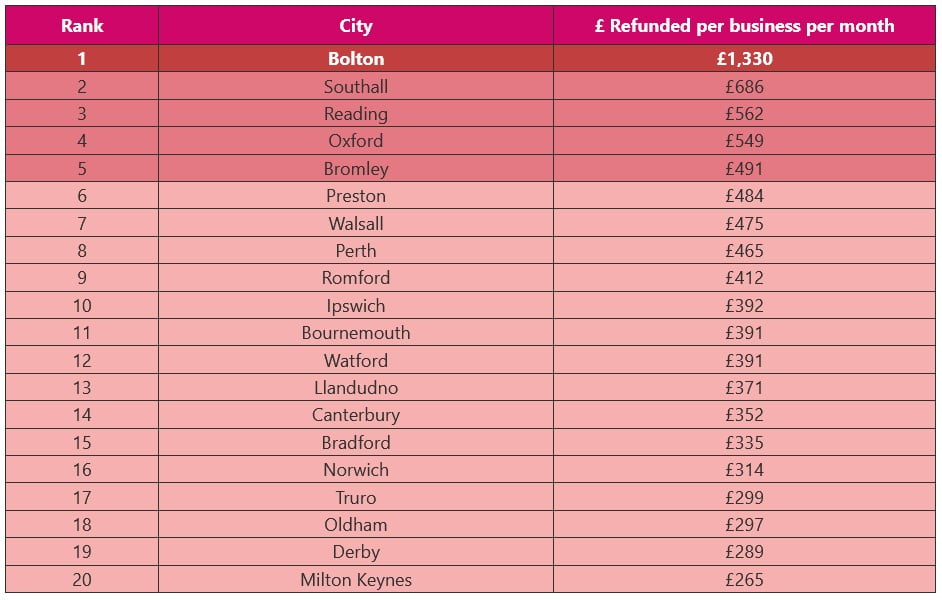 Businesses in this northern city were found to pay out £1.3k in refunds per month between May-October this year, that's almost TWICE as much as anywhere south of the border.  Southall placed second as the west London district handed out an average of £686 in refunds per business per month. On the other end of the spectrum, however, Milton Keynes refunded just £265 per month.
One self-confessed serial refunder in the UK's hotspot, Bolton, admitted:
"I always say my parcels haven't been delivered. I look through the hole in my door and if the courier doesn't take a picture of the item to prove it's been delivered, I would just say I didn't receive the item. I don't make it obvious though, maybe 1 in every 4 parcels I get I will try and get a refund for. Works every time."
Bradford Costing Small Businesses The Most In Refunds, Out Of UK's Largest Cities Per Capita
When looking at the UK's largest cities per capita, Bradford tops the leaderboard for serial refunding. Bradford is followed by industrial hub Derby, at second. Midlander, Nottingham, and Scotland's Glasgow are among the cities with the lowest return rates according to the Paymentsense data.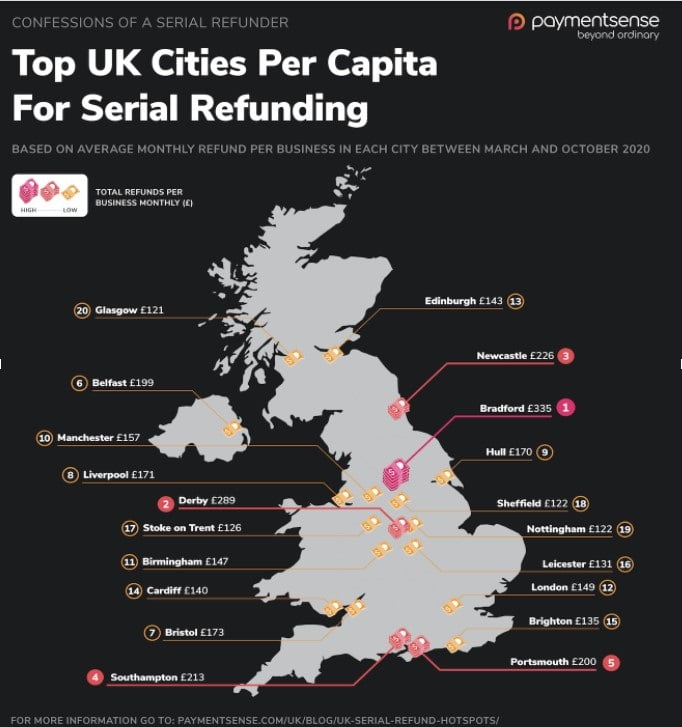 Top UK Cities Per Capita that face Serial Refunding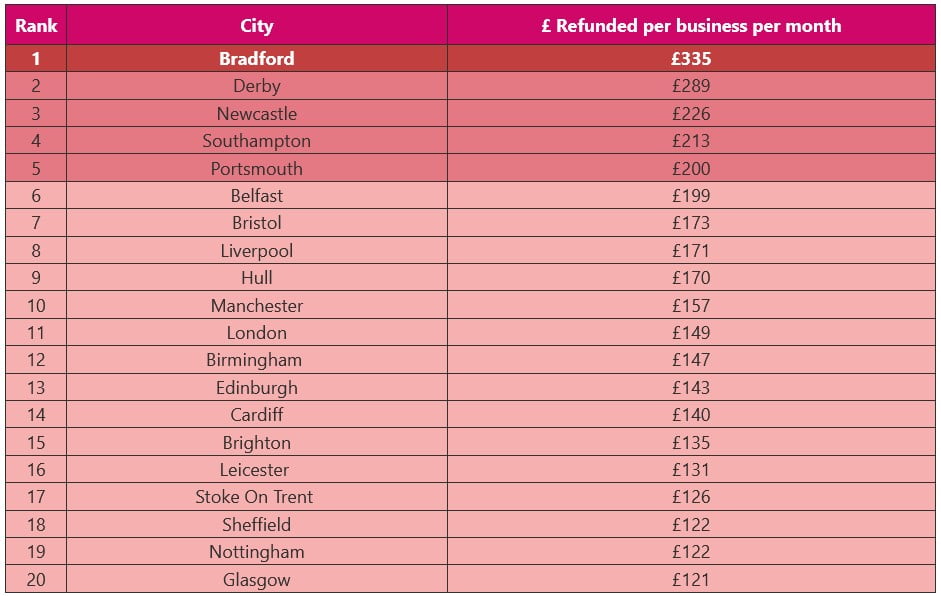 The South-West also sees its fair share of refunding with shoppers growing bolder. A current retail employee from Top 10, Bristol, revealed:
"I work in a high-end fashion retailer and I see it all. One woman tried to return a pair of heels that had been battered. She tried to say that she had worn them once over a weekend for a party - the product code of the shoes flagged up that these were bought in 2015 - 5 YEARS AGO. Her face was a picture. We haven't seen her since."
The Healthcare Industry Is Least Frequented By Serial Refunding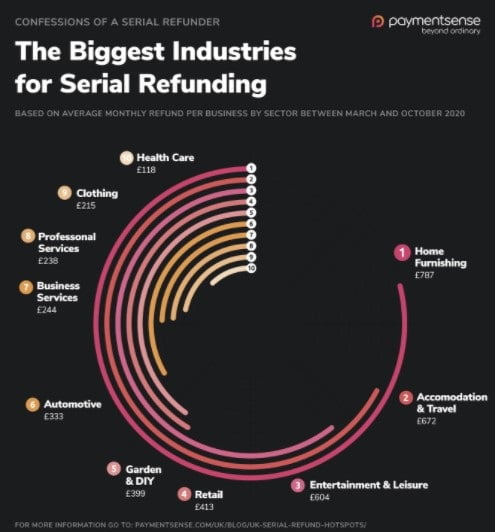 Shoppers were found to be seeking the most refunds from Home and Furnishings businesses at an average of £787 per month. Healthcare unsurprisingly experienced the least returns, with businesses in this sector averaging just shy of £120 in refunds per month during Coronavirus.
Jon Knott, Head of Customer Insights at Paymentsense said:
"With the pandemic still restricting access to high street stores, consumers have turned to online shopping. With this increase, naturally, we've seen more refunds.
Many ecommerce retailers have made their returns process easier– through couriers, drop off points and signing up to Buy Now, Pay Later schemes. So shoppers could be buying more, knowing that they can send items back at the click of a button.
However, refunding isn't without its pitfalls. Shoppers need to be aware that refunds aren't processed and deposited straight away. It's always worth giving a company's refund policy a read before purchasing, to avoid overspending before payday, or being left with unwanted vouchers."
Please let me know if you need any more information at all. Alternatively, any feedback on this story is also welcomed.
You can find high-resolution maps and images here.
You can find the full report here
---
About Jon
Jon has over ten years' experience in consumer research and delivering data-led thought leadership. He is a seasoned conference speaker in the hospitality sector, including at the Takeaway Expo, and is known for being an active data advocate in the fintech space. Jon has previously worked with some of the biggest retailers and brands globally and now leads the research team as Head of Insight at Paymentsense, one of Europe's biggest merchant services providers. He is responsible for identifying and understanding industry & consumer trends.
About Paymentsense: 
Founded in 2008 by George Karibian and Jan Farrarons, Paymentsense is one of the fastest-growing fintech companies in Europe, and proud to be an industry game-changer. They currently supply card machines and e-commerce solutions to over 80,000 businesses in the UK and Ireland.
Combining cutting-edge technology, extraordinary customer support and unconventional thinking, they offer low rates and peace of mind to their customers. Their smart proprietary technology platform enables small businesses to process payments online, in-store and over the phone.
For more information visit www.paymentsense.com
Methodology
Unique data was collated by analysing anonymousised transactions from Paymentsense across the UK to find:
Regional refund figures using number of refunds per business and total refunded per business
Regional refund figures by industry - cross referenced above data with industry categories from Paymentsense merchants
The time frame for data is a specific six-month period - May-October 2020
Full data set here
Updated on