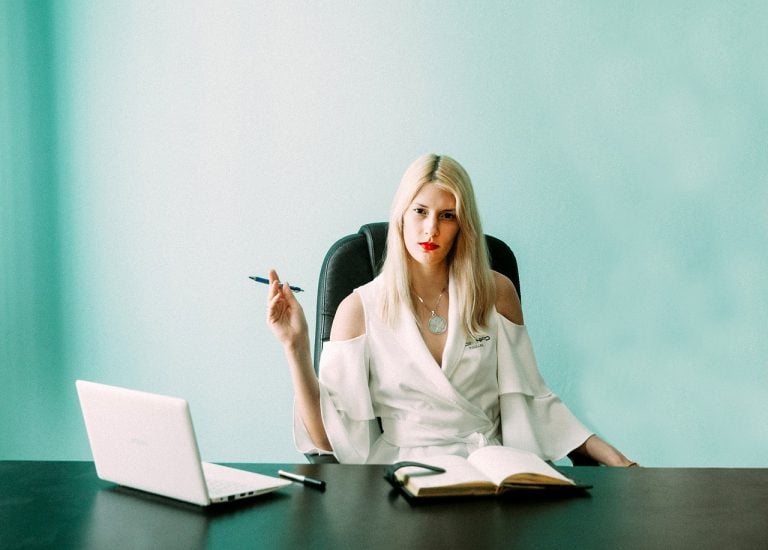 When thinking about women in the workplace, does the pay and benefit disparity ever cross your mind? Women are paid 82 cents for every dollar a man earns, but the inequity doesn't stop there. Women are also more likely to be passed over for promotions as well, according to a new study by financial adviser Personal Capital.

Q3 2020 hedge fund letters, conferences and more
To explore the challenges women face in their careers and how they work to achieve their goals, Personal Capital asked nearly 900 employed men and women and more than 100 female entrepreneurs about their experiences in the workforce. Here are some of the discoveries.
London Quality Growth Investor Conference: Buy Dassault Systemes
At this year's inaugural London Quality Growth Investor conference, Denis Callioni, analyst and portfolio manager at European investment group Comgest, highlighted one of the top ideas of the Comgest Europe Growth Fund. According to the speaker, the team managing this fund focus on finding companies that have stainable growth trajectories with a proven track record Read More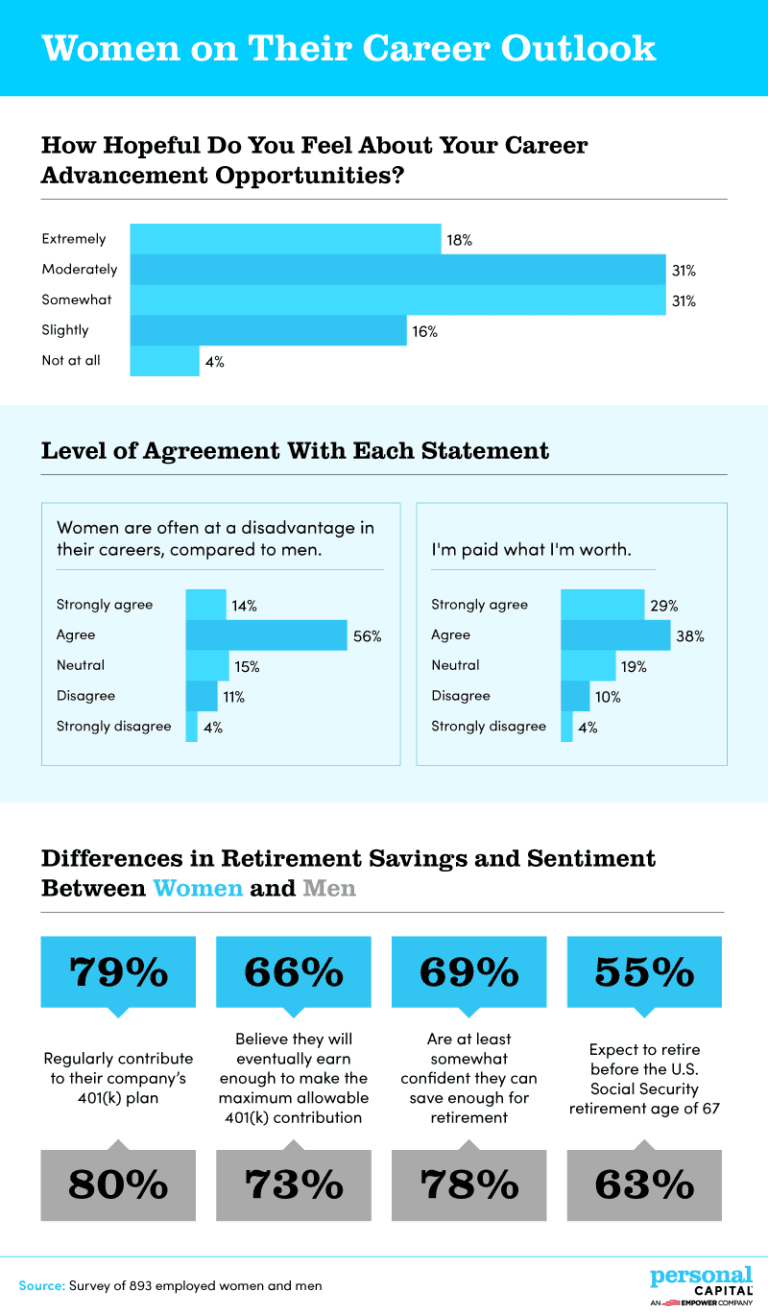 Women on Their Career Outlook
How do women feel about their career advancement? According to the study, only 18% of women felt extremely hopeful about their career advancement opportunities; nearly 1 in 3 women felt moderately or somewhat optimistic about their career; and only 4% of women thought they did not have any hope for advancement.
Approximately 7 in 10 female respondents agreed that women are often at a disadvantage in their careers compared to men, but 67% of women said they were being paid what they were worth.
Men were also more likely to feel like they were in a better position for retirement as well. For example, men were 9 percentage points more likely to believe that they were at least somewhat confident they could save enough for retirement.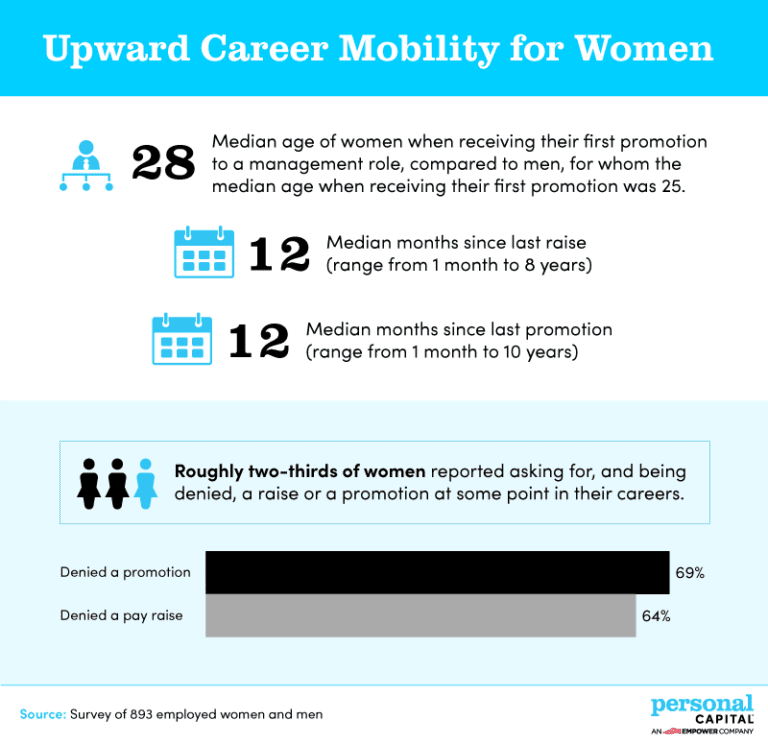 Upward Career Mobility for Women
How old were women compared to men when they received their first promotion? On average, women were 28 years old, while men were 25 years old. Women also reported not having a raise or a promotion in at least 12 months.
Nearly 2 in 3 women reported being denied a promotion or raise at some point in their careers.
When microaggressions toward women were analyzed, being told to smile more or appear more pleasant (41%), having a colleague comment on physical appearance (39%), and being underestimated (39%) were the top indiscretions made.
More than 1 in 3 women reported being interrupted at work. About 32% of women said they were assigned clerical or administrative duties outside of their job description, and the same percentage of women were described as bossy or aggressive. Roughly 2 in 3 women revealed that they felt bullied by a female boss.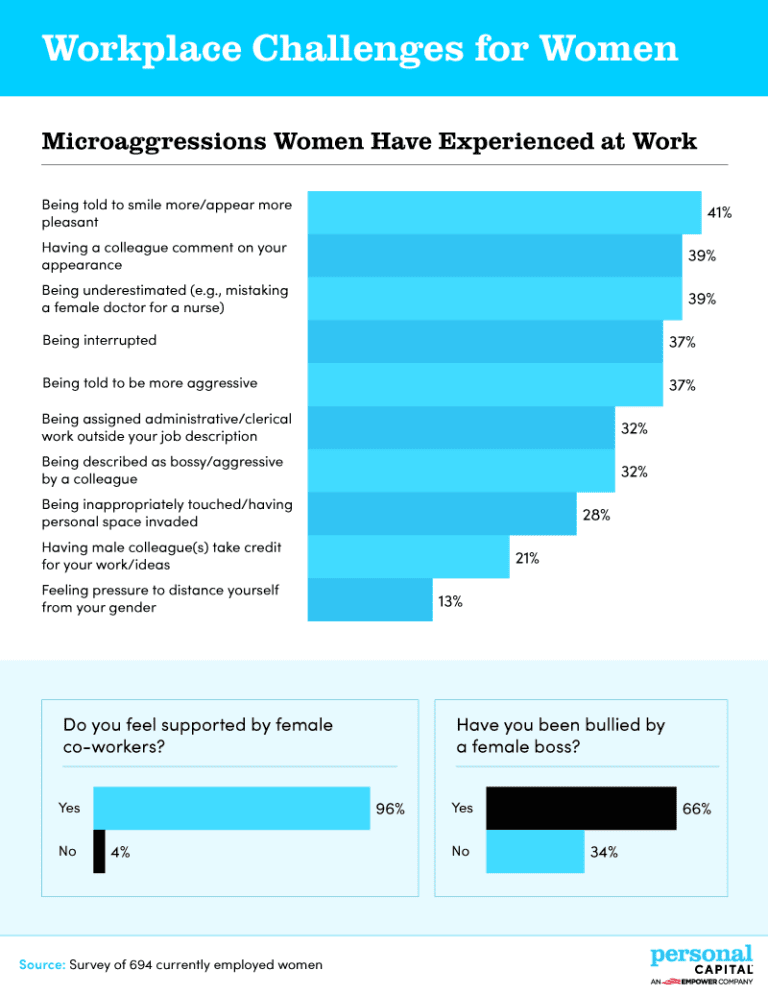 Women on Pay Equality
Nearly half (45%) of the women surveyed said they addressed the gender pay gap at work, and those women did that at a cost. Almost all (91%) of women revealed that they experienced some form of retribution over bringing attention to this issue.
Of the women who choose to ignore the gender pay gap at their company, more than half (52%) said they made that decision because they did not want to jeopardize their chance of career advancement. Nearly half (46%) said they were concerned they would be retaliated against, and 2 in 5 women said they did not have concrete proof to back their claims.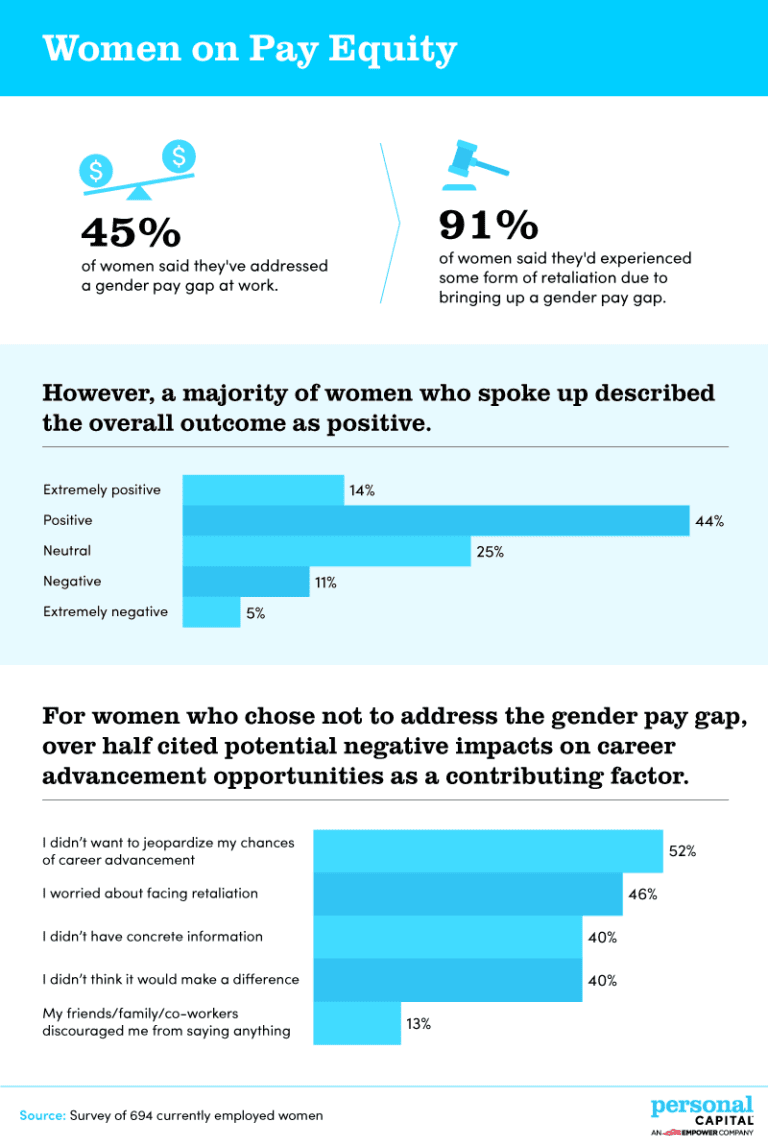 Gender Differences in Retirement Prep and Planning
Men were 9 percentage points more likely to say they are saving for retirement, but women were 10 percentage points more likely to say they aren't saving for retirement because they need money now to make ends meet.
Other barriers preventing women from saving for retirement were paying back debt other than student loans (19%), saving for college for themselves or a family member (13%), and paying back student debt (13%).
While women and men participated in perks programs at similar rates, men (85%) reported having more access to these programs than women (75%).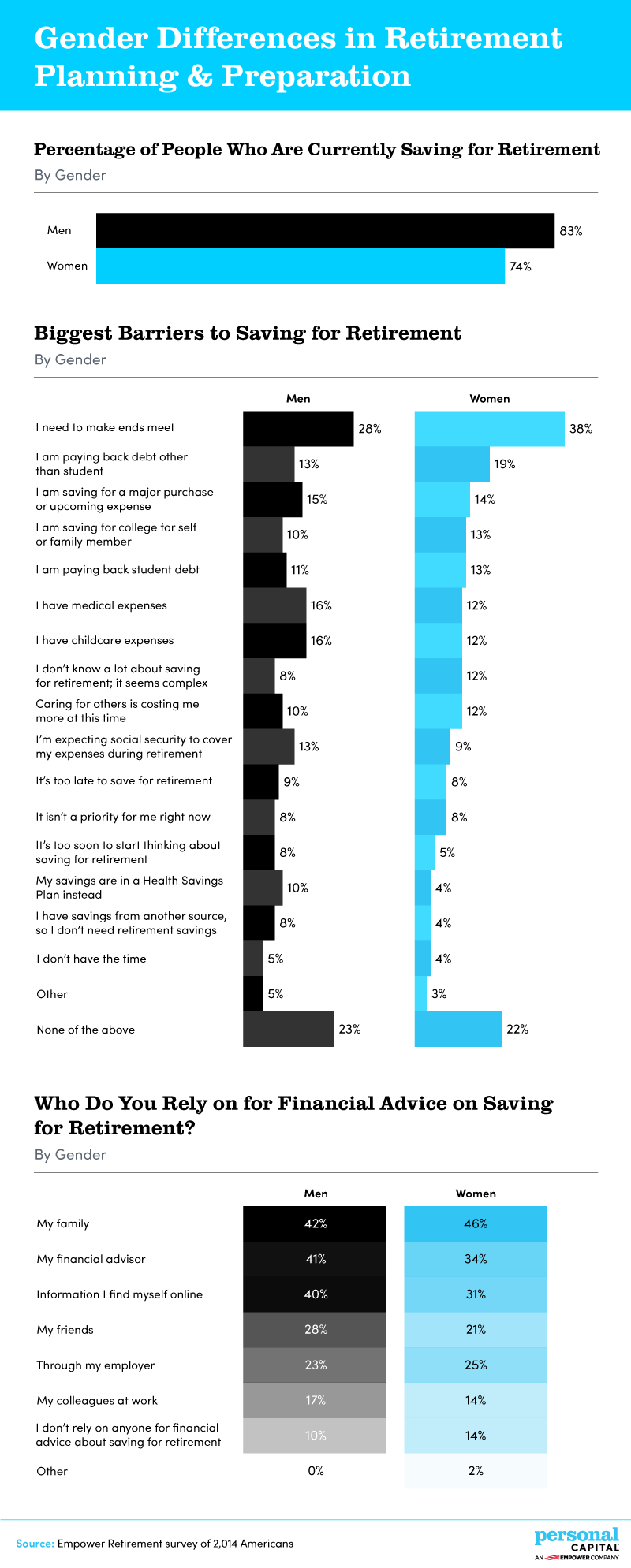 Women Entrepreneurs
Nearly 75% of female business owners reported being satisfied with their career, even though the average salary was about $35,000 a year or less. More than 6 in 10 entrepreneurs said they decided to start their business because they wanted to, not because they needed to.
Slightly more than 1 in 4 women said their business has been open for less than a year, and of these women, about half said they started their new career path due to the COVID-19 pandemic.
Sometimes, if people want to make a change, they have to speak up, but it severely disincentivizes people to do so when there is fear. Working toward making the workplace a more inclusive environment is something people of all genders need to work toward, even if they are afraid to do so.
Updated on