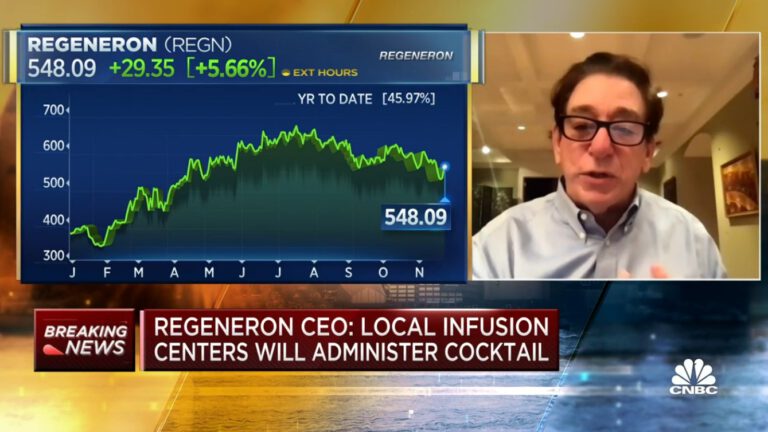 CNBC Transcript: Regeneron Chairman and CEO Dr. Leonard Schleifer speaks With CNBC's Meg Tirrell on "Squawk Box" today on the distribution of Covid-19 antibody cocktail.

Q3 2020 hedge fund letters, conferences and more
Crypto Hedge Fund Three Arrows Blows Up, Others Could Follow
A few years ago, crypto hedge funds were all the rage. As cryptocurrencies rose in value, hundreds of hedge funds specializing in digital assets launched to try and capitalize on investor demand. Some of these funds recorded double-digit gains in 2020 and 2021 as cryptocurrencies surged in value. However, this year, cryptocurrencies have been under Read More
Regeneron CEO Dr. Leonard Schleifer On Distribution Of Covid-19 Antibody Cocktail
Brian Sullivan: yeah, certainly starting to become a trend, Andrew thank you very much. But of course all the talk about vaccines, remember, folks, it's not just about preventing the virus, it's about treating the virus as well, and we've got breaking news out of Regeneron as they get good news out of their COVID-19 treatment. Meg Tirrell had 10 minutes to revamp, joining us with the CEO of Regeneron everything is very fast moving, meg, we appreciate it.
Meg Tirrell: thank you, Brian. Dr Leonard Schleifer, thank you for being with us this morning you got the news that you have emergency authorization use for your anti body cocktail for covid-19, and speaking of face moving the pace of development was astounding tell us how you're looking at how this drug will be used to help in this pandemic.
Dr Leonard Schleifer: we're very excited the FDA has granted the emergency use authorization. It's intended to be used for mild to moderate patients who have definite COVID-19, who are not on oxygen and are at high risk, and that's a large group of patients, and it has to be given by an infusion so people have to get to a place where you can get an intravenous drug. It takes about an hour to get it, and you have to be watched for about an hour. I suspect it will be deployed our first doses were contracted by the federal government. 300,000 doses, and they will be allocating it to the various state in proportion to the need and the amount of COVID-19 in each state, and the state health departments will dispense it to our distributors to places of administration so it's a bit of a complicated process. But I think it will be worth it because the data are encouraging.
Tirrell: so let's talk through how patients actually get this drug, as you were just saying, it's an iv infusion. You have to go to a place where you can get the infusion, and you're supposed to get it as soon as possible after your diagnosis. So if you are a high risk patient, if you're over 65 if you have a BMI over 35 or if you have one of the conditions you laid out here in the authorization, what is that going to be like for patients and what have you observed in the process for Eli Lilly whose antibody got emergency use authorization a couple of weeks ago.
Dr Leonard Schleifer: the way we expect it's going to work is if you get a diagnosis, you will ask your doctor how can I get let's say the Regeneron cocktail infusion, the two antibodies, which, by the way, must be given together. We think a cocktail is very important for reasons related to potential resistance, and you will ask your doctor where can I get this cocktail, and he or she will prescribe this cocktail for you if you're a patient who meets the criteria, and you'll go to one of your local infusion centers where this will be administered I suspect it will be different, meg, in each state, where, depending upon the logistics from each state, but the easiest thing is the doctor will be able to contact their health department or web site that the health department puts up and say where can I send my patient. I think it will get going pretty streamlined once some of the difficulties are ironed out.
Becky quick: hey, Len, it's Becky quick that's for being with us today. There were some questions raised in the past about this and similar treatment, just in terms of where it has happen if you have to go to a hospital to have this happen, there hasn't been home use that's been described but Dr. Scott Gottlieb said it would be great if you could have home use prescribed to have a nurse come to you, rather than bringing more COVID-19 patients into the hospital at a time when they're going to be tightly stretched anyway, is that in the works down the road, do you think?
Dr Leonard Schleifer: I do, Becky it's a great question, and I think the government and others are exploring different ways I think CVS, for example, is trying to figure out whether they can do this with their clinics in their stores, whether or not home infusion is appropriate. I think all of these things have to be figured out, and I think as we get more experience, we'll have a more efficient administration supply chain.
Quick: I'd love to see it more easy for patients to get access to this the idea of bringing a bunch of COVID-19 patients into a CVS where people are shopping for toilet paper and tissue right around the corner.
Dr Leonard Schleifer: I'm not sure it will be bring to the CVS, but a home infusion company, where it will be done whether in a tent, in a parking lot, these things have to be figured out. You're right we don't want to comingle with somebody who's infected but we want to treat these people you can reduce the risk of hospitalizations we're very sensitive to doing the right thing for patients, and the first thing we wanted to do, we thought, was bringing a cocktail together. The second thing is we thought that, you know, sometimes it's hard for even experts to know which things are actually working and which things aren't working. You hear about one treatment is approved in one jurisdiction, and another jurisdiction says don't use it we wanted to bring forth really strong data, the best data we could, and we felt the first point to make was you had to be able to reduce the viral load. If you're going to affect this virus, you have to be able to do that, and I think our cocktail is the first drug of any kind that has convincely, statistically robustly significantly, prospectively and repetitively shown that you can reduce the viral load that's not enough but now we can have this as a foundation where we also show you can reduce these medical related visits such as hospitalizations, E.R. Visits, et cetera.
Andrew Ross Sorkin: first, congratulations, we are all rooting for you, the whole world is rooting for you and the success you're having with this. We want you to be able to make as many doses of this as humanly possible as you look out over the next six months, and I know we showed what your expectations were for doses, how do you really want it to be distributed? I know you said if you get COVID-19, you should ask your doctor, if you can get access to it, but there's going to be a big debate about who's supposed to get it, and who's supposed to get it first given the number of cases that we're seeing, and given that you want to take it early, actually.
Dr Leonard Schleifer: yeah.
Sorkin: so you don't really frankly want to take it on the late side there was a big debate even over the weekend, Ben Carson, god bless him, is now better, but, you know, he came out and said he was given experimental cocktails, and people said, look, he's now going to be considered a special case, if somebody's wealthy, and they can somehow get access to this what's your prescription for how this should work
Dr Leonard Schleifer: I think this is a very important moment, and we've got to do it right let's start with facts let's start with what's our supply situation the governor initially contracted for 300,000 doses. We've got about 80,000 on hand ready to go, and we'll have that full 300,000 by sometime in early January, we expect thereafter, we expect to be able to deliver about 100,000 doses every month. Now, we're also looking at cutting the dose in half those experiments are actually ongoing, and that would double, if we were successful at that, and that would get to 200,000 a month, plus, we have a great partnership with Roche and they have already been doing the technology transfer from Regeneron to Roche, they know how to make this stuff, they're very sophisticated, they'll be making this ready for use in the first quarter. We hope to have millions of doses available. Still, that might not be enough. Look, I'm hopeful, we have seen nice vaccine data from three different vaccine makers now, and I'm hopeful that will really bring down the number of cases and that those people that still get it because they didn't either respond to the vaccine or they didn't access the vaccine or didn't want the vaccine that there will be this monoclonal cocktail available for treatment. We have to make sure this is done in a fair way I can tell you even before approval, we had a compassionate use program, and it had nothing to do with who you were in society, so to speak, or whether you're rich or what have you, we did it on a principled basis, and I think that's how it has to be done, on a principled basis, and I think there are sophisticated people, and medical experts in health departments who can direct it to the people who need it the most and who will benefit them the most we can't have a black market for rich people or something like that. This has got to go to where it needs to go to people who best benefit from it.
Sullivan: you know, doctor, you're not just a doctor and a ceo. You're probably a dad, you're a friend when your friends say to you, when are we going to be out of this, and we all know what I mean, how do you answer them when
Dr Leonard Schleifer: yeah, so I get that question a lot. I also get the question of whether or not they can get on the list, to which I frequently say to my golfing friends, if they get that putt, maybe they can get on the list, but I really think that we're all frustrated we all want to get out of this my belief is that and I'm not the world's expert on vaccines but when I look at all the data, and I look at what's going on, and I see the amazing things, call them miracles from vaccines to therapeutics to monoclonals call them miracles that our industry has brought forth, I think we get out of this and back to normal, certainly late next year, and I'm hoping sooner than that as we roll out the vaccine program.
Tirrell: len, it's meg tirrell again before we let you go, we have to ask, you're testing this drug as a prevention, which is a lower dose among people who live with somebody diagnosed with covid. When are you expecting we'll get to see those results
Dr Leonard Schleifer: we're accumulating that data now, and as soon as we have enough information perhaps this year, we'll be able to take a look at this data. What you're referring to is we're trying to treat people who aren't infected, give them a substitute immune response remember, if your brother, mother, sister, whatever, is affected and you're at risk to get it because you live them, a vaccine won't help you if you haven't been vaccinated because the vaccine is going to take weeks if not months to be effective. Our drug could be instantaneously effective, if you will, to protect you, and that's what we're testing and we hope to get the data in the not too distant future, which could be not only good for people at high risk, think of a nursing home, doctors, people living with people, but it also could prevent the ongoing spread, the downstream spread through contact tracing, and aggressive treatment of people who are at risk to get it, and then spread it
Tirrell: well, we really look forward to seeing those data, and for now, you know, big news this morning with the emergency use authorization, len, thanks for being with us.
Dr Leonard Schleifer: good to be here thank you, Meg.
Updated on