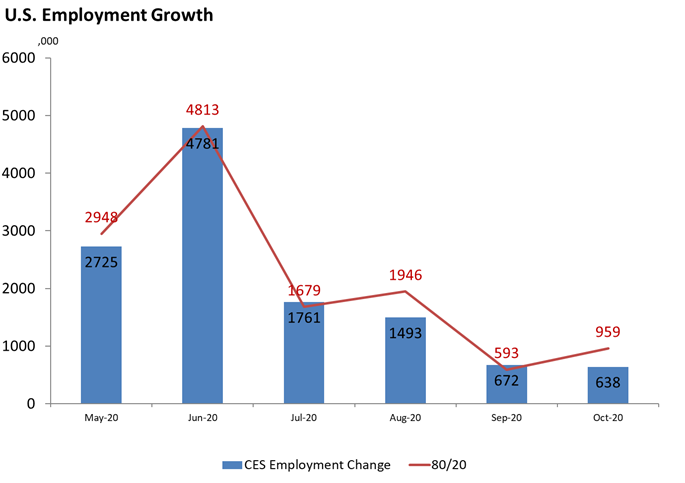 Jeoff Hall, Managing Economist, Refinitiv IFR analyzes October's US Jobs report below by providing data-driven insights into the current state of US labor economy.
Q3 2020 hedge fund letters, conferences and more
OCTOBER: US Labor Economy Far From Healthy Requiring Fiscal Stimulus
Jeoff Hall, Managing Economist, Refinitiv IFR comments:
Two Sigma's Venn outlines factor performance for March
Equities did well last month as most market watchers have noted that Value outperformed growth. In his March Factor Performance report, Alex Botte of Venn by Two Sigma noted that March was a strong month for the global Equity factor, especially in developed markets. Q1 2021 hedge fund letters, conferences and more He said Europe Read More
"Total nonfarm payroll employment rose by 638,000 in October, in line with the market consensus expectation (+600k) but on its own the worst month for net job creation since starting the recovery from April's 20.787 mn loss. If we look at just the private sector, however, employment rose by 906k, well ahead of the Reuters poll consensus (+690k) and slightly exceeding the growth in September (+892k). Taking into account other changes in key dimensions of the labor market, IFR Markets grades the October Employment Situation Report an A-minus.
Over in the household survey, the official unemployment rate declined 1.0 percentage point to 6.9%, whereas the market consensus looked for a drop of only 0.2-pp to 7.7%. That's because the number of unemployed persons went down by 1.519 mn last month, half again the decrease a month earlier. At 11.061 mn, the number of unemployed persons today is still nearly double that of one year ago.
In October, total employment according to the household survey rose 2.243 mn, more than eight times greater than the 275k increase in September and better than the average increase of 1.794 mn over the preceding three months. If we weight the employment gains in the establishment survey at 80% and the household survey at 20%, we come up with blended growth of 959k in October, compared to 593k in September. So to us, October's jobs report was stronger than September's, similar to the way August's report was stronger than July's. (see chart)
Construction Employment Rises
Among goods-producing industries, employment rose by 84k in construction, which was almost as much as in the three previous months combined (+90k). If the industry can sustain that pace, construction employment will have returned to pre-pandemic levels by December. Factory employment rose 38k in October, slightly behind the trailing 3-month average of +44k. The gains in October were evenly split between durable goods manufacturers (+21k) and nondurable goods manufacturers (+17k).
Among service-providing industries, government payrolls incurred a 268k loss in October, which followed a 220k drop in September. This was largely a reflection of temporary Census worker rolling off. The largest sector increase was again in Leisure and Hospitality, which added 271k net jobs in October. There was also an out-sized 208k gain in Professional and Business Services employment, where gains over the previous three months had averaged 156k.
Some 48% of October's 783k rise in private service-providing payrolls came from the two lowest-paying sectors: Leisure and Hospitality (+271k) and Retail Trade (+104k). Employment in the two highest-paying sectors went down: Information (-4k) and Utilities (-2k). That's not the composition of growth we would call robust. That also explains why growth in average hourly earnings was so soft. In fact, that's the reason we took a few points off from our grade.
Average hourly earnings rose just four cents (0.136%) in October and September's increase was revised downward to 0.034% from 0.068%. Compared to a year earlier, average hourly earnings growth slowed to 4.5% in October from 4.6% in July, August and September. Earnings growth remained quite strong in distributive trade industries, like transportation and warehousing.
The issue with giving an A-grade to an employment report in a pandemic is that it muddles the view policymakers might take. We contend that the labor economy is a long way from healthy and requires additional fiscal stimulus. The recent upswing in COVID-19 cases only reinforces this imperative."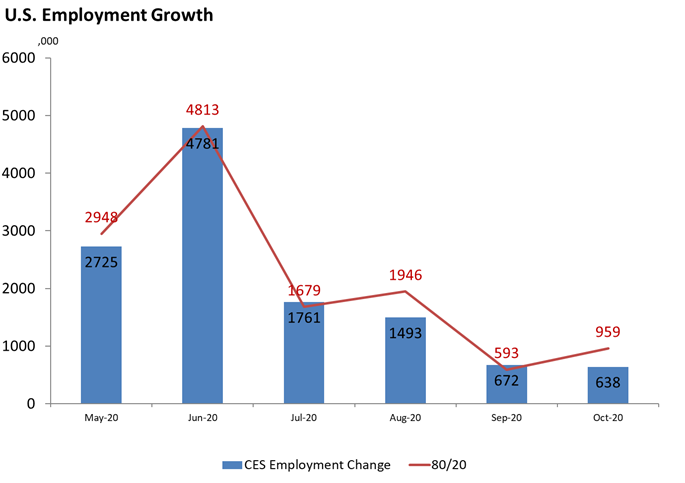 Source: Refinitiv IFR