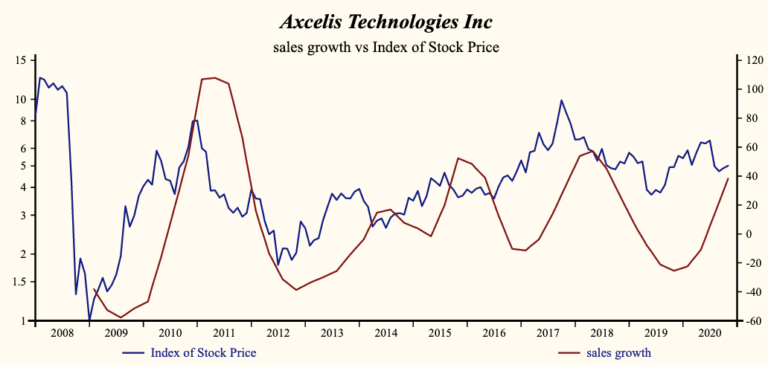 A very large volume of filings last week lifted the third quarter financial statement update to 76% complete. The 675 filings that were processed last week was the largest weekly update ever. Still too early for a macro analysis but we will let one more week transpire to accumulate about a 90% complete update. Again, more evidence of crisis management at companies where sales growth is negative and falling. Rising gross profit margins and operating margins with sales growth negative is evidence of aggressive cost curtailment. That is widespread layoffs at companies that are unable to adjust quickly enough to the new corona world.

[activstinvesting]
Q3 2020 hedge fund letters, conferences and more
Fund Manager Profile: Zhang Hui Of China's Southern Asset Management
Historically, the Chinese market has been relatively isolated from international investors, but much is changing there now, making China virtually impossible for the diversified investor to ignore. Earlier this year, CNBC pointed to signs that Chinese regulators may start easing up on their scrutiny of companies after months of clamping down on tech firms. That Read More
Last week's sharp stock market rebound is a good opportunity to review growth and financial condition attributes. Companies are either haves or have nots in the new virus world. In the history of US business cycles, this is a new experience where a small group of companies do exceptionally well while others do exceptionally poorly.
So poorly that many are now insolvent (cash from operations is negative) and without further aggressive bailouts, whole industries will shrink dramatically with more widespread bankruptcy. Use the recent shares advance to sell falling growth and deteriorating financial condition while share prices are at a premium.
It is too early to invest in a growth rebound. For now, focus your buy decisions on the small but growing population of exceptional attributes companies. These companies are thriving in a slowing world.
Axcelis Technologies $24.260 BUY this rich company getting better better
Axcelis Technologies Inc (NASDAQ:ACLS) has been a profitable company with persistently high cash return on total capital of 9.8% on average over the past 20 years. Over the long term, the shares of Axcelis hit a low in late 2008 but has since outpaced the broad market index.
The shares have been correlated with trends in Growth Factors. The dominant factor in the Growth group is EBITDA margin which has been 71% correlated with the share price.
38% Sales Growth in Q3
Currently, sales growth is 38.1% which is high in the record of the company and higher than last quarter. Receivable turnover is falling reflecting a strong quality of sales.
The company is recording a high and falling gross profit margin but SG&A expenses are low in the record of the company and falling. SG&A expenses are falling at a more rapid rate than the gross margin, producing a rising EBITD margin. This is a poor-quality growth trend to the extent that lower costs can insulate the bottom line from top line weakness for only a short time.
With profit margins under pressure inventory management becomes key. Inventory relative to sales continues to fall indicating that products are not sitting on the shelf. Sales, General & Administrative (SG&A) expenses are low in the record of the company and falling. SG&A expenses are falling at a more rapid rate than the gross margin producing a rising profit margin or EBITDA margin. This could be misleading; however, the EBITDA margin has been very highly correlated with the direction of the share price.
As a percentage of sales, free cash flow measures the relationship between cash flow growth and capital expenditures. Capital expenditures have been steady for the better part of the company's history. However, a stable gross margin and lower costs is producing an acceleration in the EBITDA profit margin thereby keeping free cash flow growth up for a fourth straight quarter.
More recently, the shares of Axcelis Technologies have advanced by 32% since the June, 2019 low. The shares are trading at lower-end of the volatility range in a 17-month rising relative share price trend.
The current depressed share price provides a good opportunity to buy the shares of this evidently accelerating company.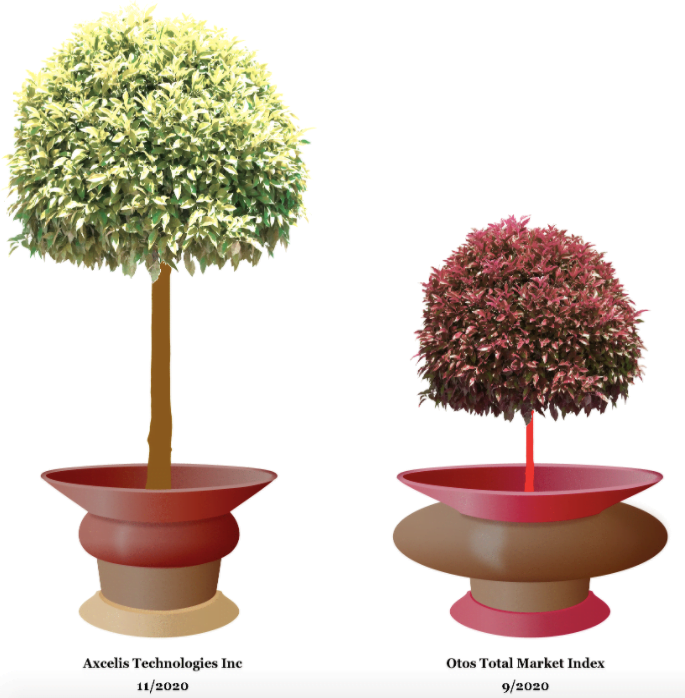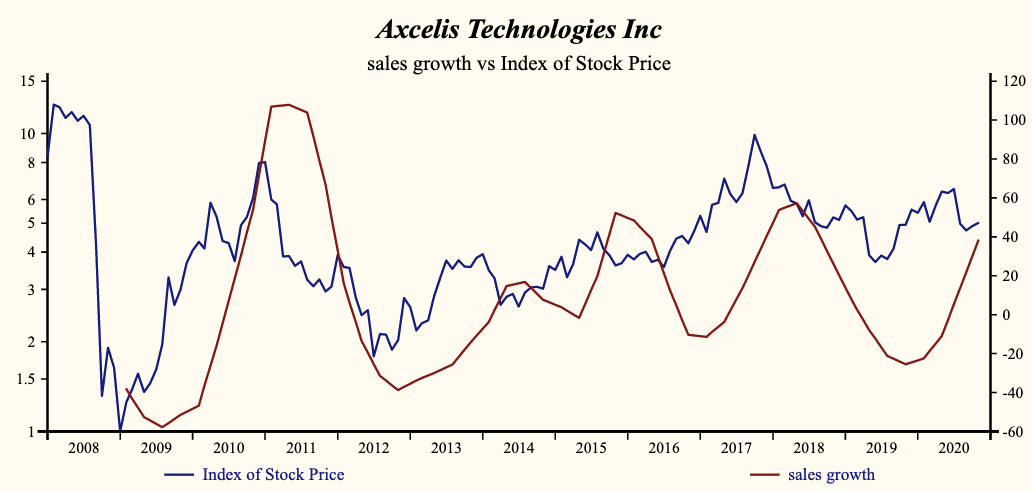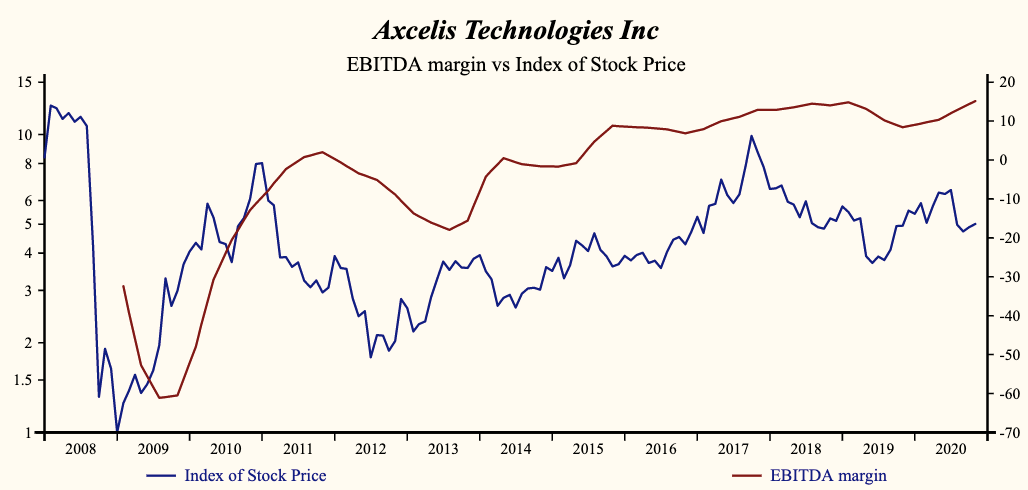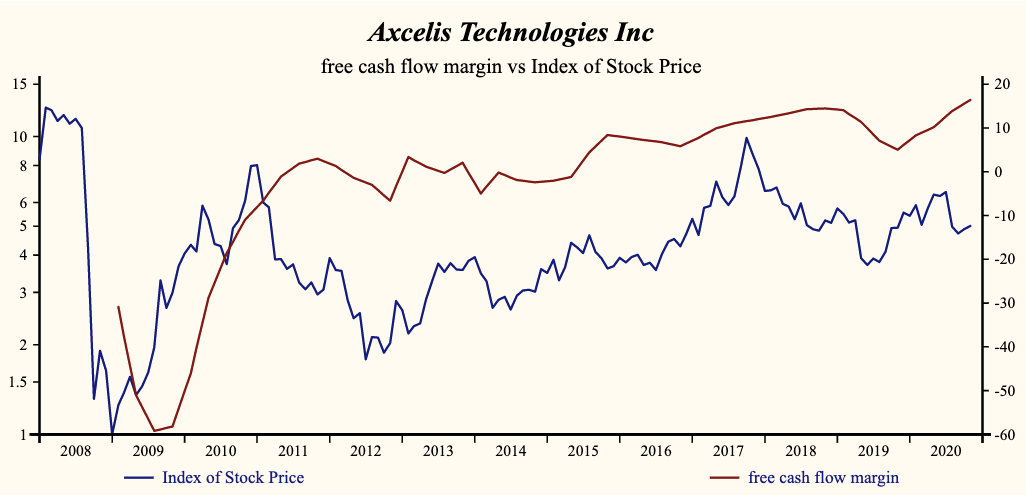 Updated on