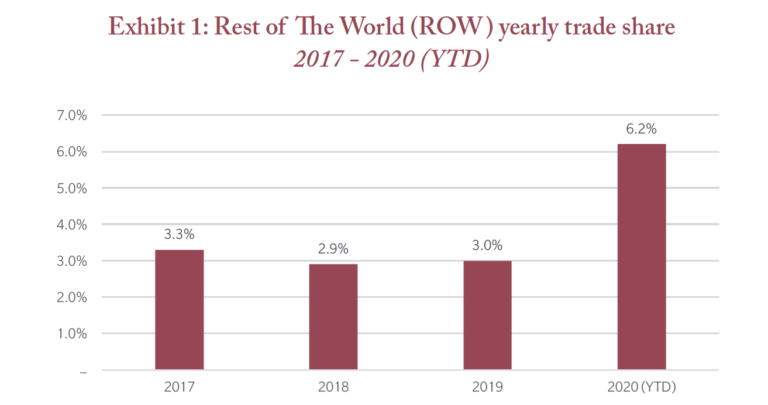 The fall season is among the most important months for wine. It marks the release of the most in-demand wines – including Opus One, Clos Apalta, Almaviva, Seña and Cheval des Andes – in breakout regions like Chile, Argentina, South Africa and the USA. In light of this, Cult Wines, the world's leading fine wine investment company, just released its annual US & Emerging Market Report, which contains comparative market research, trends and patterns for high growth investment opportunities in these untapped regions.

Cult Wines: US & Emerging Market Report
Executive Summary
2020 has proven to be a year of multiple challenges and opportunities for investors across all asset classes, including Fine Wine. Credentials for investing in wine remain centred around value preservation and price appreciation. As the fine wine market experienced slower growth in traditional regions from late 2018, investors have shown increased interest and confidence in "frontier" and New World producers from Chile, Spain, Argentina & Australia. Whilst ten years ago, wines produced from these combined countries accounted for 0.5% of trade share, measured by value on Liv-ex, the global trading platform for fine wine, they now in 2020 represent 6.2%.
London Quality Growth Investor Conference: Buy Dassault Systemes
At this year's inaugural London Quality Growth Investor conference, Denis Callioni, analyst and portfolio manager at European investment group Comgest, highlighted one of the top ideas of the Comgest Europe Growth Fund. According to the speaker, the team managing this fund focus on finding companies that have stainable growth trajectories with a proven track record Read More
To investors, these regions are historically defined as Emerging Wine Regions due to smaller secondary market activity, lower brand visibility and limited focus from major wine critics. However, in recent years, a number of producers are gaining in notoriety on the back of more widespread distribution via La Place – the historic system used to distribute the wines of Bordeaux globally, improved quality reflected by higher critic scores, and an accessible price point. This latest report summarises our findings, looking at the key trends highlighting the rise of Emerging Wine Regions.
Our research on US and emerging wine markets revealed several interesting facts, including the following trends:
Chile's performance has been strong, with Almaviva and Sena showing consistent returns.
Most CW sub-indices within the broader Rest of the World index outperformed Liv-ex ROW 60, with our own CW Chile index leading the gains.
Many of the recently released wines from Argentina & Chile have received their highest ever critic scores, suggesting improved quality across these regions.
Fine Wine market exposure to Emerging Wine Regions is growing as distribution channels widen (e.g. via La Place) and global demand rises.
In 2020, the number of unique wines traded on Liv-ex reached an all-time high level of 7,000.
As Exhibit 1 shows, Liv-ex's ROW (Rest of the World) 60 index, which tracks the performance of wines from Spain, Portugal, the USA, and Australia, has seen its trade share almost double over the last 3 years, increasing to 6.2% from 3.3% in 2017. Measured separately, US wines also saw tremendous growth in terms of both their trade share by value and the number of unique wines traded on the platform.
As regional activity has become more evenly distributed, a larger number of producers from non-traditional wine regions are now being acknowledged by wine collectors and critics, supported by appealing price performance and improved wine quality. This indicates that today's fine wine market is continuously expanding and diversifying.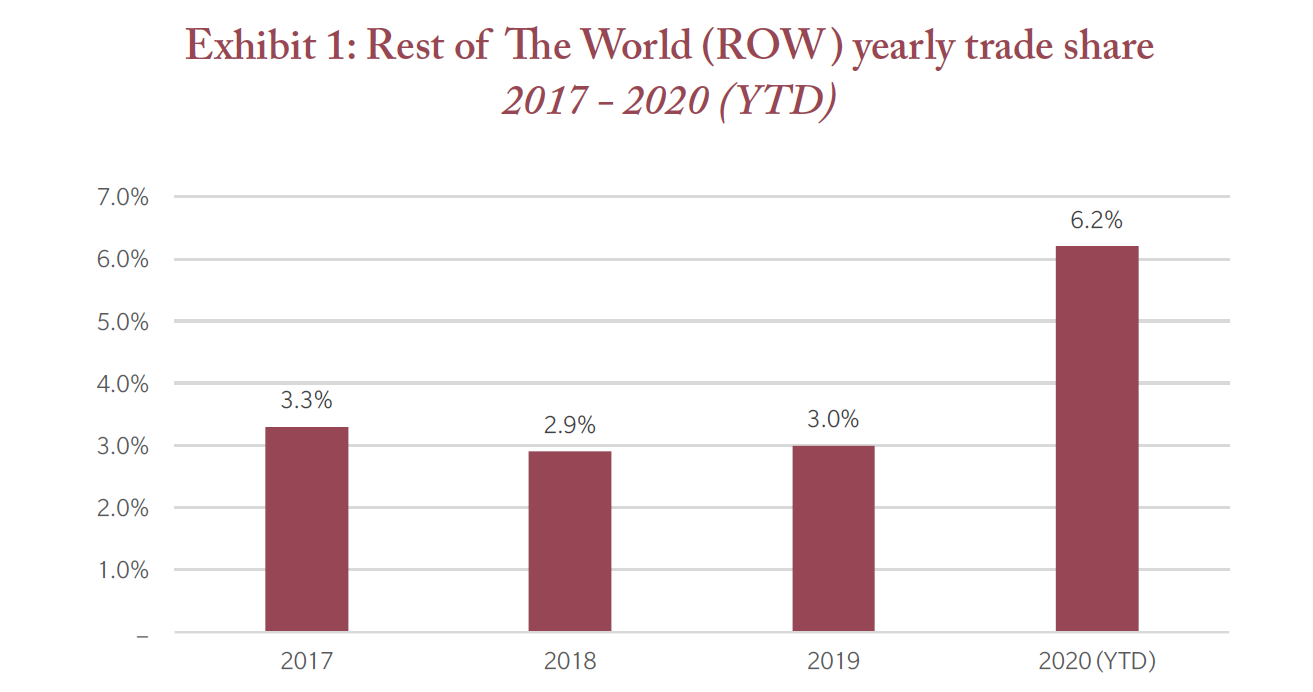 The past few years' performance has been strong for Emerging Wine Regions including Chile, Argentina, Spain & Australia. In particular, our CW Chile index returned 25% over the last 3 years, outperforming Liv-ex's benchmark index ROW 60 by over 200 bps. During the same period, ROW 60 returned 3.2%. There is no doubt that the Fine Wine market is broader than ever, however, variation in performance among different regions remains substantial.
To evaluate the success of an investment strategy, it is important to compare performance to a benchmark over a representative holding period. As Exhibit 2 demonstrates, selected CW sub-regional indices, forming the broader CW Rest of the World index, have outperformed Liv-ex ROW 60. Such outperformance is the combined result of careful and broader wine/vintage selection, strong sourcing capability, and tactical market timing.
More specifically, recent vintages (2013-2016) of Sena and Almaviva from Chile and older prime vintages of Pingus and Vega Sicilia from Spain have contributed the most to CW's past 3-year outperformance. To wine consumers, both Chile and Spain are regions filled with unique wines and high-quality brands, offering attractive relative value within their price range.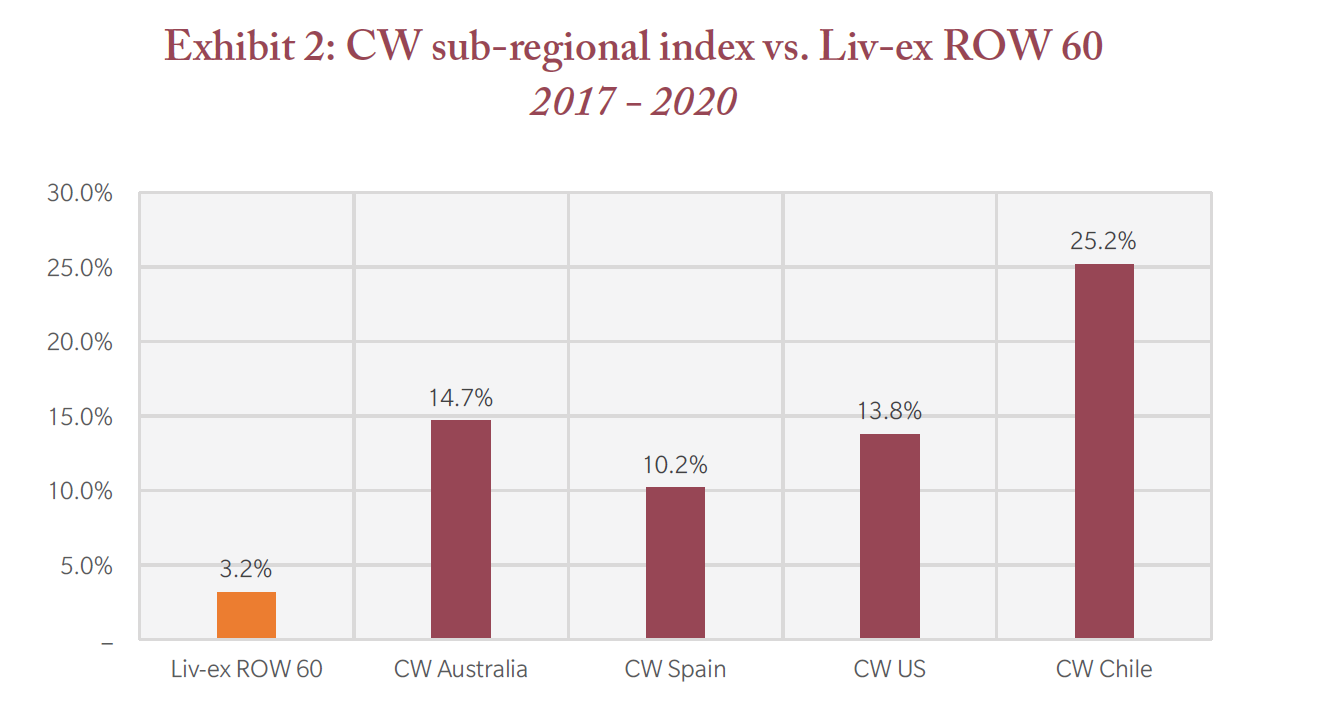 US Region
The interest in US wines continues to develop, with the breadth of producers receiving perfect scores in recent vintages. For example, in 2016 a staggering 33 different producers were awarded the perfect 100 points from the Wine Advocate. Below is a partial list of wines that were awarded 100 points by the Wine Advocate.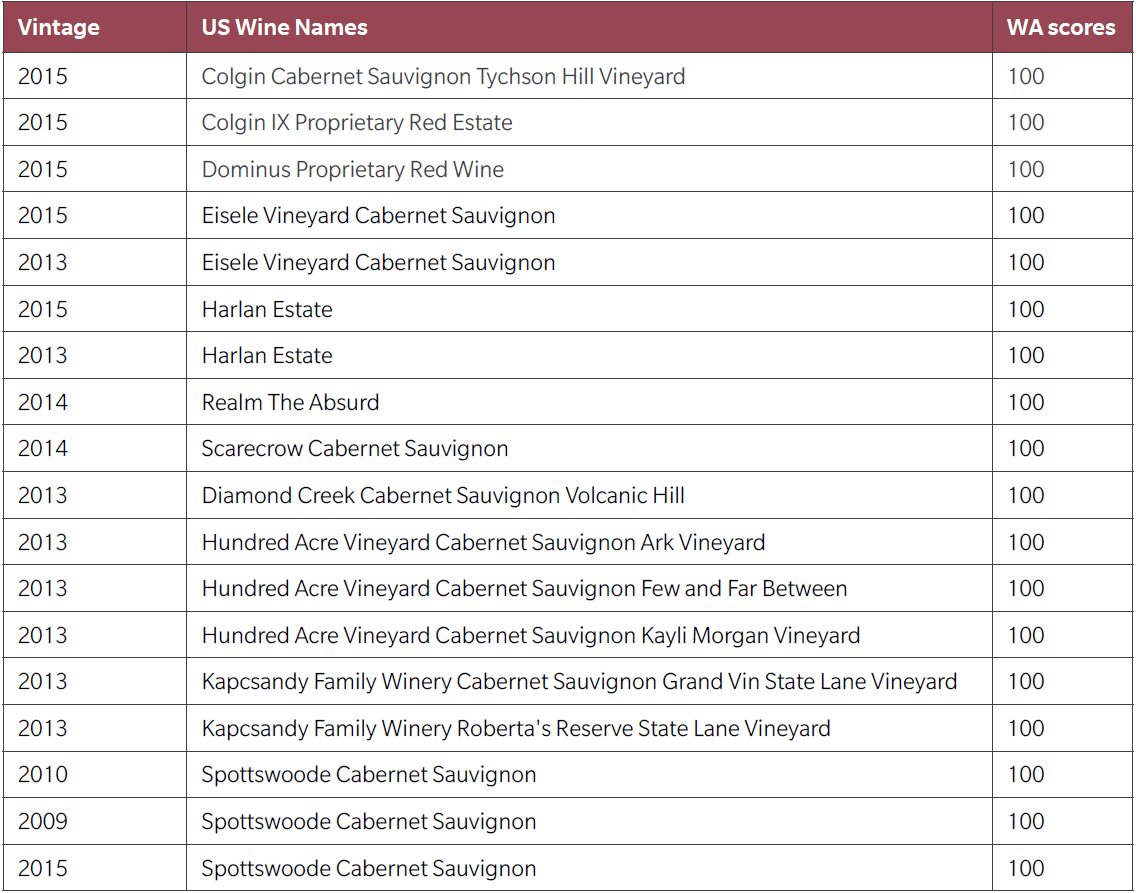 In 2010, there were only 101 wines from US and the Rest of the World regions traded on Liv-ex. By the end of 2018, that number had risen to 904. The US has contributed significantly to this pattern of trade. With flagship brands such as Screaming Eagle and Harlan featuring alongside lesser known producers, signalling a captive audience and strong prospects for growth. As interest from market participants has spread geographically, regions like Chile, Spain and California are all benefiting from this trend of diversification. By the end of 2019, just over 7,000 different wines traded through the secondary market.
As can be observed further in Exhibit 3, Italy, Rhone and Champagne have also seen their numbers significantly increased. To better explain the general trend in the wine market, whilst over 90% of the wines that traded on Liv-ex were from Bordeaux in 2010, they now represent only 55% of trade and wines from the rest of the world are catchingup.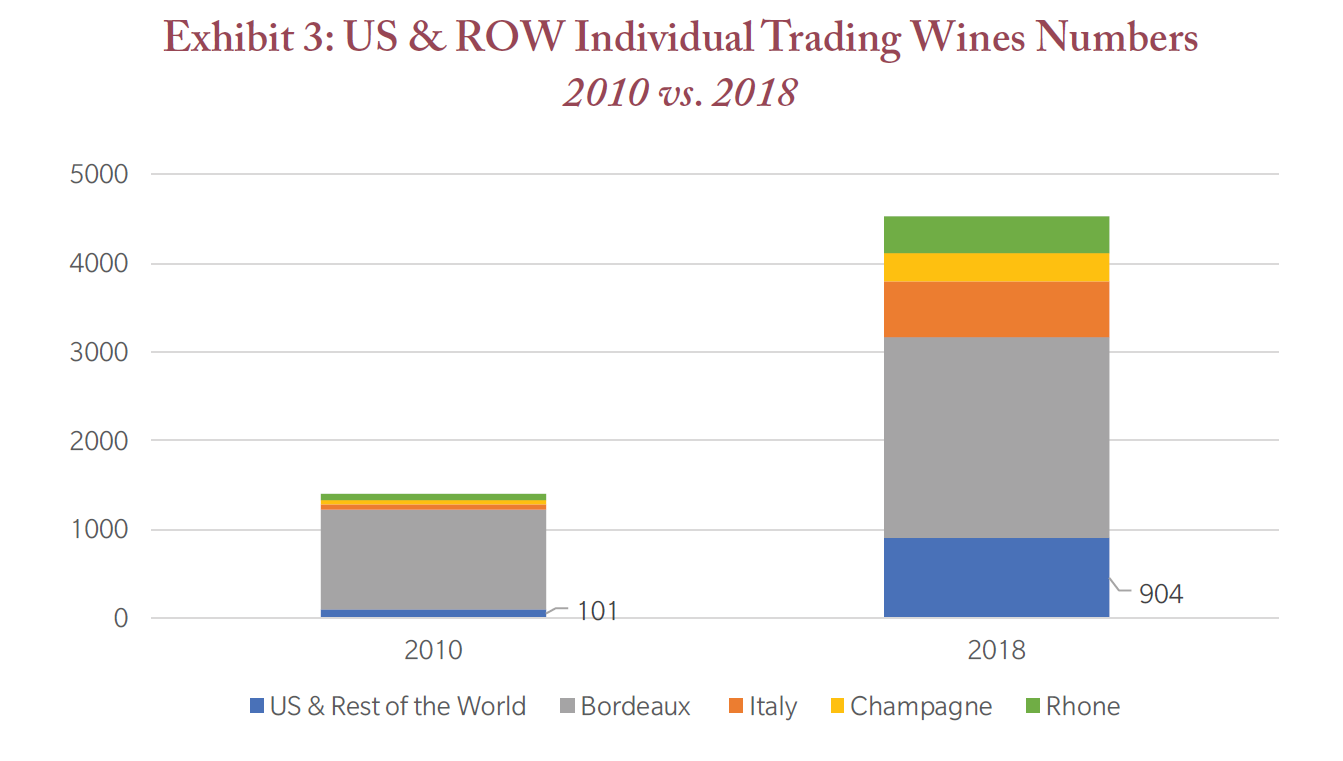 In 2018, Liv-ex launched the California (CA) 50 index, which tracks the performance of the last ten physical vintages of Screaming Eagle, Opus One, Dominus, Harlan Estate and Ridge Monte Bello, as the region has taken an increased share of the wine market. Before the official launch of the index, Liv-ex had started tracking California's performance since 2003, the same starting year as other commonly known Liv-ex regional indices such as Bordeaux 500 and Burgundy 150. It was only recently that Liv-ex decided to make the results available to the broader public following California's increased status in the wine market.
Since 2003, the California 50 index has gained 197% as of July 2020. The biggest name in the US – Screaming Eagle – has significantly contributed to this gain. Opus One and Ridge Monte Bello, priced lower than Screaming Eagle, within the price range of £1,000 – £5,000 per case (12*75cl), have also produced superior performance, with their average total return (2005-2014 vintages) at 108% and 131%, respectively. This positive trend suggests that the fine wine market is more than ready to embrace the growing demand for US wines as the need for diversification is fast becoming a priority for investors.
We found that Liv-ex's CA 50 has delivered positive returns for five consecutive years through 2014 to 2018 with an average 5-year return of 13.8%, outperforming both Bordeaux 500 and Liv-ex 50, which track the Bordeaux First Growths. However, with the uncertainty caused by Covid-19, market data from early 2020 has indicated a broader-based slowdown in the fine wine market, with most of wine regions posting negative growth. Performance of US wines was also negatively affected, but not to the same extent as Bordeaux in the first half of the 2020. As Exhibit 4 shows, CA 50 dropped by 0.2% YTD.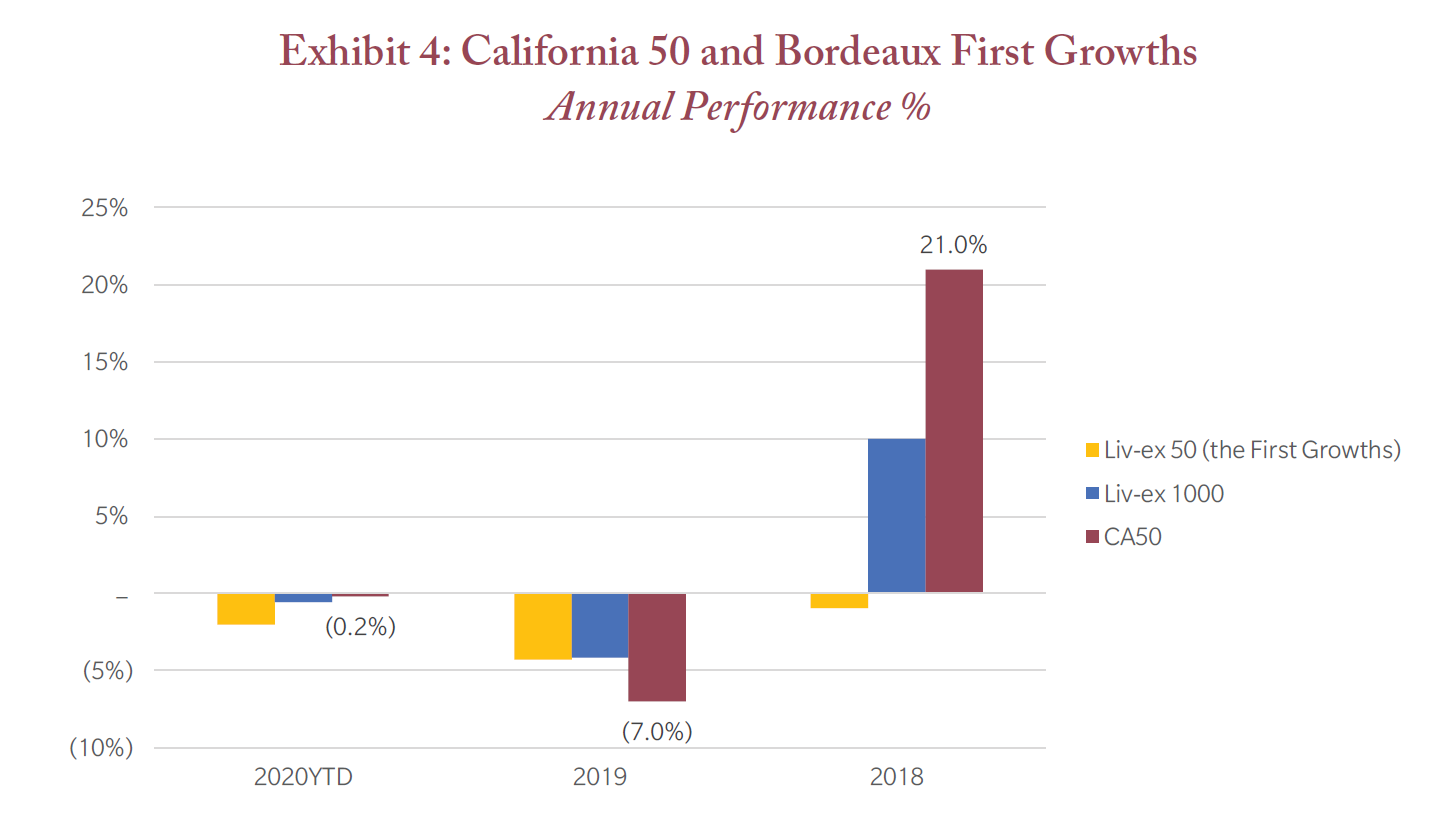 Read the full report here.
Updated on