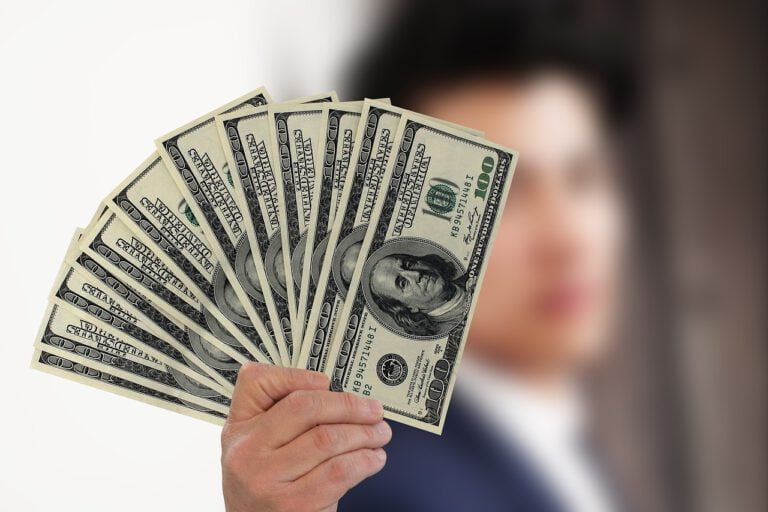 Many people are looking for an update on any potential IRS stimulus check number 2. So far a second round of stimulus checks is far from a guarantee, but it is possible that lawmakers will include more checks for households in the phase 4 stimulus package. Here's an update on the possibility of an IRS stimulus check number 2.
Q1 2020 hedge fund letters, conferences and more
Phase 4 stimulus package may focus on manufacturing
One new reason that suggests an IRS stimulus check number 2 won't make it in the phase four package was revealed over the weekend. According to CNN, White House trade adviser Peter Navarro said over the weekend that the Trump administration wants to see the phase 4 stimulus bill focus on manufacturing.
Robinhood 2021 Conference: Cathie Wood discusses her investment process with Lee Ainslie [Exclusive]
ARK Invest is known for targeting high-growth technology companies, with one of its most recent additions being DraftKings. In an interview with Maverick's Lee Ainslie at the Robinhood Investors Conference this week, Cathie Wood of ARK Invest discussed the firm's process and updated its views on some positions, including Tesla. Q1 2021 hedge fund letters, Read More
President Donald Trump reportedly wants the bill to cost at least $2 trillion, although Senate Majority Leader Mitch McConnell has said he doesn't want the last bill to exceed $1 trillion in price. The Trump administration may be able to influence McConnell and other Senate Republicans to increase the price tag of the next stimulus package.
Navarro said the U.S. economy is up against "significant structural headwinds," especially in industries like hospitality, entertainment and transportation. He said the only way to deal with those headwinds is to "significantly expand and strengthen our manufacturing base."
He also said the U.S. economy must create more manufacturing jobs, which provide good wages and spur job growth up- and downstream. Additionally, he said Trump wants the phase 4 stimulus package to focus on his two basic rules, "Buy American, Hire American" and incentives for American companies to bring jobs back to the U.S.
Will an IRS stimulus check 2 be included?
Although the focus of the phase 4 stimulus package may be manufacturing, it's likely that other provisions will be included in it. The big question is whether IRS stimulus check number 2 will be one of those provisions.
Based on commentary from Senate Republicans, it sounds like a second round of stimulus checks is a low priority. Even though the Trump administration is apparently focused on manufacturing, other Trump advisers said last week that the president was seriously considering another round of checks.
Republicans have latched on to the surprise job numbers for May as a reason why a second round of IRS stimulus checks may not be necessary. However, the good news is that Treasury Secretary Steven Mnuchin said last week that the White House would "seriously look at whether we want to do more direct money to stimulate the economy."
That's certainly a good sign that an IRS stimulus check number 2 will be included in the phase 4 stimulus package despite the positive jobs report and the president's focus on manufacturing.
What else might be included in the phase 4 stimulus package?
Aside from an IRS stimulus check number 2, several other provisions are under consideration by Republicans and Democrats. The White House has mentioned infrastructure as a potential focus for a future stimulus bill. Republicans and the Trump administration have called for back-to-work bonuses and a payroll tax cut. The bonuses may receive bipartisan support, although the status of the payroll tax cut is a bit unclear.
Democrats want to extend the extra $600 in weekly unemployment benefits past July. However, Republicans will likely block that effort because the extra money results in many people getting paid more to be off work than what they were earning while working.
Mnuchin has talked about trimming the extra benefit by a few hundred dollars per week, so that is a possibility. He described the extra $600 in benefits as broken because it may incentivize people to avoid returning to work. That would make it difficult for small businesses to resume operations.
Democrats also want to see assistance for state and local governments. Republicans could be convinced to support such aid as long as it supports only additional expenses incurred because of the coronavirus pandemic. They don't want to bail out poorly managed states that have had budget problems for years.
When might IRS stimulus check number 2 arrive?
Those who are hoping for an IRS stimulus check number 2 shouldn't expect it any time soon. The Senate has been pumping the brakes and wants to see how the first three stimulus packages help the economy. McConnell has said that they may start discussing the next package after their two-week recess that starts on July 3.
That would put debate on the phase 4 stimulus package in late July, so it could be August before any compromise on provisions for the package can be reached. We will continue to watch for updates on the possibility of an IRS stimulus check number 2.