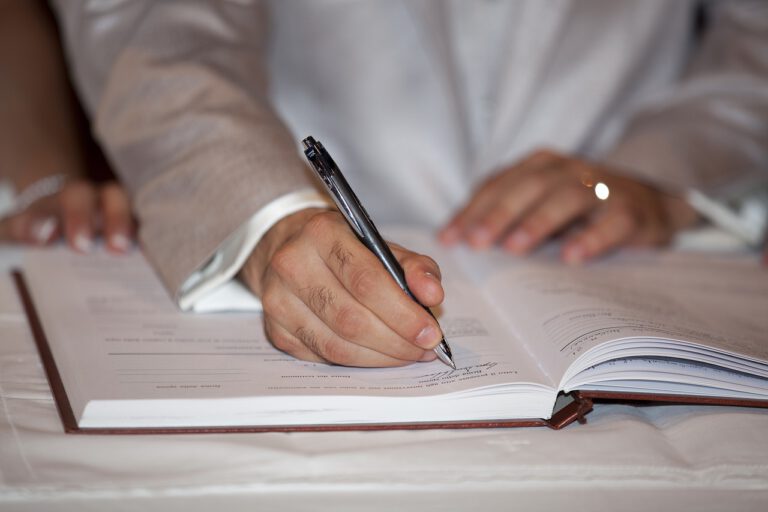 Millions of Americans receive healthcare insurance through an employer-based plan, Medicare, Medicaid or other type of program, but more than 27 million Americans remain uninsured. As a health data management firm interested in where those uninsured residents live, Harmony Healthcare IT analyzed health insurance data from every state as well as the 100 most populous metro areas in the country.
Q1 2020 hedge fund letters, conferences and more
Uninsured Residents In Every State
Interestingly enough, they found that Millennials are the demographic with the highest percentage of uninsured with more than 6 million millennials between the age of 26 and 34 without health insurance. Among the top 17 states with the highest percentage of uninsured residents (10% or more), 11 are located in the South or the Southwest.
Hedge Fund Launches Jump Despite Equity Market Declines
Last year was a bumper year for hedge fund launches. According to a Hedge Fund Research report released towards the end of March, 614 new funds hit the market in 2021. That was the highest number of launches since 2017, when a record 735 new hedge funds were rolled out to investors. What's interesting about Read More
Texas is currently home to the highest percentage of uninsured residents with more than 5 million Texans or 18% of the population, uninsured. After Texas, Oklahoma is the next state with the most uninsured residents at 14% of it's population currently uninsured. Oklahoma is followed by Georgia (14%), Florida (13%) and Alaska (13%) rounding out the top five states with the most uninsured residents.
Texas is also home to the metro area with the largest number of uninsured residents in the country. Not only that, but Texas is also home to the five metro areas in the country with the highest percentages of uninsured residents. That's certainly a lot of uninsured residents in Texas.
Listed below is the top metro areas with the most uninsured people in the US:
McAllen-Edinburg-Mission, TX (31%)
El Paso, TX (22%)
Houston-The Woodlands-Sugar Land TX (19%)
Dallas-Fort Worth-Arlington, TX (17%)
San Antonio-New Braunfels (16%)
Miami-Fort Lauderdale-West Palm Beach, FL (15%)
Cape Coral-Fort Myers, FL (14%)
Tulsa, OK (13%)
Atlanta-Sandy Springs-Roswell, GA (13%)
Oklahoma City, OK (13%)
Sarasota-Bradenton, FL (13%)
Austin-Round Rock, TX (13%)
Lakeland-Winter Haven, FL (12%)
Tampa-St. Petersburg-Clearwater, FL (12%)
Orlando-Kissimmee-Sanford, FL (12%)
In terms of states with the most insured residents, Massachusetts ranks #1 with only 3% of its population uninsured. Massachusetts is followed by Vermont (4%), Hawaii (4%), Rhode Island (4%) and Minnesota (4%). Massachusetts passed legislation in 2006 to make it the first state to provide near-universal healthcare coverage which is a big reason why it is ranked #1 on our list.
The analysis also uninsured millennials which is the demographic hit hardest by being uninsured. They analyzed uninsured millennials by state as well as uninsured millennials by city. The full breakdown and graphics from Harmony Healthcare IT can be seen below.
Uninsured States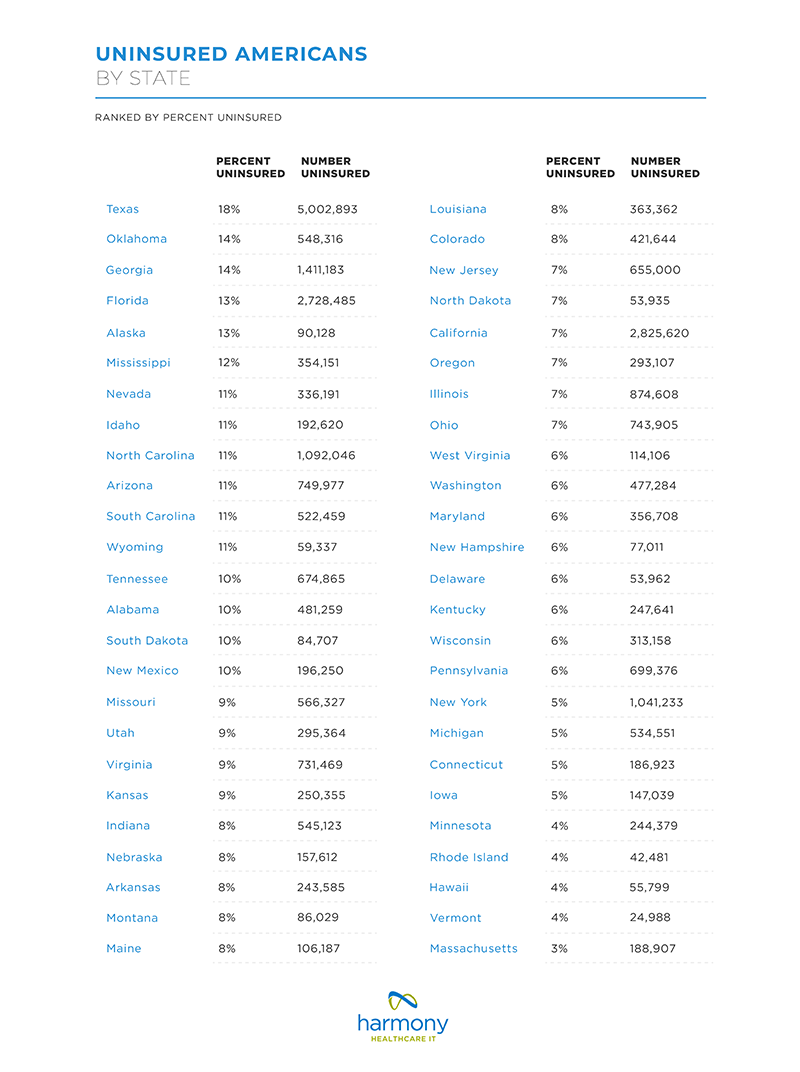 Uninsured Cities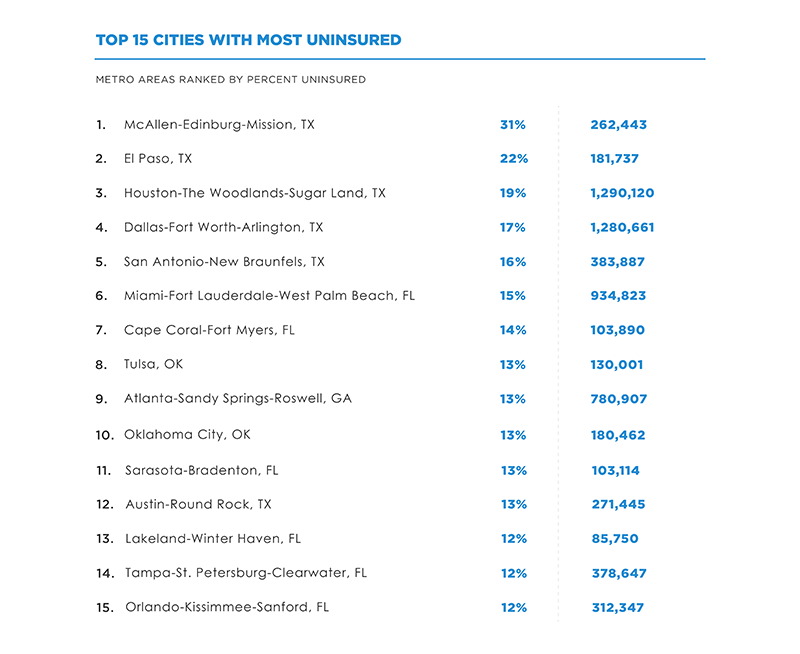 Updated on