China's economic growth over the last three decades has shocked the world. It has become the world's second largest economy and is on path to overtake the US as the world's largest. International investors and analysts following China keep a close eye on the Hang Seng Index and the Shanghai Stock Exchange (SSE) Composite Index. Hang Seng is the world's best performing index. Now let's take a look at the Shanghai Composite Index.
Q1 2020 hedge fund letters, conferences and more
Barometer of China's economic health
With market capitalization of more than $4 trillion, the Shanghai Stock Exchange is the fourth largest in the world after NYSE, Nasdaq and Tokyo Stock Exchange. More than 1,000 stocks are listed on the exchange including PetroChina, ICBC, and the Agricultural Bank of China.
The Shanghai Stock Exchange's origins date back to 1866. But it was suspended after the Chinese Revolution in 1949. The Shanghai Stock Exchange as we know it today was launched in 1990. Stocks listed at the exchange have 'A' shares that trade in local currency and 'B' shares that are priced in the US dollar for foreign investors.
The Shanghai Composite Index tracks all the 'A' shares and 'B' shares listed on the SSE. It gives investors a glimpse into the health of the Chinese economy. Just like the Nasdaq Composite and NYSE Composite, it's a market composite designed to track overall performance of the Shanghai Stock Exchange.
The index was introduced in July 1991. It is calculated with a base value of 100 and base date of December 19, 1990. The base period is the combined market cap of all stocks on that day. The index value is calculated using a Paasche-weighted composite price index. This is the formula:
Current index = Current total market cap of constituents × Base Value / Base Period
The Shanghai Composite Index is highly volatile
It has a history of being highly volatile. It jumped more than 150% between November 2014 and June 2015, and then fell more than 40% in just a few weeks. The extreme volatility forced the Chinese government to step in to temporarily halt all short-selling activities. Short selling resumed in 2016. Chinese government introduced fresh regulations in March 2017 to minimize extreme volatility.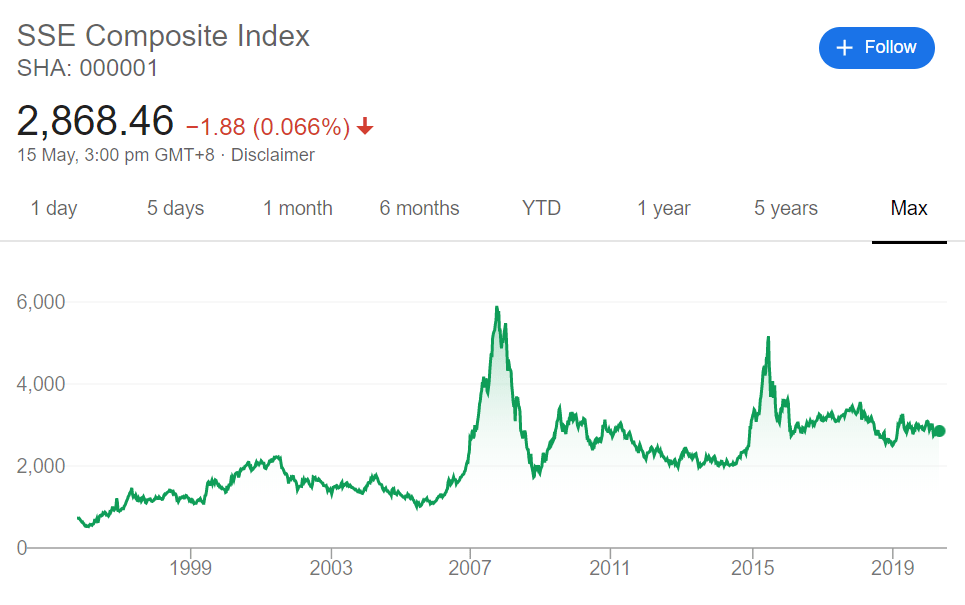 International investors interested in Chinese stocks can invest via exchange-traded funds (ETFs). There are several Chinese ETFs trading in the US. The most popular ones are the iShares MSCI China Index Fund (MCHI) and iShares FTSE/Xinhua China 25 Index (FXI).
However, it could be difficult for ETFs to mimic the performance of the index due to the huge number of stocks and liquidity issues. Remember that many of the largest stocks listed on the Shanghai Stock Exchange are state-run enterprises, so these companies are subject to political risks.