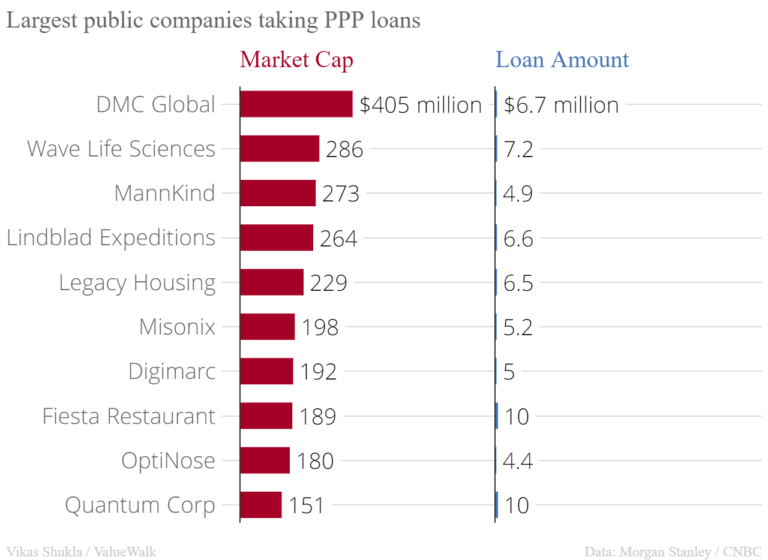 Tens of thousands of small businesses (the real small businesses) are struggling to survive the coronavirus pandemic. More than 22 million Americans have lost their jobs in just a few short weeks. The Small Business Administration's Payroll Protection Program (PPP) was supposed to help small businesses weather the storm and pay their employees. But many publicly listed companies – some with deep cash reserves – have also taken home a piece of the pie. Here we take a look at the top ten largest public companies by market capitalization that took PPP loans meant for small businesses.
Small businesses outraged on large public companies taking PPP loans
In March, the US Congress approved a $2.2 trillion stimulus package to support individuals and businesses amid the Great Lockdown. The government had allocated $349 billion for small businesses with 500 employees or less. The package would ensure that small businesses were able to pay their employees and bills.
However, the conditions for the program had certain loopholes which allowed even publicly listed large corporations to apply for and get the PPP loans. According to a new report from Morgan Stanley , at least 90 publicly traded companies received $243.4 million of the loans. Another report from the Associated Press claimed that at least 75 public companies have received more than $300 million in taxpayer-funded loans.
How To Invest In India's Growth with INDF's Amit Anand
ValueWalk's Raul Panganiban interviews Amit Anand, Co-Founder of INDF, and discusses his approach to investing and why India Financials are very attractive today. Q1 2021 hedge fund letters, conferences and more The following is a computer generated transcript and may contain some errors. Interview with INDF's Amit Anand
In a fair world, the amount would have gone to over a thousand mom-and-pop small businesses. The revelation has caused massive public outrage, especially from small businesses and their employees.
Treasury Secretary Steven Mnuchin has urged the public companies that have other financing options to return the money. "If they pay the money back quickly, there will be no liability to Treasury and the S.B.A. If they don't, they could be subject to investigation," said Mnuchin.
These are the ten largest companies by market capitalization that took the PPP loans. They have a market cap of more than $150 million, and they are capable of securing funds through other sources.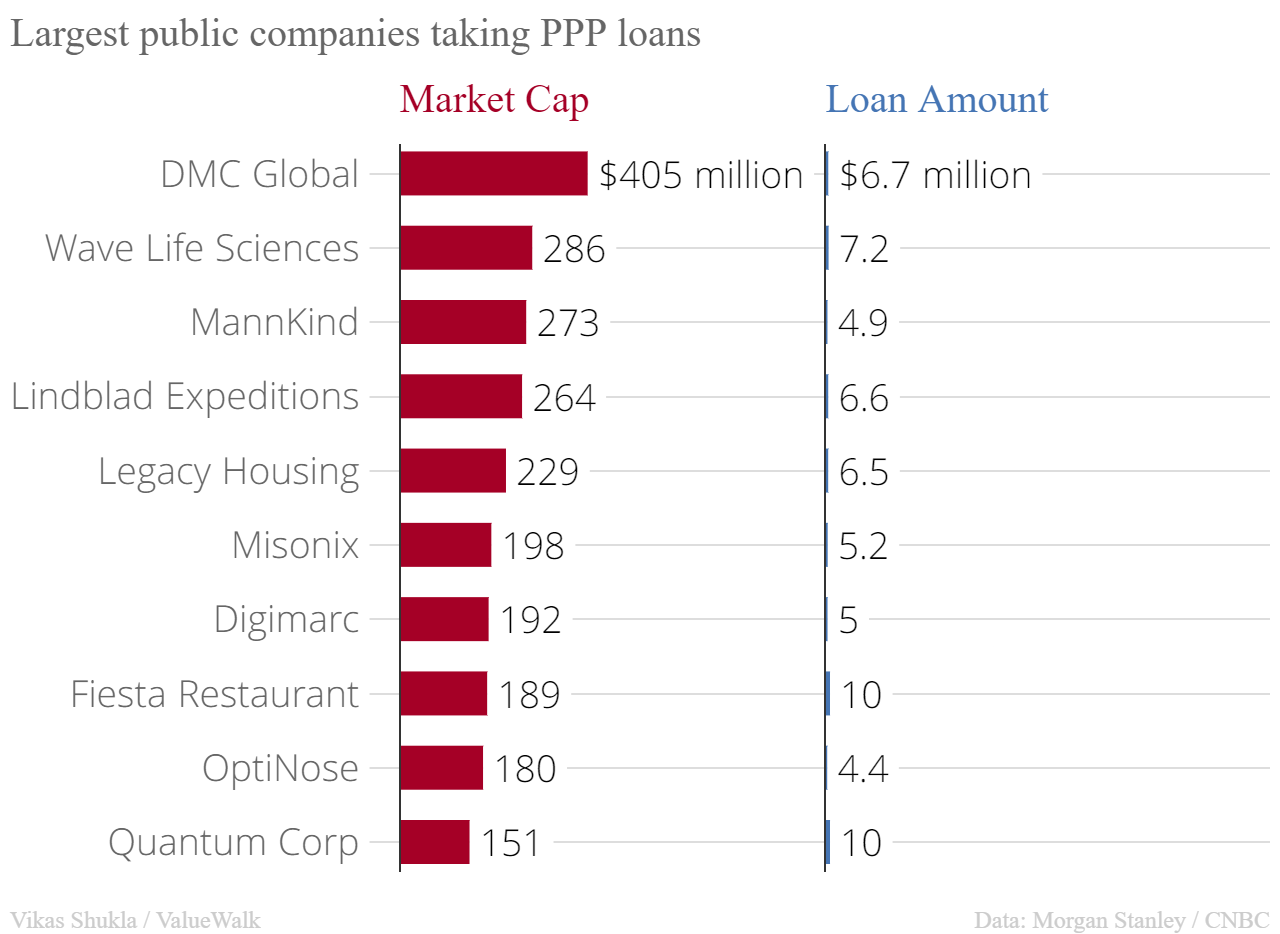 Topping the list is Dynamic Materials Corporation aka DMC Global. It's a Boulder, Colorado-based explosive metalworking and perforation company with a market cap of $405 million. It has received $6.7 million in PPP loans, according to Morgan Stanley.
Wave Life Sciences with a market cap of $286 million received $7.2 million in federal loans. Another biotech company MannKind (market cap $273 million) got $4.9 million of PPP loans intended for small businesses.
Lindblad Expeditions, a cruising and adventure travel service provider, secured $6.6 million. Shockingly, New York-based Lindblad has $137 million in cash reserves, according to its regulatory filings. It also has a partnership with National Geographic.
Legacy Housing is one of the largest builders of manufactured homes and guest houses in the country. It received $6.5 million in PPP loans. New York-based Misonix is a maker of advanced medical devices with a market cap of $198 million. It took $5.2 million in federal funding. Technology company Digimarc with $192 million market cap received $5 million in PPP loans.
Fiesta Restaurant Group is a surprising name on the list. It employs more than 10,000 people across the country and has $189 million in market cap. The company still received $10 million in PPP loans, even though the loans were meant for small businesses with fewer than 500 employees.
Specialty pharmaceutical company OptiNose got $4.4 million while California-based technology company Quantum Corporation received $10 million, the maximum amount.
Other public companies that took PPP loans
Dallas, Texas-based asset management firm Ashford Inc. received a staggering $53 million in small business loans through its various subsidiaries. Hotels affiliated with Ashford Hospitality Trust received $29 million. Braemar Hotels & Resorts secured $10.6 million while Ashford's other subsidiaries got an additional $12.8 million in funding.
Many other large, publicly traded companies also received hefty PPP loans. They include J. Alexander's Holdings (market cap $74 million), which received $15 million via its subsidiary restaurants. Ruth's Hospitality got $20 million by applying through two of its subsidiaries.
Burger giant Shake Shack had also received the maximum $10 million, but it has returned the loan after public outrage. Shake Shack said it has found alternative sources of funding. Had it not returned the funds, Shake Shack would have topped the list of the largest public companies getting PPP loans. It has a market cap of $2 billion.
It's a clear indication that the Small Business Administration and the Treasury Department have failed to get funds in the hands of small businesses that badly needed money to survive.
More loans on the way
According to data from the Small Business Administration, at least 4,400 loans amounted to $5 million or more. Overall, the average loan amount was $206,000 for small businesses. The SBA exhausted the entire $349 billion on April 16th, and has stopped accepting new loan applications for the PPP.
Democratic and Republican politicians are deliberating adding $310 billion to the PPP. About 20% of it will be earmarked for minority and rural groups, and another 20% would be set aside for the Economic Injury Disaster Loan program. Treasury Secretary Mnuchin has indicated that $75 billion could also be earmarked for hospitals and healthcare providers.