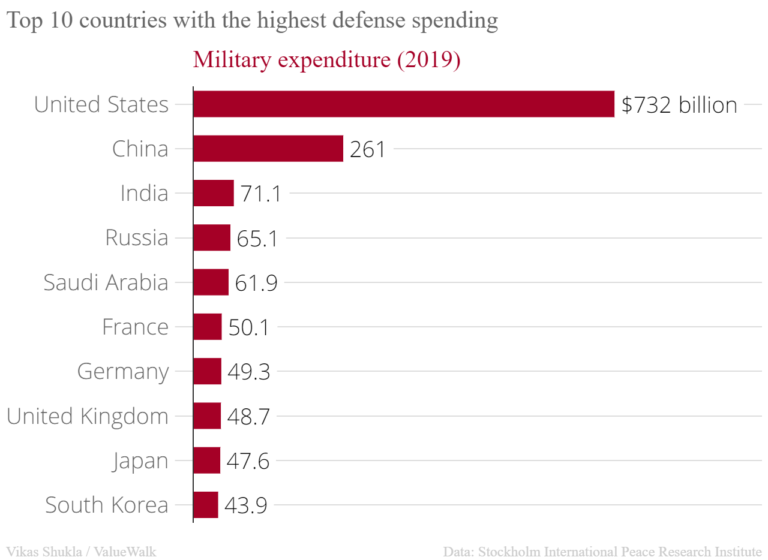 Military spending has been rising worldwide for decades. Geopolitical tensions, wars, and armed conflicts have been driving up demand for arms and ammunition. The United States and China – two of the world's most powerful countries – together account for 52% of global defense spending. That's based on the latest report on global military expenditure from the Stockholm International Peace Research Institute (SIPRI).
Global defense spending jumped 3.6% in 2019
SIPRI tracks military expenditures worldwide. According to the 2020 report, global defense spending witnessed the largest annual growth in a decade in 2019. The world collectively spent a staggering $1,917 billion last year, up 3.6% from 2018. It's the largest annual increase since 2010, and the highest annual amount in real terms since 1988!
Defense spending accounted for 2.2% of worldwide GDP in 2019. That's around $250 for every person on the planet. Armed conflicts and geopolitical tensions are primary drivers of defense spending.
Trident Fund LP May 2020 Commentary
The Trident Fund LP returned +1.4 percent in May, and the fund is +3.8 percent net for 2021. Q1 2021 hedge fund letters, conferences and more Trident unearthed a unique source of return in May when it exploited market reaction to an aggressive Fed rather than merely following the trends. Through the Risk Regime model, Read More
However, some countries are spending way more than others. All countries in South America collectively spent 'only' $53 billion on defense in 2019. And Brazil alone accounted for nearly 50% of that. All countries in Africa collectively spent $42 billion.
SIPRI researchers pointed out that global defense spending dropped noticeably after the 2008 financial crisis. The US was focused on reviving its economy. European countries had imposed austerity measures to battle the debt crisis. However, that fall in spending didn't last long.
The coronavirus pandemic could also force countries to cut their defense spending in the coming years. The world is heading towards a recession. SIPRI researchers said the military expenditure could decline in one to three years, but it will rise again after that.
These are the ten countries with the highest defense spending in 2019, according to SIPRI.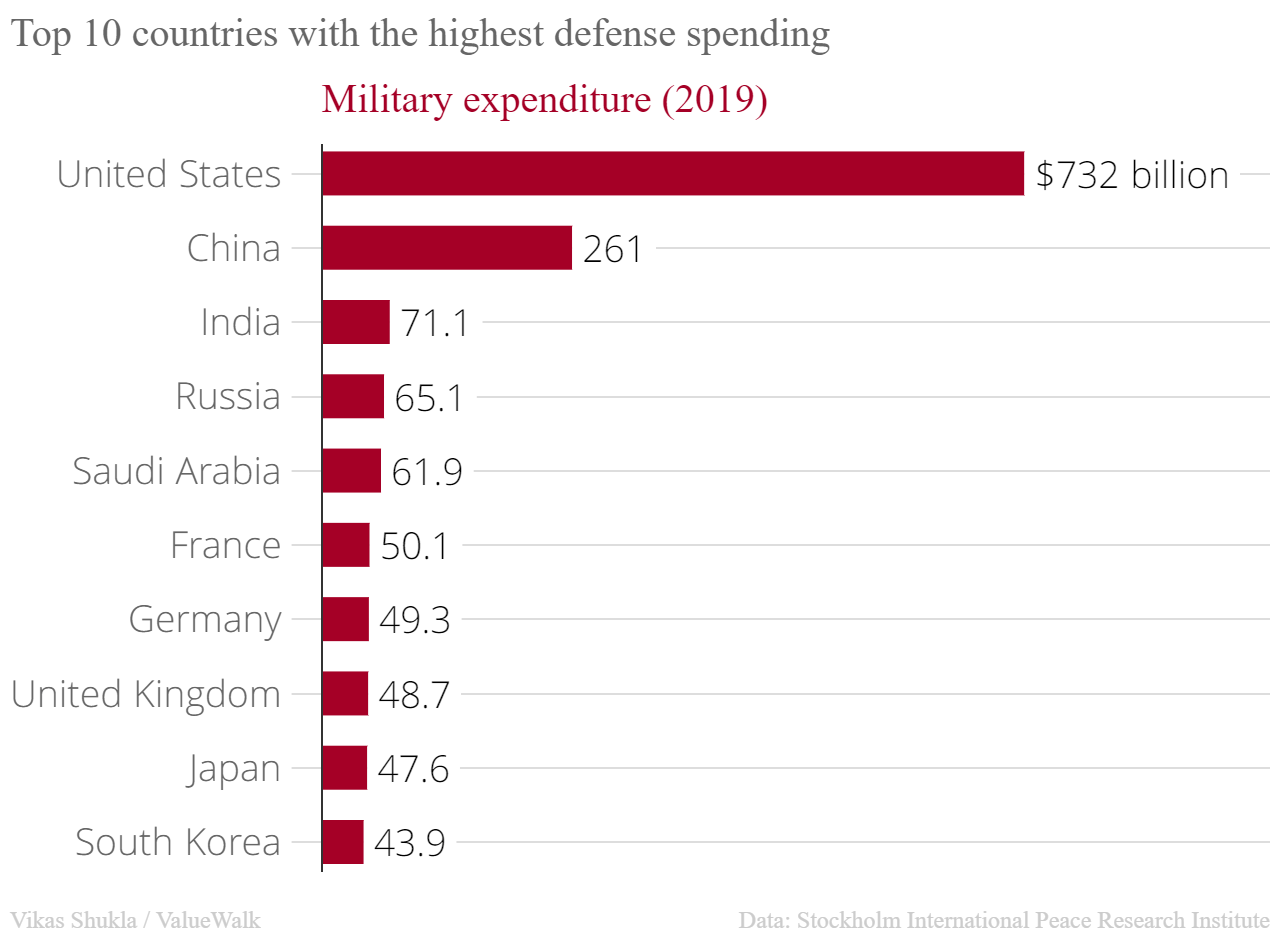 10- South Korea, $43.9 billion
South Korea increased its defense budget by 7.5% to $43.9 billion in 2019. The country faces serious threats from North Korea, which owns nuclear weapons. South Korea spent 2.7% of its GDP on defense.
9- Japan, $47.6 billion
Japan is one of the world's largest economies and military spenders. The country is locked in a dispute with China. Tokyo spent merely 0.9% of its GDP on military last year. However, the country plans to step up its defense spending over the next few years to buy advanced military equipment.
8- United Kingdom, $48.7 billion
The UK's defense spending in 2019 was unchanged from 2018. That's quite surprising because most of the NATO members increased their expenditure. The country spent only 1.7% of its GDP on defense in 2019, down from 2.4% in 2010.
7- Germany
Germany increased its spending by a staggering 10% to $49.3 billion, according to SIPRI. That's the highest increase in defense budget among the top ten biggest spenders. Its increased spending is partially due to the growing perceived threat from Russia. The US President Donald Trump has also been urging NATO countries to step up their military expenditure.
6- France, $50.1 billion
France's defense spending rose only 1.6% in 2019 compared to the previous year. The 2019 spending represented 1.9% of its GDP. France is expected to increase its spending in the coming years to meet the NATO target of 2% of GDP by 2025.
5- Saudi Arabia, $61.9 billion
Saudi Arabia remains among the top five countries with the highest defense spending. However, its 2019 defense spending was down 16% from the previous year. The kingdom spent a staggering 8% of its GDP on military. Saudi Arabia is fighting a war in Yemen. Tensions with Iran are also hitting a new high.
4- Russia, $65.1 billion
Russia boasts one of the world's most powerful armed forces. It spent nearly 4% of its GDP on defense. Moscow has increased its military expenditure by 30% since 2010. It is rapidly modernizing its military to replace the outdated Soviet-era equipment. Russia has a booming military-industrial complex, which it inherited from the Soviet Union.
3- India, $71.1 billion
India increased its defense expenditure by 6.8% in 2019 to $71.1 billion. It spent 2.4% of its GDP on defense last year. India is one of the world's largest importers of military equipment. It imports primarily from Russia, the United States, France, and Israel. India has been trying to boost indigenous defense production, but has seen only limited progress so far.
2- China, $261 billion
China's military spending has been rising consistently since at least 1994. But defense spending accounts for only 1.9% of its GDP. It means the growth in military expenditure has been largely on the back of rapid economic expansion. Its 2019 defense budget rose 5.1% compared to the previous year. China's military budget has grown 85% since 2010. The country is locked in disputes not only with the US, but also with nearly a dozen of its neighbors.
1- United States, $732 billion
The United States spends far more than any other country in the world on defense. Its 2019 defense budget was 5.3% higher than in 2018. The US accounts for 38% of the world's total military expenditure. According to SIPRI, the recent growth in the US defense budget is largely due to the growing perceived threats from China and Russia. The US is rapidly modernizing its military equipment as well as nuclear arsenal.