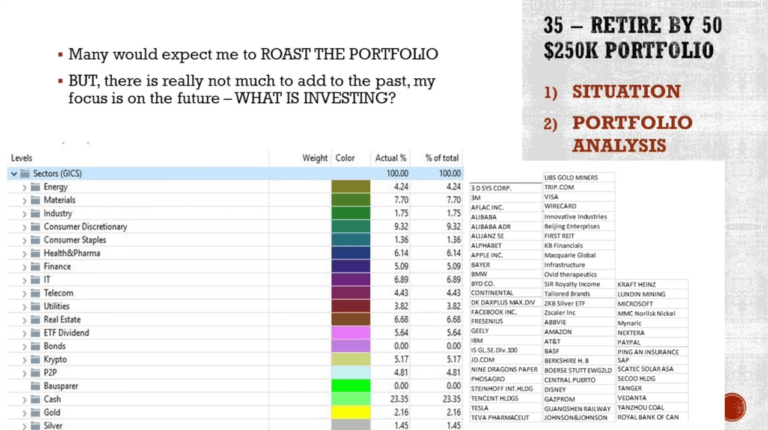 In this video, Sven Carlin discusses his long term approach to investing so you can retire in 15 years, at the age of 50.
Q1 2020 hedge fund letters, conferences and more
How to retire early, by age 50 - Retire in 15 years!
Bedford Park Opportunities Fund Q2 Letter: Long Converge Technology Solutions
The Bedford Park Opportunities Fund returned 13.5% net of all fees and expenses in the second quarter of 2021, bringing its year-to-date return to 27.6%. Q2 2021 hedge fund letters, conferences and more   In the fund's second-quarter investor letter, which ValueWalk has been able to review, Jordan Zinberg, the President and CEO of Bedford Read More
Transcript
Good day fellow investors, I was recently approached by an investor from Germany, 35 years old, 250,000 portfolio. And he asked, okay Sven for your charity purposes, I'll donate he donated 1000 euros for the charity. And can you please make me a strategy over the long term? How can I retire in 15 years so that I can retire and have a similar lifestyle when I'm 50? So 15 years from now, how to retire, how much do you need to invest, how to invest? We'll go through his portfolio. And we'll also discuss investing strategies that might help you if you have a similar goal to retire in 10-15 years.
Let's start. So I'll discuss the situation the personal portfolio goals, the personal portfolio analysis and my strategy when it comes to such an important decision of okay, how can my investments lead to my retirement 10-20 years from now? So this situation is we had we have to still have lunch together due to the situation we can but we will do that as soon as the situation normalises then I made the portfolio overview for the charity purposes, the current situation is 250,000 in portfolio, 70,000 euro have it in cash, so 170 portfolio. The goal was to retire in by 50 in 15 years, we'll be adding more than 50K over the next five years a little bit less than that later. So really have a lot of liquidity to add and adding I expect 715K over the next 15 years, no other assets except the apartment in the Philippines that will probably earn 500 per month long term.
Then if we look at the portfolio, it was a it is a portfolio with more than 60 positions. So it was a really, really crazy portfolio. Here is the list of stocks from Alibaba, Apple, Bayer, BMW, BYD, Continental, Facebook, IBM, Nine Dragons, Tencent, Reeds, whatever. A lot of stuff here in and many would expect me to roast such a portfolio, to really say this is bad, this is bad, but there is not really much to add to the past my focus is always on the future. So what is really investing? That's the important answer when you look at such a portfolio investing is building a portfolio is carefully adding your money to great investments that will lead to your financial goals. So you buy something as Charlie Munger says.
When buying not a great business, it's difficult because you have to sell at the right point in time when that gets revealed. But if you buy great businesses that lead you to your final national goals, you don't have to think about selling, you're buying and holding permanently like Berkshire does. And therefore also that is investing. We have a 15 year plan. We have to think okay, how are we going to build a great portfolio over those 15 years? It's not that okay, what is there is there how can we learn? How can we take the basis of what is there? Because the portfolio that is there has been there for a reason has been built for a reason. So it's not about sell this, buy that. No, understand what you're buying and continue building from there on.
Solution for me is categorization of investments accumulate the best at the time from those 60 there will definitely be great investments. What will the businesses look like in 15 years where I wish wish to retire? What is the yield the earnings that those will deliver in 15 years, and then forget about stock prices investing is about businesses owning businesses, not stock prices. In one world when I saw that portfolio I told the client you need discipline to know what you are buying and whether that will lead you to your stocks. Categorization, I always say go to one up on Wall Street, we made the video, and categorise the stocks you are looking at. How those fit your portfolio, your financial goals, whether it is fast grower or stalwart, a turnaround, a cyclical and asset play and then build the portfolio consequently. But always keep in mind okay, what is my goal? Where will be the business in 15 years and what can I expect from it?
So going back to the portfolio a few examples, Alibaba is a growth stock it has Chinese economy has a mode will be okay in 15 years, they are investing a lot higher than 15% expected return in relation to the growth but then there is always okay. There is the lower business risk because of the mode but there is the business risk of what happens if the growth slows down. Evie again stable growth high dividend and buy back high leverage makes it more risky expected within the 5% growth 5% but keep in mind the risk so I don't didn't analyse the pharma sector so I can't comment on that much more. Kraft Heinz has a good brand looks cheap, but it is a slow growth stock perhaps 7% maybe five to 7% long term. So just get the guys the stocks and therefore the video and the article I made on my stock market investing course that's completely free. Check the links in the description below, really helps with this categorization. Also, BMW, Taylor Brands Continental and when you look I asked him why did you buy that? Did you buy because the stock price went down he said yes. So that's stock price investing, not business investing.
So what do I need to retire in 15 years, I need great businesses today and that will be even greater 15 years from now, diversification is okay too, but buy five k of something every month and accumulate what's best that month based on a clear categorization that will lead you towards your goal. So we have to think 2035 and what will the business look like? Why it is so important because we have to reach the goal at 50. no risk there. And then if we just think about the categorization at 5% per year, we are at 1.8 million at 3%. Yield in 15 years 55k per year is enough if we reach 7% with the contributions, we are at 2.25 million again 3% is enough if you looked at my recent Berkshire video, see 10% return so this could be much, much higher in the future. But let's take an average of 7.
However, slowly accumulating businesses, 7% will do really, really good. And then when it comes, you see the portfolio 60 positions. It's all about the mindset and long term investing is all about having the right mindset. And as Benjamin Graham says, the investors chief problem and even his worst enemy is likely to be himself. So automatic purchases of good quality businesses. And then when I look at this portfolio, and also later in discussion, we have seen what is missing there, what is the part that's missing, and that is real estate because it offers personal diversification, hedging and leverage, which is something you don't have with stock market. And if you can find an investment where the cost is equal to the fixed market, then likely a good investment. So you have to look you have to search and then we looked at returns mortgages, cost mortgages and the client looked and saw that he can get a mortgage for 1% return. We didn't find immediately a real estate that covers the mortgage in Germany, because it's a little bit expensive. But this is also something to think about over your lifetime and something that can add those 1000, 2000, 3000 per month in 15 years that you need to retire also in Peter Lynch's book it is a given that you also look at real estate.
So the conclusion with this case is that's easily doable. You can easily retire in 15 years. What was missing in the portfolio was the real estate because it gives you a leverage, it gives you a hedge as inflation. And it gives you the opportunity of getting especially now free money to have something for very long term and then you have diversification, you have stocks. And you don't need to add that much to the real estate because the rent should pay for most of the mortgage in 15 years, you pay off your your investment as property, you accumulate a lot in stocks, and you have 1, 2, 3. And as opportunities arise, you have 1, 2, 3, 4. And in 10-15 years when you start thinking about, okay, how can I retire in 15 years, more and more opportunities will come if you have the right mindset. So I'm sure 2 million is little, he will be at 5 million. If he just remains calm and applies the right mindset. Over the next 15 years he will retire with double or triple what he expects. That's what investing is, when you approach it with 10-15 years perspective, the long term you really have a great advantage.
So I hope this helps you a little bit into structuring your retirement goals. Let me know in the comments, what are your retirement goals? What's your path to that? Subscribe, click that notification bell and I'll see you in the next video.