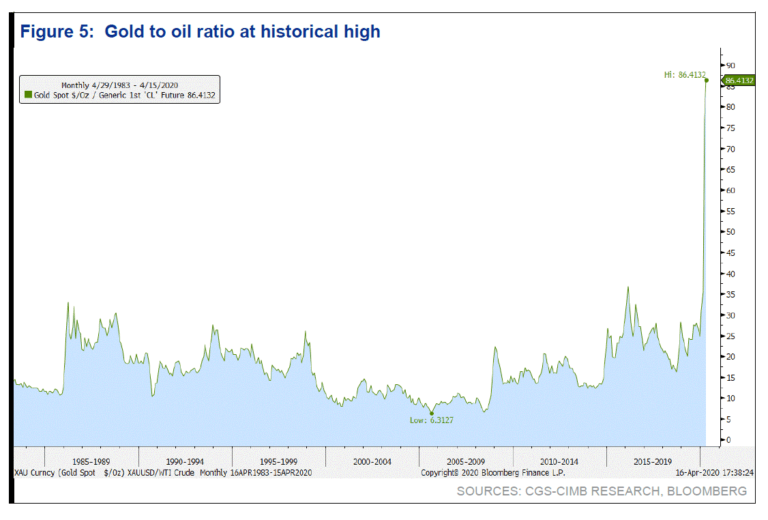 Gold prices have been holding steady above $1,700 an ounce, but deflation could change that, according to analysts at one firm. Most hedge fund managers and analysts have been calling for inflation due to the large amounts of stimulus being poured out by the Federal Reserve and other central banks. However, CGS-CIMB expects widespread deflation to pressure gold prices.

Q1 2020 hedge fund letters, conferences and more
Deflation: a contrarian view of gold prices
Analyst Lim Say Boon took up the contrarian view of gold prices in a recent report. He does believe gold prices will rally a bit more from where they are, trading alongside the rally in global equities. However, he argues that another round of risk aversion could pressure the yellow metal and equities.
How Value Investors Can Win With Tech And "Fallen" Growth Stocks
Many value investors have given up on their strategy over the last 15 years amid concerns that value investing no longer worked. However, some made small adjustments to their strategy but remained value investors to the core. Now all of the value investors who held fast to their investment philosophy are being rewarded as value Read More
He explained that global shutdowns could hurt demand for gold if the coronavirus isn't contained soon. Even on-and-off shutdowns will likely damage both current and future demand as debt levels go higher. He expects deflation to result, which has historically been bad for gold.
He also said the shutdowns have severely disrupted dollar cash flows, which will result in more dollar funding stress, driving the U.S. Dollar Index higher. A stronger dollar also typically means weaker gold prices.
He said eventually, central banks will try to "inflate away the debts accumulated" by their governments, which will boost gold prices. However, in the near term, he expects deflation to weigh on gold prices.
He pointed out that gold prices have confused traders and asset allocators. After climbing above $1,700 an ounce in early March, it fell to $1,451 just days later. Strangely, gold prices have been moving in step with equities since late February. When the VIX peaked and fell, gold bottomed and rallied with the S&P 500. As a result, he questions whether buying gold to diversify portfolios is useful.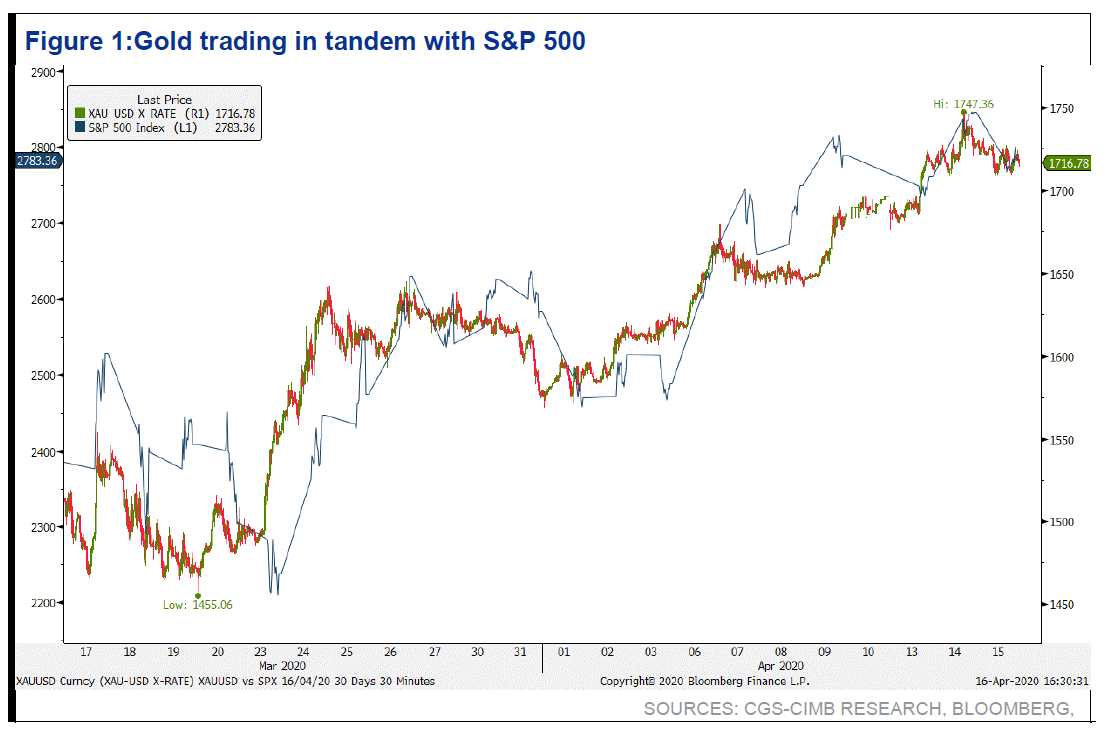 Inflationary or deflationary?
Lim said that in the long term, gold prices will probably be determined by whether the aftermath of the coronavirus is inflationary or deflationary. Hedge fund managers have widely been calling for central bank stimulus measures to trigger inflation.
For example, Paul Singer of Elliott Management believes gold is "one of the most undervalued investable assets existing today." He also said in his recent letter that he was surprised by how under-owned it is by institutional investors "in light of the obsessively inflationary policies being pursued by central banks around the world."
However, this isn't the view taken by Lim. He pointed to the quantitative easing that followed the Global Financial Crisis as an example of how deflation followed a major crisis. He noted that most expected quantitative easing to pressure the U.S. dollar and result in higher inflation, but that didn't happen. Contrary to expectations, the Dollar Index climbed. Disappointment in the debt that followed the Global Financial Crisis pressured gold prices as the dollar strengthened.
Between late 2015 and late 2019, gold prices climbed in step with the dollar. Lim believes this may have happened because the gold market was expecting inflation due to the negative to zero interest rates in place around the world, multiple rounds of quantitative easing, and increasing negative yielding debt.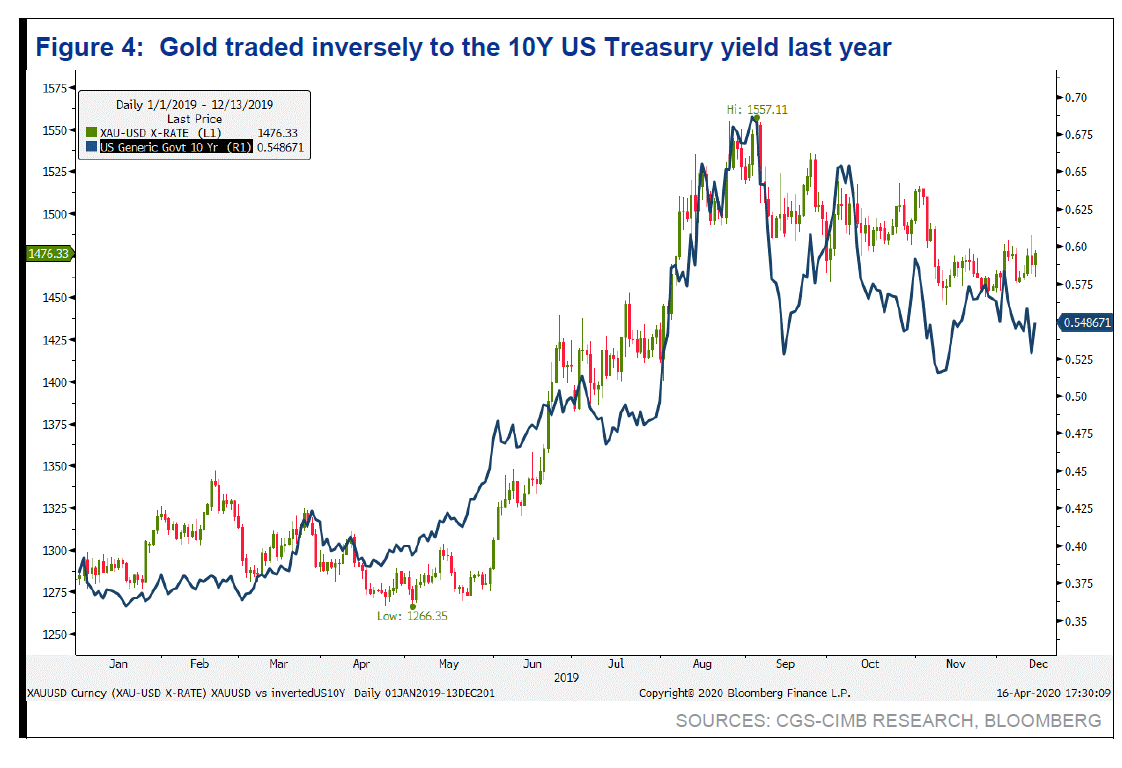 Why COVID-19 could be deflationary
He expects deflation to pressure gold prices in the next six months "as the market digests the damage to the global economy caused by Covid-19 shutdowns." He noted that wars destroy capital and productive capacity, and the end of war brings more demand than supply, resulting in inflation. However, he expects the COVID-19 crisis to be different because it destroys demand while leaving capital and productive capacity "intact and idle."
Lim added that the coronavirus is not only destroying current demand but also future demand by eating into savings and wealth. He expects COVID-19 to be deflationary not only this year but possibly next year as well.
He pointed out that gold and oil prices have diverged, with oil prices crashing into negative territory. However, they have historically moved together, which makes sense because they are both driven by inflation/deflation and the value of the U.S. dollar.
He noted that previous divergences between gold and oil prices have been resolved by declines in gold prices. However, he does expect oil prices to increase as well, given that the gold to oil ratio is now over 80 times.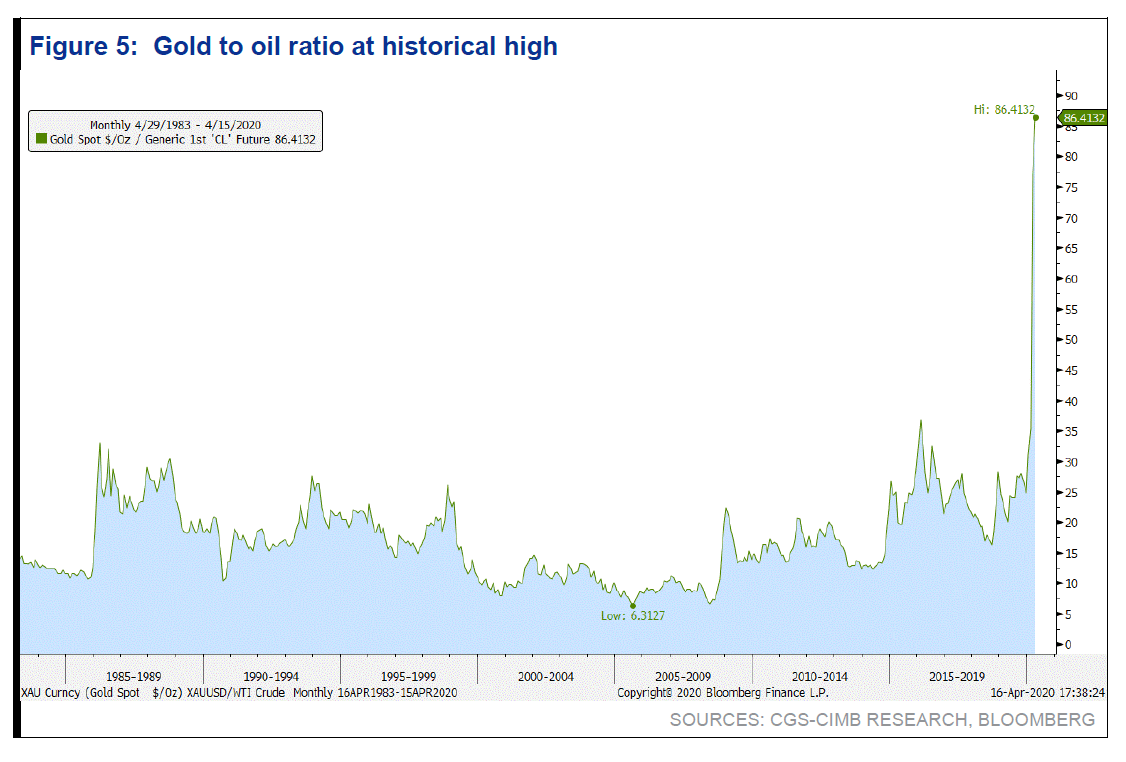 Updated on