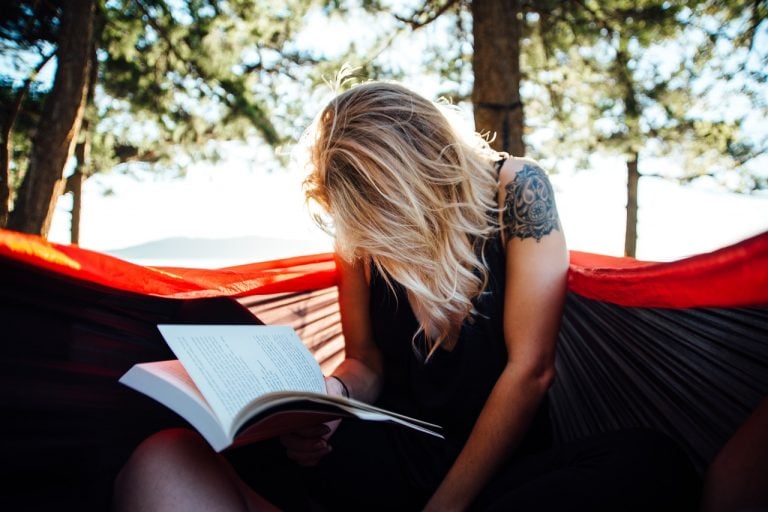 Study reveals where the world's richest people learnt their trade – Which is the best university to become a billionaire?
Have you ever wondered what the world's richest have in common? Is there a common path that billionaire's tread before they go on to make those billions? Do they study in the same places, or learn the same courses? Do they even go to college or university at all? Graduate careers specialists Debut Careers have crunched the numbers and found some surprising information on just this. So before you make the decision on the next step in your education or career, look at the makings of billionaires.
Q4 2019 hedge fund letters, conferences and more
Seth Klarman Describes His Approach In Rare Harvard Interview
In a rare interview with Harvard Business School that was published online earlier this month, (it has since been taken down) value investor Seth Klarman spoke at length about his investment process, philosophy and the changes value investors have had to overcome during the past decade. Klarman's hedge fund, the Boston-based Baupost has one of Read More
Where And What Did The World's Richest People Study?
Harvard Tops The Table For Self-Made Billionaires
While it turns out that 487 different schools actually created the 851 billionaires that could be classified as 'self-made', Debut's study showed that there are a few schools which really stood out head and shoulders above the rest when it came to educating the money makers.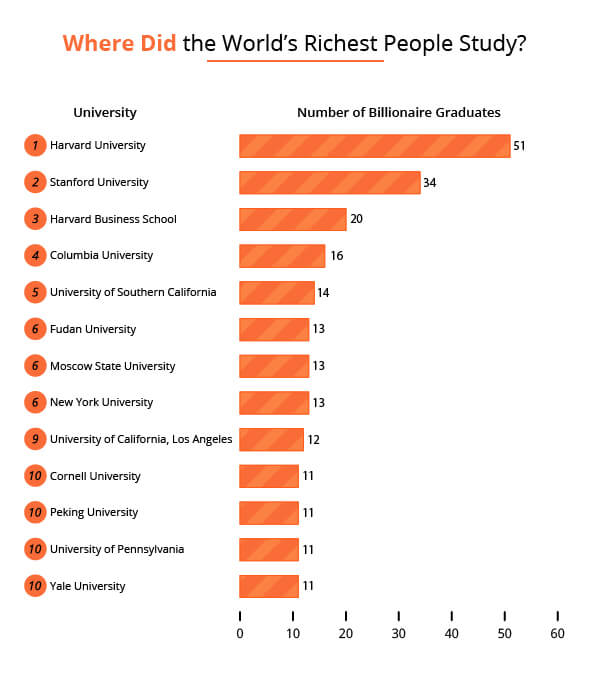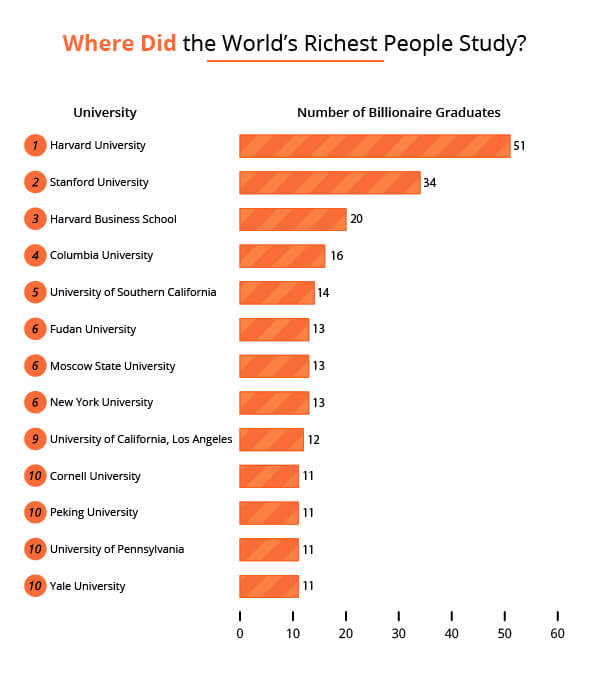 Caption: Fig.1 Where did the world's richest people study? Harvard comes out on top. Source: Debut Careers.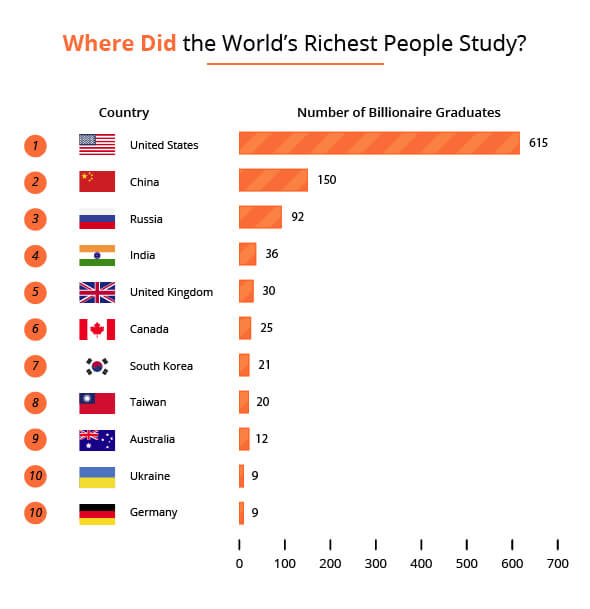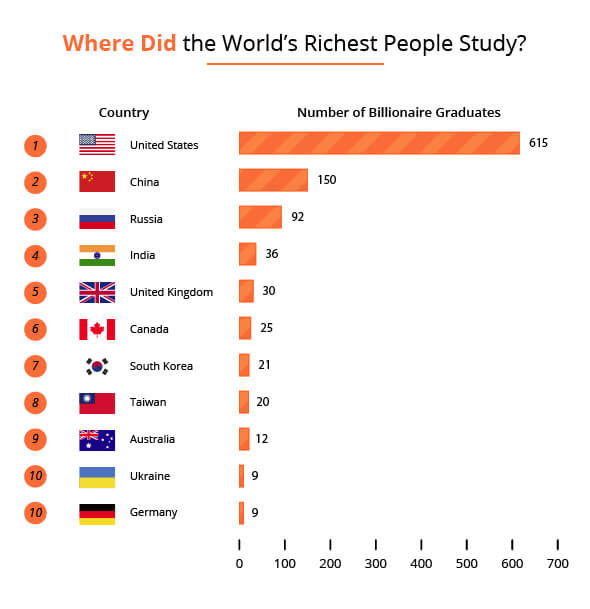 Harvard in particular stands out, not only has Harvard University made 51 of the world's billionaires but Harvard Business School has made a further 20, sitting third in the overall table.
The piece highlights that America is the place to study, with only three of the top ten universities for producing billionaires being located anywhere else, with two in China and one lone university in Russia making up the rest.
Overall the United States universities have contributed 615 billionaires graduating to date, over 4 times that of China with 150 graduating and moving on to become billionaires.
Bachelor In Arts/Science Leading The Way Over Masters Degrees
It's all well and good to look at where future billionaires are studying, but what have they been learning in the first place? There's a preconception with degrees that a masters degree will put you in place for a higher earning job, and while that can be the case it's a humble bachelors degree in Arts/Science that's produced the most billionaires, with 526. That's over 60% of the world's self-made richest people that didn't study to masters level.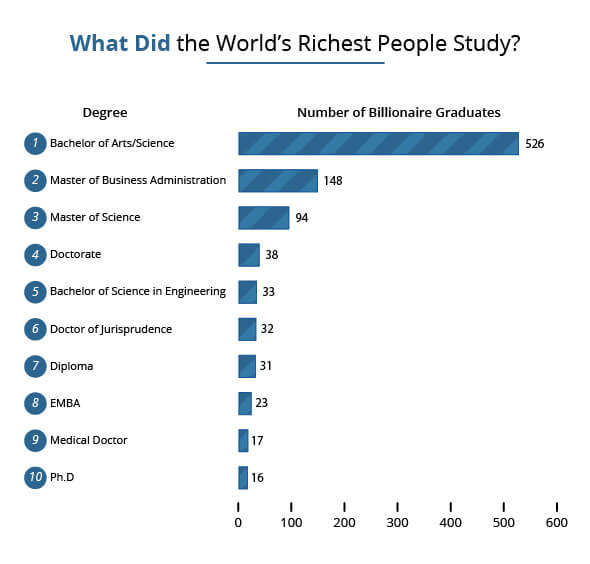 Fig.2 What did the world's richest people study? Masters degree not the be all and end all.
Source: Debut Careers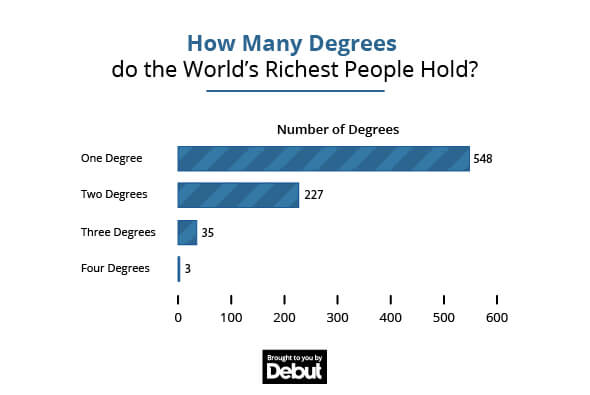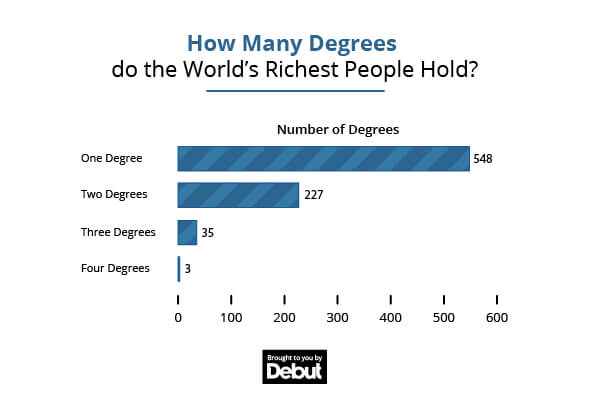 Do The Richest Richest People Finish Their Studies?
Obviously, it's worth noting that the next two in the list are both masters degrees, with business administration helping to make 158 billionaires and science making a further 94.
While it's not on the list as technically they aren't graduates, the next two would actually be 'dropouts' and 'did not go to university'.
A total of 62 of the world's richest didn't make it all the way through their degrees. This includes the likes of Zuckerberg and Bill gates. A further 40 of this rich-list didn't even go to university at all.
While it's impressive that just under one in eight of the world's billionaires don't have a degree, it's worth noting that nearly a third of them actually hold more than one. A full 265 have at least two degrees, but 227 of these hold two. Only a handful go on to take any more past this, with just 3 making it to 4 degrees.
So what does this study on the richest people mean for your university hopes? It shows that the university you attend, and the type of degree you take, can have a huge effect on your chances of going on to make billions. Set your sights on studying in one of the top universities in America if you really want to help your chances, and don't rule out a bachelors in arts/science. Take a look at the full report from Debut Careers for more insights into the best places to study to become a billionaire.
Updated on