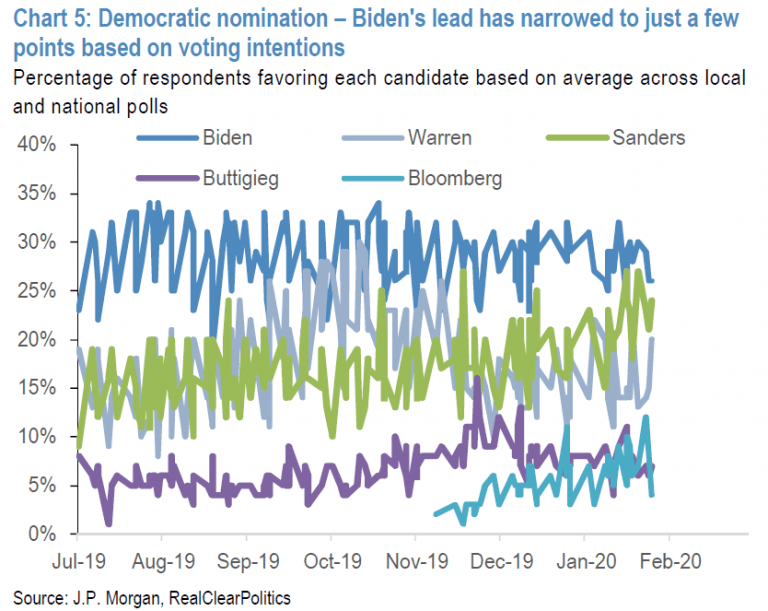 The coronavirus has been impacting the markets for the last couple of weeks, but US election risk is also rising now as the Democratic primaries kick off. The Iowa caucus is the first of several key primaries the markets will be watching. New Hampshire's primary is set for Feb. 11, while Nevada is scheduled for Feb. 22. Super Tuesday follows with several other states holding their Democratic primaries on Mar. 3.
US election risk surrounds Biden and Trump
In a report dated Jan. 31, JPMorgan analysts said they believe the markets will move due to US election risk if it looks like Joe Biden will lose the Democratic nomination. They said the current election is unique for a number of reasons. They said President Trump has never been as unpopular as he is now going into a re-election while the unemployment rate is so low.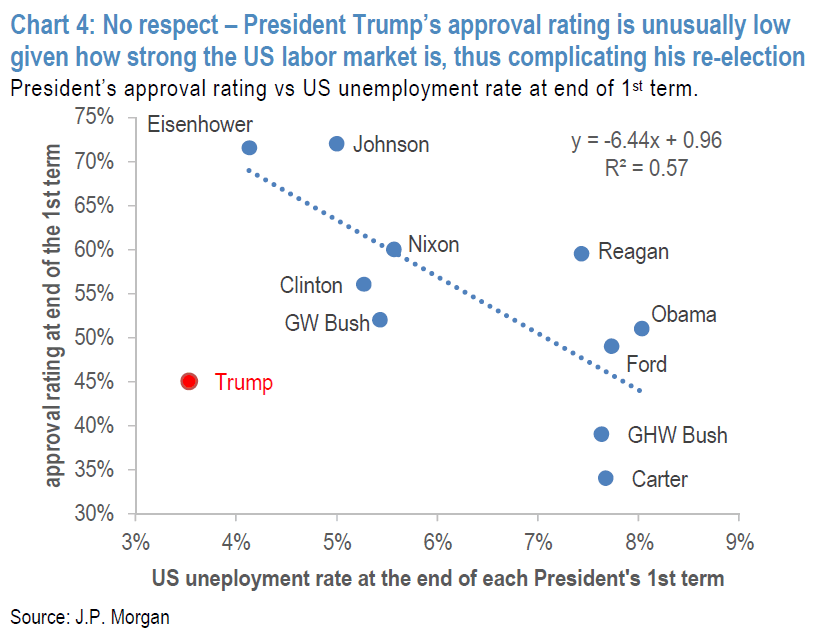 Seth Klarman On Margin Of Safety Investing
This is part nine of a ten-part series on some of the most important and educational literature for investors with a focus on value. Across this ten-part series, I'm taking a look at ten academic studies and research papers from some of the world's most prominent value investors and fund managers. All of the material Read More
Further, they said the Democrats have never before had so many nominees that are left-of center in their views. Sanders, who is one of those with left-of-center views, has even narrowed the gap with centrist Biden in the polls to only a few points, based on voting intentions.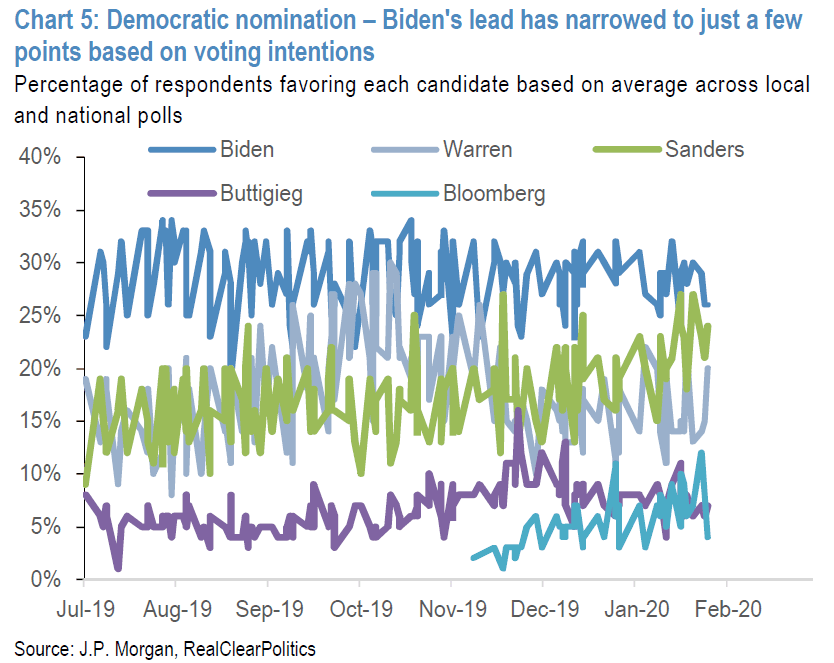 This is also the first time in nine months that the betting markets favor Sanders winning the Democratic primaries. However, the JPMorgan team also pointed out that these markets actually favor outsiders.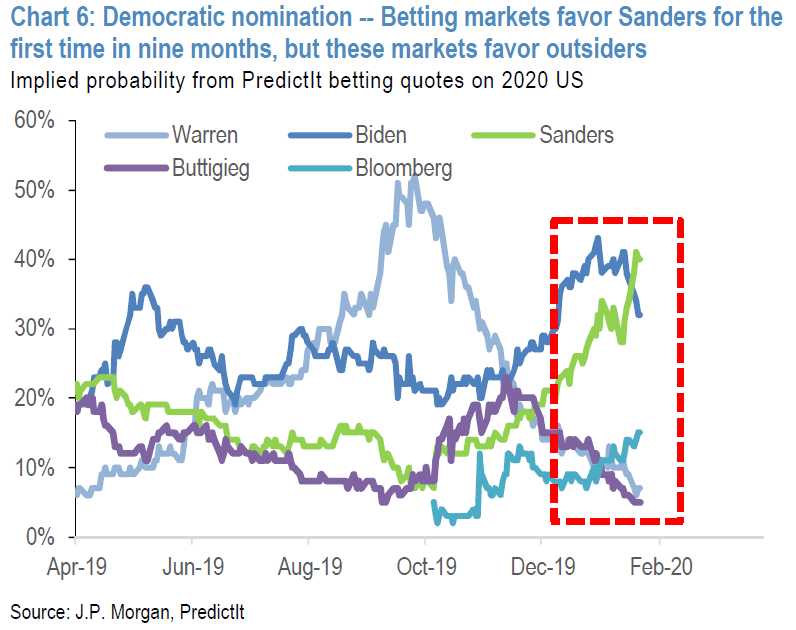 The third thing that makes this year's elections so unique is that the Senate has never taken on an impeachment trial during an election year. JPMorgan analysts question whether that will mean that Republicans lose control of the Senate in November due to their support of Trump. They only have a three-seat majority.
US election risk: best- and worst-case scenarios for the markets
In JPMorgan's view, the best-case scenario for the markets would be that Biden wins the primaries and the general election but has a Republican Senate to contend with. They believe this because they don't see his policies as especially disruptive, and if Congress remains split like it is now, the changes he wants to make "would be dead-on-arrival," at least those changes affecting tax policies.
The firm's analysts see US election risk if Biden loses the primaries because it creates more opportunity for volatility. They believe a Biden presidency would be mean less volatility than a second Trump term.
They see a second Trump term as the second-best scenario to a Biden presidency because the tax environment would remain stable, and Trump's de-regulation agenda would continue to move forward. They also believe Trump's foreign policy could become even more aggressive if he is "validated at the ballot box and acquitted during the impeachment process."
The JPMorgan team believes the worst-case scenarios would be either a Sanders or Warren presidency with the Democrats having complete control of both houses of Congress. The reason is because of the implications it would have for regulatory policies and corporate taxes.
They believe the second-worst scenario would be "a progressive President without control of the Senate." Such a scenario would allow the regulatory environment to still be influenced by agency appointments, court challenges and enforcement or interpretation of current laws.
Most likely scenarios
JPMorgan analysts believe almost any outcome is possible, which is why the US election risk will be very real for most of this year. They note that some debate the value of polls against the betting markets, but they recall some principles from academic literature.
For example, one study suggests the polls have an anti-incumbent bias that usually fades as the election approaches. Another suggests that polls have a 3% margin of error when looking at support for any particular candidate and 6% when looking at the difference in voting intentions among candidates. Another study suggests that betting markets tend to prefer long-shot candidates because participants in those markets "prefer tickets with a higher payoff."
It has also been widely acknowledged over the years that presidential elections are decided by five to 10 swing states that don't always vote for the same party.
Applying these principles, the JPMorgan team said it's difficult to have any views with high conviction, although they did make a few predictions. They said the odds of Sanders winning the Democratic nomination might be overstated in the betting markets, but the margin of error in the polls makes his closeness to Biden "worrisome."
Looking at the presidency, they believe almost any Democrat except Warren beats Trump in the polls in the swing states. However, some of that is due to anti-incumbent bias, while other parts of that beat are within the margin of error.