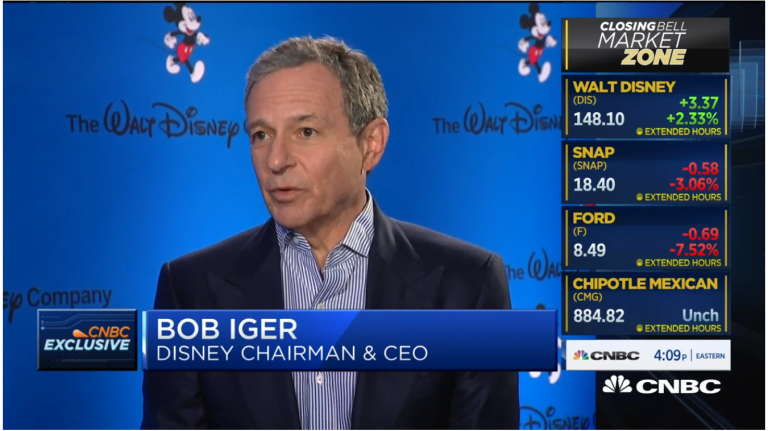 The following is the unofficial transcript of a FIRST ON CNBC interview with Walt Disney Co (NYSE:DIS) CEO Robert Iger and CNBC's Julia Boorstin on CNBC's "Closing Bell" (M-F 3PM – 5PM) today, Tuesday, February 4th. The following is a link to video of the interview on CNBC.com:

Q4 2019 hedge fund letters, conferences and more
Watch CNBC's full interview with Robert Iger on Disney's Q4 earnings
All references must be sourced to CNBC.
Connor Leonard Of IMC Explains: Here's What Value Investors Should Know About Moats
When it comes to value investing, one strategy that's often used is seeking out companies which have sizeable moats against competition. In a presentation for the Value Investing Club at Google earlier this year, Connor Leonard of the Investors Management Corporation explained two ways of looking at moats and how value investors can benefit from Read More
SARA EISEN: We'll send it back now to Julia Boorstin with Disney's CEO, Robert Iger, for an exclusive interview. Julia.
JULIA BOORSTIN: Sara, thanks so much. Robert Iger, thank you so much for talking to us today ahead of your earnings call coming up. So, better than expected results, especially on the bottom line. What drove that upside surprise?
ROBERT IGER: Well, we had a great quarter. Parks and Resorts, particularly led by our domestic parks, very strong. Studio added two more billion-dollar movies to cap off a record year, a year for the ages. Over 11 billion dollars in Box Office from Disney Studios alone. And of course, the launch of Disney Plus, where we announced today that we had 26.5 million by the end of the quarter. And that's just a tremendous start for, you know, a product and a strategy that is extremely important to the company today and in the future.
JULIA BOORSTIN: So, you had said your goal is to have between 60 million and 90 million subscribers by 2024. How do these numbers, these better than expected numbers, impact that guidance?
ROBERT IGER: Well, it's obviously a very good start. But we're not updating our guidance today. We will say something on the call about subs between the end of the quarter, the end of December and where we are as of yesterday. But we're not updating our guidance at this point. We're only at it for a quarter.
JULIA BOORSTIN: But you have added meaningful subscribers just since the start of the year?
ROBERT IGER: We've continued to add subscribers. Yes.
JULIA BOORSTIN: So, how many of these subscribers are getting the service free through Verizon?
ROBERT IGER: Well, actually, the RPO which is in our release, is actually pretty significant. And that's a blend obviously of people who have signed up for a discount, that's a 12-month discount, people who have gotten it through third parties like Verizon of course direct. By the way, about 50% of our subscribers came direct from our own website. A lot had to do with the fact they signed up early before it was available through other services. Verizon, about 20% came through that agreement, that distribution agreement, which has been great for us. And then the rest came from Apple and Roku and all the other services that are distributing the app.
JULIA BOORSTIN: So, your flagship show, The Mandalorian, which has been entirely released, drew a lot of attention, but did you see churn after the show was over? And do you expect to have to invest a lot more in original content to help draw even more people to the platform?
ROBERT IGER: Well, we were actually heartened by the fact that after the original episodes of The Mandalorian were all made available, we really didn't see significant churn from that. As I said earlier, we continue to see subscriber growth from the end of the year, December 28th through yesterday. And we'll say more about that. One of the things that we've not noted that's quite interesting is about 65% of the people that actually watch Mandalorian watch at least ten or more other things on the service.
And so, what we're seeing in terms of consumption is consumption really across the board. For films, not only from our library, but recently released films including Aladdin and Lion King, of course, Toy Story just came on, Avengers End Game. We're also seeing a lot of interest in other original programs, created movies and series. Great interest in Disney Channel shows. And then a broad interest in just a lot of other things, Pixar shorts and older Disney shorts.
And clearly though, those brands, Disney and Pixar and Marvel and Star Wars and National Geographic are resonating, which as we said at the beginning gives us the ability to focus more on quality content for the service and less on volume. We will continue to add. And we have a lot to add coming up. We just had a spot in the Super Bowl for a new original Marvel series. Mandalorian will come back in October. We have more Star Wars series in development. There are a lot of original movies. So, that will continue. And there will be growth in investment in original content. But this will be never what I'll call a pure volume play. It will be about high-quality brand content.
JULIA BOORSTIN: Any particular number you want to give us about how much you're going to be spending on original content? Or how much more than anticipated?
ROBERT IGER: We're not updating any guidance in terms of what we anticipate spending.
JULIA BOORSTIN: I want to ask you about Hulu. You brought really Hulu under the umbrella of your direct to consumer business. The CEO of Hulu just announced that he was leaving. As you integrate Hulu more, how much are you planning to change the service? And do you see the need to introduce an advertising-supported free version to compete with Peacock?
ROBERT IGER: Well, we had an opportunity to integrate Hulu further into our organization and to take advantage of the efficiencies that would come with that. So, Randy Freer was a great executive. In effect, would have had a diminishment of some responsibilities in order for us to integrate properly. Not just to really create efficiencies but to run the service more holistically with the other services and in the company. We're not at this point anticipating just an ad supported.
We have no an ad supported subscription service and then we have a subscription service without ads and they're both doing quite well. And of course we have Hulu Live which is basically the digital MVPD or the channel business. What we see doing in Hulu which we've started is adding more content from our content engines at the company. So, we announced at that the earnings call, taking FX original programming and putting that on Hulu. That comes in March and we'll not only be investing more in FX branded produced content but also using the FX library and other FX programming for Hulu.
And we think there are other opportunities in terms of content creation and content curation and content presentation from the company's other assets for Hulu so that it becomes a more unique and an even higher quality content destination.
JULIA BOORSTIN: There are so many new services launching just in the next several months from other companies. I mean, you have Quibi from Jeffrey Katzenberg, then you have Peacock from CNBC's parent Comcast and then you'll have HBO Max rolling out, all within the next couple of months. Do you see those services posing a competitive threat and impacting say church of your services?
ROBERT IGER: Well, first of all, I think it's a sign of the times. I think all companies that are launching all recognize what we recognized some years back, and that is that the multichannel ecosystem is being disrupted and people are turning to more direct to consumer over the top services, more program driven than anything else. Which is why we've done what we've done. I think, as we view it, more competition, yes. You used the word threat. I wouldn't say that we're threatened by it.
We feel with Disney Plus in particular, we have an extremely unique product because of those brands and the brand affinity. ESPN Plus is clearly differentiated and Hulu because it already has some brand equity and is off to a good start and we're going to invest more in higher quality product for Hulu.
We think we're extremely well positioned. And, I think this is very important, that bundle of Hulu and ESPN and Disney Plus is not only a great value to consumers, but it's one of factors that has enabled us to see churn rates that are better than we expected that would be.
JULIA BOORSTIN: Very interesting. I want to shift gears over to Coronavirus. I know your Shanghai and Hong Kong Parks have been closed for over a week. Obviously, this has not impacted this past quarter's results but it's something you're dealing with right now. How much of a financial impact do you see this having on your parks business?
ROBERT IGER: Well, we'll say more on the call. It's hard to say because at this point our parks in Shanghai and Hong Kong are shut down. And right now, we don't know for how long. And so, without knowing for how long, it's difficult to tell. We are saying something about the parks business in Hong Kong. Because of what's going on on-the-ground in Hong Kong has had an impact on that business and had an impact on the quarter. In Shanghai, the business there has been really strong and it's a shame that we had to shut down.
But obviously this is something that's a big concern. To us as well. We have thousands of people who work for us in that area of the world and we have concerns for them. We have concerns for the people of the world, as well, and the people of China, of course. And we'll talk about it a little bit more in terms of specifics, but it's hard to be very specific without knowing how long this could last.
JULIA BOORSTIN: And it's not just your theme park business in China. You have a huge movie business in China. I mean, Avengers End Game grossed over $600 million in China last year. And now all the movie theatres effectively are shut down. What kind of impact do you think this could have on the movie business?
ROBERT IGER: Well, all of the movie companies that are expecting to distribute movies coming up in China obviously are impacted by this. And again, it's hard to tell. We haven't released – it's coming out in March – Mullan, which obviously would have been of great interest to China. It will eventually get into China. At this point, we're not sure when. The bigger issue on everybody's mind, the bigger concern, is what's going on with this virus and how far will it go in terms of its impact on people.
JULIA BOORSTIN: Do you think it's going to impact either people's desire to go to a theme park or to a movie theatre in places in the rest of the world and here in the U.S.?
ROBERT IGER: So far, we have not seen that. Not seeing a change in terms of advanced bookings or travel to the United States. Obviously some is impacted from that part of the world, but that's relatively small in terms of visitation to the United States. I don't want to say never or that it couldn't happen but right now we're not seeing it.
JULIA BOORSTIN: You've seem these kinds of pandemics before. You've seen SARS. Do you think there's risk that this could really have a huge economic impact in terms of consumer spending?
ROBERT IGER: Again, a lot of it depends on how far this crisis goes and how long it lasts. It's just hard to say. Consumer spending obviously could be impacted. The supply chain of not just our company but many companies could be impacted. It's early stages, it's difficult to predict.
JULIA BOORSTIN: I know we don't have very much time because you have to get back to your call but I want to ask you a couple of quick questions about other topics. You just acquired the rights to Hamilton. What was behind this decision?
ROBERT IGER: Wasn't that exciting?
JULIA BOORSTIN: 75 million dollars. The most ever paid for this kind of completed film. Why did you make that decision and how will it pay off strategically?
ROBERT IGER: First of all, Hamilton was an unbelievable creative success, a cultural phenomenon and something that resonated with people old and young from all over the world really when you think at it. All the people who have gone to see it. We were like many others extraordinarily impressed with the stage presentation.
And then when we got a chance to see the film, we were also extraordinarily impressed. They have created a very, very special work of art. Something you wouldn't think which would be possible to capture all that on-stage in film. When we saw it, we felt it was something we really wanted to have. Both as a theatrically released film and also something that will be on Disney Plus soon after.
JULIA BOORSTIN: I know you have to go, to but just a final question about a different kind of politics. We're waiting the outcome of the Iowa caucuses. You yourself had, at one time, considered a presidential run. Are you endorsing any of the candidates?
ROBERT IGER: I'm not.
JULIA BOORSTIN: Or concerned about any of the candidates? I mean, Bernie Sanders has attacked Disney in the past. Are you concerned about any of these candidates getting the nomination?
ROBERT IGER: I'd really rather not comment on any candidate or on the election itself. Like you and I'm sure many other people in the United States, it would be nice to know the results of the Iowa caucuses. I joked a little bit, if we were counting, we probably would have had the results already, but never mind. I'm not making any other comments.
JULIA BOORSTIN: Robert Iger, we'll let you get off to your earnings call which starts shortly. Thanks so much for taking the time to talk to us today, with better than expected results. Wilf, back over to you.
Updated on