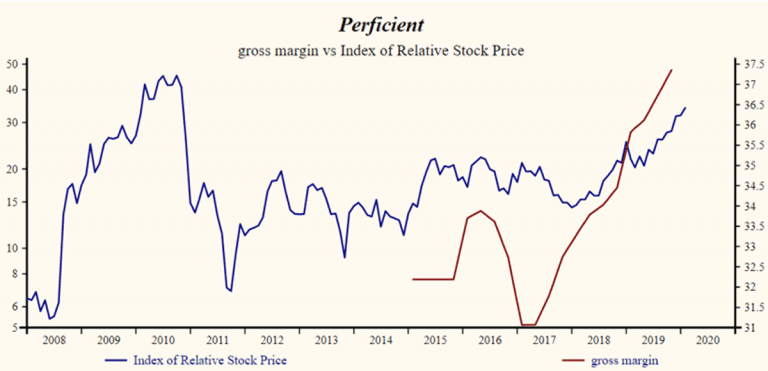 It was another very slow week for new company filings as we wait for the later filing deadline for annual financial statements. Meanwhile stronger share prices continue to show optimism that is inconsistent with the recent drop in corporate growth. Historically lower corporate growth is associated with lower share prices. The Broad Market Index was up 2.12% last week and 40% of stocks out-performed the index. Among stocks out performing the market is Perficient, Inc. (NASDAQ:PRFT) which continues to display strong top-line fundamentals with continued growth-stock potential.

Q4 2019 hedge fund letters, conferences and more
The upcoming annual financial statements will give us an update of the growth trend. The recent SEC filing update is 7% complete. The volume of SEC filings will increase in coming weeks.
Fund Manager Profile: Zhang Hui Of China's Southern Asset Management
Historically, the Chinese market has been relatively isolated from international investors, but much is changing there now, making China virtually impossible for the diversified investor to ignore. Earlier this year, CNBC pointed to signs that Chinese regulators may start easing up on their scrutiny of companies after months of clamping down on tech firms. That Read More
Perficient (Computers, Technology): Investors do not wait. Act now?
The population of extended-share-price companies has increased with the rally in shares last month. When looking for good BUY opportunities in this environment look for high growth companies despite the extended share prices. Otos will help you find them.
Perficient (PRFT) $49.700 BUY this rich company getting better ▼(25)%
Perficient has been a profitable company with inconsistently high cash return on total capital of 13.7% on average over the past 5 years. Over the long term the shares of Perficient have advanced by 139% relative to the broad market index since the December 2017 low. Cash from operations continue to increase but historically has not been correlated with the direction of the share price.
The shares have been very highly correlated with trends in Growth Factors. The dominant factor in the Growth group is gross margin which has been 85% correlated with the share price with a one quarter lead. The company is recording a rising gross profit margin. Rising EBITDA Profit margin (EBITD) has been 30% correlated with the share price.
Currently, sales growth is 10.4% which is high in the record of the company and higher than last quarter.
More recently, the shares of Perficient have advanced by 133% since the December 2017 low. The shares are trading at upper-end of the volatility range in a 25 month rising relative share price trend.
The more stable the pot appears, the better the attributes. Green and gold are good. Red is bad and the more intense the red the more urgent the call to action.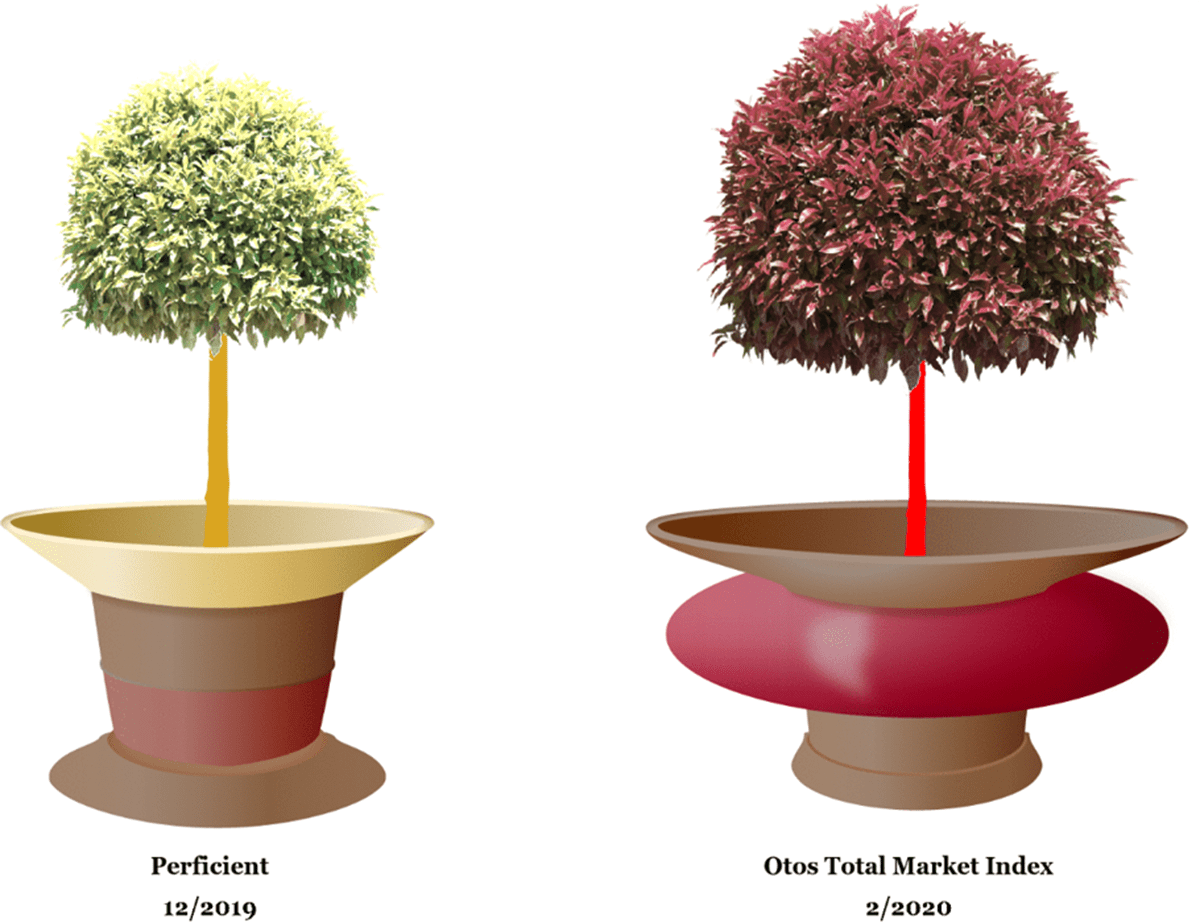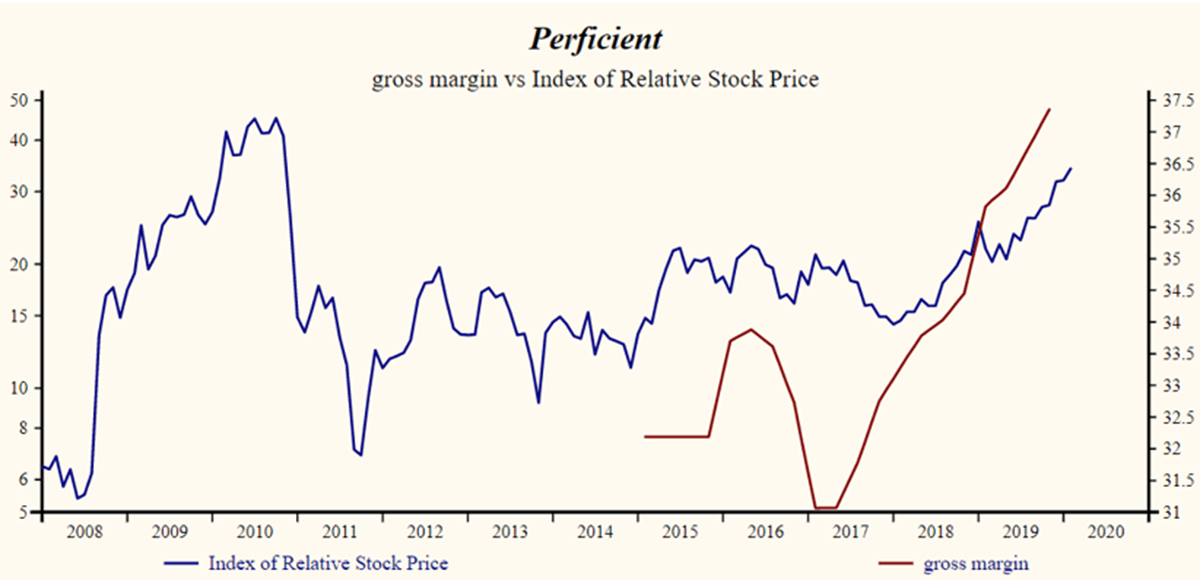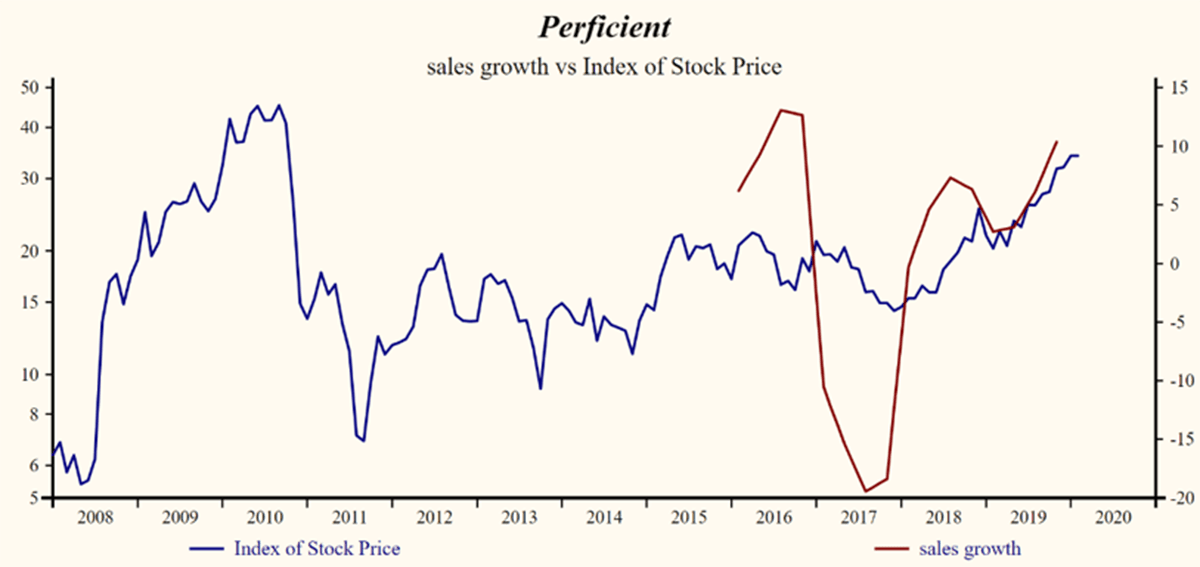 Updated on