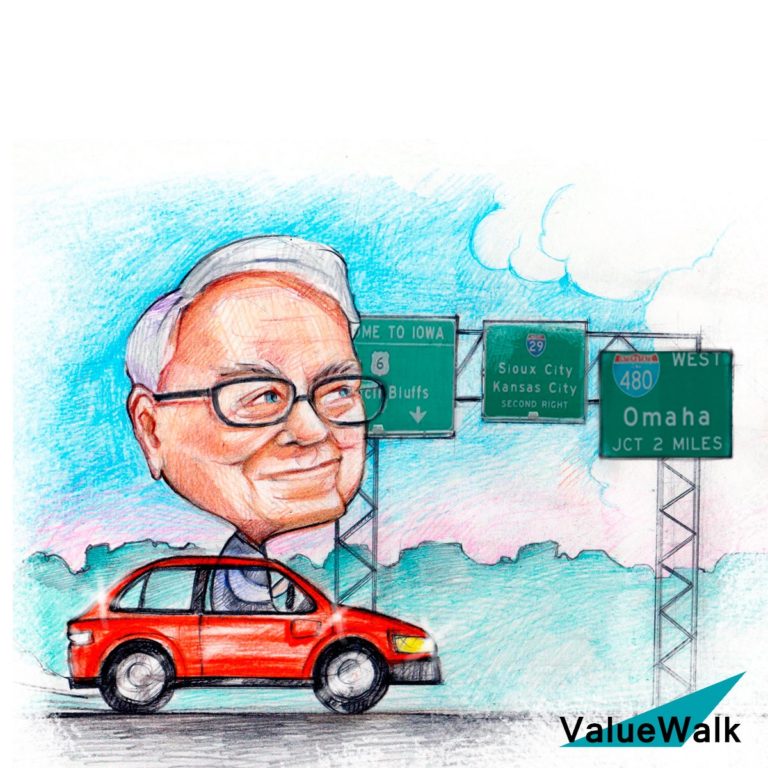 This edited passage on shares of Apple Inc. (NASDAQ:AAPL) is excerpted from of of Permanent Value:The Story of Warren Buffett/2020 Elephant Edition by Andrew Kilpatrick
Even after selling 750,000 shares of Apple at the end of the third quarter of 2019, Berkshire still owned about a 248-million share bite of Apple. Toward the end of the year, the stake was worth about $70 billion, largely because Apple soared a breathtaking 90% in 2019.
Although Berkshire sold some Apple shares, it's ownership stake actually rose in the quarter because of Apple's stock buybacks. Berkshire owned 5.6% of Apple at the end of the quarter compared to 5.52% at the beginning of the third quarter. Apple (NASDAQ:AAPL) is, by far, Berkshire's biggest stock position, representing 26% of its total stock holdings.
Khrom Capital Up 61% In 2020: Buys This Pandemic Winner [Exclusive]
Eric Khrom's Khrom Capital returned 61% net of fees and expenses in 2020, according to a copy of the firm's full-year letter to investors, which ValueWalk has been able to review. Q4 2020 hedge fund letters, conferences and more Following this return, since inception 13 years ago, the fund has returned 877% gross vs. 255% Read More
Q4 2019 hedge fund letters, conferences and more
First comments on the stock
Back when the stake was 239 million shares in the first quarter of 2018, Berkshire's No. 2 man Charles Munger, known for wry comments, said the position was "a little bit restrained." Well, now the huge investment qualifies as an "elephant" writ large, even in Buffett and Munger-speak.
The Apple orchard is in addition to insurance, energy, stocks, bonds, cash, real estate financing, newspapers, a television station, soft drinks, uniforms, ice cream, candy, brokerage and financial services.
And if that's not enough…
Furniture, encyclopedias, vacuum cleaners, natural gas pipelines, bricks, boots, running shoes, carpets, insulation, paint, loans, autos, transportation leasing equipment, cutlery, spray cans, gloves, activewear, kitchenware, and children's apparel. Metal workings, electronic parts, biking gear, textiles, livestock feed systems, manufactured housing, grocery deliveries, running shoes, party favors, and many others.
What about cheese by the boatload? Was a railroad mentioned? How about airline stocks? Would you like ketchup with all that?
That's Buffett's Berkshire Hathaway.
All of that. And that isn't all! Now, throw in some Apple.
The first sign of Berkshire's interest in Apple (NASDAQ:AAPL) came on May 16, 2016, with the announcement that it had bought 9.8 million shares of the largest company in the world.
GEICO buys it first
Purchased at an average cost of $99.49 a share, according to a filing by Berkshire's GEICO unit in May 2016, the Apple shares were worth $1 billion. Then Berkshire kept buying and buying. And buying some more. By the end of 2017, Berkshire owned 165 million shares of Apple, plus a good many shares for its pension fund which are not counted in its stock holdings.
Apple (NASDAQ:AAPL)? The tech wonder and maker of the iPhone and iEverything else, the company brought to life by Steve Jobs and now headed by Tim Cook, is not normally viewed as a Buffett-type stock. Long famously tech-averse, Buffett said at Berkshire's annual meeting in 2012 that even Apple and Google are risky. "I just don't know how to value them," he said. For years Buffett has been famous for saying, "If there's lots of technology, we won't understand it."
Then again, it wasn't Buffett who bought the first slice of the Apple pie. It was either Todd Combs or Ted Weschler, two of his younger investment managers. Berkshire's Vice Chairman Charles Munger has said Berkshire might not have made a major investment in Apple were it not for the influence of one of its two younger investment managers. One of the younger investment managers sold a small number of Apple shares in the fourth quarter of 2018.
Buffett has said that Combs and Weschler don't necessarily inform him of their picks which leaves them a lot of rope. And neither has hanged himself, yet.
Buffett did not make the decision?
Weschler said in an interview with the German publication Manager Magazin (October 21, 2016), that he liked the "subscription element" in Apple's business model. He was quoted as saying, "The smartphone business has been transformed by the app economy and cloud computing. As network speed has gotten faster, and with it the information that people can absorb on the network, things like photo applications, and apps, they create a stickier ecosystem ... Once you are fully invested in the Apple ecosystem and you've got your thousands of photographs up and in the cloud and you are used to the keystrokes and functionality and where everything is, you become a sticky consumer."
Berkshire's entry into Apple's orchard came at a time when many other investors were dumping shares of the company, most notably Carl Icahn who long boasted about his $5 billion stake only to bail out, saying he was leery of China's relations with the company.
Berkshire and tech
The hope was that the Apple investment would do better than the $11 billion investment in IBM. Berkshire, for all its five years in the stock, barely broke even on its sale of the computer maker.
Whatever one thinks of the tough competition facing Apple, the company has a good dividend, a strong stock buyback program, a decent p/e and a grandiose cash pile at more than $200 billion, more than is held by most all businesses and individuals. Buffett's eyeballs must be glued to the balance sheet pondering that juicy number. The question is, can competitors supplant the iPhone with better or cheaper products?
Apple (NASDAQ:AAPL) does carry about $100 billion in debt to help finance its dividends and buybacks, but the debt is at very low rates. Long a sensational growth company, many investors now see Apple as a "value" play with slower growth.
Apple (NASDAQ:AAPL) and value
NEWS FLASHES: Filings showed that at the end of 2016, Berkshire had added 42.1 million shares of Apple so that its total position of more than about 61 million shares was worth about $6.6 billion. On February 27, 2017, Buffett announced on CNBC that he bought millions of shares of Apple after January 1, 2017, so that Berkshire then held 133 million shares or about $17 billion worth of Apple, commanding 2.5% of America's largest company. It was a staggeringly big bite of Apple. In fact, CNBC's Becky Quick could only manage a single word: "Wow."
Buffett explained that one of his investment managers had bought 10 million shares of Apple. Then Buffett stepped in in late 2016 and early 2017 and raised the stake in a big way.
So Buffett, after all his talk of how he doesn't understand technology and doesn't care for tech stocks because they are hard to predict, was now a big owner of Apple. He explained that he saw how "sticky" Apple products were, and how customers who had an iPhone tended to buy a new iPhone when the time came. When he asked his grandchildren about the iPhone, he found out how central the products are to their lives.
Sometimes Buffett has "counter-revelations."
Buffett on Apple's moat
"When I take my great-grandchildren to Dairy Queen they bring along their friends sometimes. They've all got iPhones and, you know ,.. I ask 'em what they do with it and whether they could live without it, and when they trade it in what they're gonna do with it. And, of course, I see when they come to the furniture mart that people have this incredible stickiness with the product. I mean if they bring in an iPhone, they buy a new iPhone ... It just has that quality all built into their lives (Business Insider, March 1, 2017).
Munger said at Berkshire's annual meeting in 2019, "In my family, the people who have Apple phones, it's the last thing they will give up."
(Laughter)
He praised Apple as an "extraordinary business" and also praised CEO Tim Cook's capital deployment abilities. The company fits in other ways, too. It pays a good dividend and has a large stock buyback program, not to mention more than a $200 billion cash stockpile, more than five times the market value of General Motors.
Although Buffett is well-known for not interfering, Cook did call Buffett once to ask his opinion about returning cash to shareholders.
Apple's $5 Billion "Spaceship" Campus
Berkshire owns more than 5% of Apple's Mothership in Cupertino, California. In January 2018, Apple said it would invest $350 billion overall in the U.S. economy over the next five years when building a second headquarters in the U.S. employing 20,000 workers. Apple plans to pay a lower 15.5% tax—or about $38 billion—on its $250 billion in overseas cash, and invest the money in the U.S. Naturally Berkshire, as a huge shareholder, would be the beneficiary of any raised dividends, stock buybacks or new investments Apple may make. The campus even sports an underground auditorium and a Steve Jobs Theater. In 2018, Apple announced plans for a $1 billion campus in Austin, Texas, as part of a major expansion in the U.S.
Buffett builds Apple (NASDAQ:AAPL) stake
Berkshire kept building a position in Apple (NASDAQ:AAPL) in the second quarter of 2016, adding 5.42 million shares, bringing its total investment to 15.2 million shares.
And then there was more. Much more.
Buffett told CBS's Jane Pauley (December 3, 2017), "I don't need to know things instantaneously. I'm not making buy-and-sell decisions based on instant news. I'm making them sometimes after I've looked at a company for years and years. When we bought Apple a year ago or thereabouts, it'd been something I'd looked at a long time."
Buffett told CNBC (May 8, 2017), "It's a very, very valuable product to people that build their lives around it. And that's true of 8-year-olds and 80-year-olds. People want the product. They don't want the cheapest product." Buffett, who doesn't use a smartphone, still uses a $20 flip phone. Therefore, he joked on CNBC (January 10, 2018) that for Apple, "the market is not yet saturated."
Enter the iPhone
Still, Apple has sold more than a billion iPhones since the product was introduced in 2007.
And Buffett certainly understands the cash position Apple has which amounts to about $50 a share. About 90% of it is overseas and subject to lower taxes in a one-time repatriation.
Each of Apple's main businesses—the iPhone, the iPad, Mac computers, services, and its miscellaneous "Other Products"—segment is the size of a Fortune 500 company.
Apple now makes more money from its fast-growing services unit than from Airpods, Apple TV, Apple Watch, and iPod sales combined. The services segment includes such offerings as the App Store, iCloud, and Apple Music.
At Berkshire's annual meeting in 2017, Munger said Buffett's willingness to invest in Apple was a good sign for Berkshire's future. "Either you've gone crazy or you're learning," Munger said. "I prefer the learning explanation."
Buffett added that Apple (NASDAQ:AAPL) "has a valuable product which is central to people's lives."
Apple (NASDAQ:AAPL) business pivot
The company's services and its app store products are highly profitable, not to mention Apple's music and music streaming products and Apple watches. These are the reasons that Buffett no longer finds Apple to be the forbidden fruit.
Apple's cash on hand as of September 30, 2019 was $205.9 billion. In that quarter, Apple spent $18 billion on share buybacks and $3.5 billion on dividends.
In the spring of 2017, Apple finished its new $5 billion "spaceship," a 2.8 million square-foot campus in Cupertino, California. The massive circular building called Apple Park houses 14,000 employees and has 11,000 parking spaces as well as shuttle buses and free bikes.
Moving along, Berkshire raised its NASDAQ:AAPL stake by the end of the third quarter of 2017 to 138 million shares. And that's quite a bushel of Apple. It's hard to grasp the numbers, isn't it? Sometimes when you say that Berkshire owns $70 billion of Apple, you are corrected, "You mean $70 million." But no, the Berkshire stake is worth more than $70 billion with a B.
By any measure, the Apple (NASDAQ:AAPL) stake is an "elephant," the term Buffett uses for the big investments he's always seeking. Worth more than $1 trillion, Apple has the highest valuation of any U.S. company.
Apple hit a $1 trillion valuation on August 2, 2018, only to fall some 30% in late 2018 and early 2019 amidst trade wars and supply problems.
Apple and Berkshire
A bigger Apple stake came to light publicly the evening before the Berkshire annual meeting in 2018 when Buffett announced the Holy Cow stake of another 75 million shares for a total of more than 239 million shares, the biggest stake by far in Berkshire's stock universe. The Berkshire investment had not even existed three years ago. Who said elephants can't dance?
Apple has been called history's greatest cash-generator behind Steve Jobs, the inventor, and Tim Cook, who built the ecosystem. Berkshire was only about halfway there after a far longer time frame. Berkshire would have to soar to more than $600,000 a share to get to that vaunted mark. But Berkshire's ownership of Apple is helping it along.
Despite Buffett's misfires on some investments over the years such as the original purchase of Berkshire, the investments in apparel maker Russell Corp. and the shoe maker Dexter, as well as not investing enough in Walmart early on, the single huge winner in Apple makes up for a number of low points. And it brings Berkshire solidly into the age of technology.
Back in 1977, it was Apple, losing out to a struggling Microsoft, "90 days from going broke," Jobs said. But, then, the turnaround of all time was set in motion with smash products in the way of the iPhone, rapid innovations and a global supply chain.
The result was the first American company to momentarily hit a $1 trillion valuation. Actually, PetroChina, back in 2007, was the first to hit the mark, but, has since fallen off markedly. With Apple's stock soaring after its second quarter earnings in 2018, NASDAQ:AAPL achieved and seemed to hold the exalted status.
Apple (NASDAQ:AAPL) and Tim Cook
With the milestone, Cook started his congratulatory letter to employees this way:
Team,
Today Apple passed a significant milestone. At our closing share price of $207.39, the stock market now values Apple at more than $1 trillion. While we have much to be proud of in this achievement, it's not the most important measure of our success. Financial returns are simply the result of Apple's innovations, putting our products and customers first, and always staying true to our values...
This chart shows how Berkshire's investment in Apple progressed in 2018:

By August, 2018, the investment was worth more than $50 billion. When you own Berkshire now, 10% of it is Apple.
Berkshire's stake in Apple increased by more than 500,000 shares in the third quarter of 2018. It is its own elephant, its largest investment ever.
What a safari!
Even More Apple (NASDAQ:AAPL)
Buffett said (CNBC, August 30, 2018) that Berkshire had bought a little more Apple stock after the end of the second quarter. The iPhone, he added, is "enormously underpriced"; in that it's worth more than the $1,000 that NASDAQ:AAPL charges.
"I have a plane that costs me a lot, something like a million dollars a year or something of that sort. If I used the iPhone—and I use an iPad a lot, if I used the iPhone like my friends do, I'd rather give up the plane."
A Comeuppance
Then came a more than 30% drop in Apple's stock price in late 2018 after Apple's third quarter results. The guidance for the next quarter was weak and the company said it would no longer release the number of iPhones sold. Along with a general market selloff seemingly led by Apple and other tech stocks, the market declined sharply, taking Berkshire's stock price with it. On January 3, 2018 CEO Cook issued the unwelcome news that current sales, particularly of iPhones, were below previous estimates because of slow sales in China.
Big On Buybacks
In 2018, NASDAQ:AAPL spent gobs of money on stock buybacks, buying a whopping $74.2 billion of its own shares.
Nice Work
At the end of 2018, Berkshire owned 255,300,329 shares of Apple with a cost basis of $36.044 billion and a market value of $40.271 billion. The average cost basis of those shares was $141 so the late-in-2019 price of $280 a share made the market value almost twice the basis cost.
Connecting The World
In addition to a commercial story, Apple is a tale about worldwide communications. The Apple iPhone has transformed how people stay in touch around the world.
For example, in India the phone has transformed the world's largest democracy as the smartphone has made inroads into every area of life.
The book, India Connected by Ravi Agrawal, says that in 2000 about 20 million people were online and that now more than 700 million people are using smartphones to transform the country's fight against poverty and illiteracy.
The phone has improved ways of doing business, improved agriculture and extended social identities for a vast array of people.
(NASDAQ:AAPL): The Biggest And Best
Apple (ASDAQ:AAPL) may turn out to be Berkshire's biggest and best investment. With a large outlay, the stake has more than doubled in short order with Buffett's original $36 billion now being worth more than $70 billion which more than makes up for a number of past slipups. By any measure, Apple is one of history's best investments. Buffett didn't have to go stomping through the jungles for this elephant. With care and feeding, he grew it from his small office in Omaha.