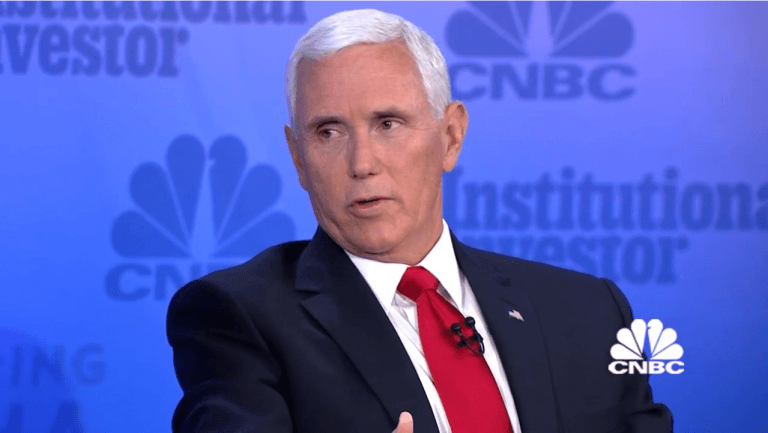 The following is the unofficial transcript of a FIRST ON CNBC interview with Vice President Michael Richard Pence and CNBC's Wilfred Frost on CNBC's "Squawk on the Street" (M-F 9AM – 11AM) today, Friday, February 7th.
Q4 2019 hedge fund letters, conferences and more
Watch CNBC's full interview with Vice President Michael Richard Pence
These Are John Buckingham's Stock Picks For 2021
The economy remains in distress, although there are signs of recovery underway. John Buckingham of Kovitz, editor of The Prudent Speculator newsletter, has found that value stocks typically outperform coming out of economic downturns. Thus, he argues that this is an excellent time to be a value investor. Q4 2020 hedge fund letters, conferences and Read More
SARA EISEN: Let's get over to what looks like a foggy looking Washington D.C. Our Wilfred Frost is at the White House, along with the Vice President. Wilfred, take it away.
WILFRED FROST: Sara, good morning to you. Thank you very much. And our thanks, in particular, to the Vice President for having us here today. It's a pleasure to be here.
VICE PRESIDENT MICHAEL RICHARD PENCE: Welcome to the White House, Wilf.
WILFRED FROST: Well, what a week it's been. Great timing to be here. When you consider the, the mayhem of Iowa for the Democrats, the success of the State of the Union, the impeachment acquittal, and today's yet again strong jobs number that we're going to dive into in more detail, what's the mood like here in the White House?
VICE PRESIDENT MICHAEL RICHARD PENCE: Well, look. This has been a great week for America. It's been a great week for President Donald Trump. Thanks to the President's leadership, we're in the middle of a booming American economy. We've rebuilt our military, we appointed a record number of judges to our Federal Courts of Appeals, we are respected in the world again, the Senate acquitted the President of the United States, and now a job report that reflects, not only 225,000 jobs, but people coming into the workforce.
The labor participation rate tells the story. The American people see that, thanks to the President's leadership, cutting taxes, rolling back regulation, unleashing American energy, but also securing historic trade deals, the USMCA Phase One with China, this economy is working for working Americans. And we've seen more than three and a half million people come into the workforce. And that's reflected in that report today. So, it's a great week for America, and it's a great tribute to the leadership and the vision of President Donald Trump.
WILFRED FROST: And jobs and unemployment—is that top of the list for you, Mr. Vice President? Most important?
VICE PRESIDENT MICHAEL RICHARD PENCE: Well, I think for this president, it's always about the safety and security of the American people first. That's why, in the last month, you saw the President take decisive action to respond to violence. One American life was lost at the hands of Iranian backed militias. This president ordered airstrikes on five militia air bases in Iraq. First time in 10 years. And then, when we had the opportunity to take out the most dangerous terrorists in the world, Qassem Soleimani, this president acted without hesitation.
And even after the missile strike by Iran, their response, no American casualties, Iran is standing down, and the news reports today that we took out another terrorist leader in Yemen. So, it's always first about national security and the safety of the American people. The President's strong action on the Coronavirus to protect the health the American people.
But, right after that, here in these hallways, Wilf, you're absolutely right: it's about jobs, jobs, jobs. And, after eight years of the last administration that thought we can tax and borrow and bail our way back to a growing economy, this president put common sense, American principles into work. He used what he in Davos called the American model, the free market model of less taxes. less regulation, more affordable energy and fair trade. And the American economy is booming.
WILFRED FROST: The economy, certainly the numbers are very strong and the unemployment numbers, in particular, very impressive. I wonder whether you feel though a little bit of the gloss of that impressiveness needs to be removed because of the deficit? The size of the deficit and the direction that it's heading.
VICE PRESIDENT MICHAEL RICHARD PENCE: Well, we saw in the last administration, a doubling of the national debt. But we also saw an American economy that wasn't growing by more than 2%. It was the slowest economic recovery since the Great Depression. And the President came into office and he said, First and foremost, we have to restore growth. That's how we will deal with the long-term fiscal challenges facing our country. And deficits and debt are right in line.
But it's first about getting this economy moving again. And we really do believe the trajectory of this economy, we're going to end the next year in the 3% range, which is what President Trump said back on the campaign trail in 2016. And day after day, advancing the policies that he promised the American people against unprecedented resistance and obstruction by the Democrats on Capitol Hill. It has been delivering and why this economy is working for every American.
Especially, Wilf, for working Americans. You know, as I travel around the country, I go to meetings, large and small, and I have hardworking Americans coming up to me every day and just saying, Tell the president we appreciate what he's doing. It's making a difference in our community. People are going back to work. And this really is a blue-collar boom.
WILFRED FROST: Deficit, as a percentage of GDP, though, has ticked up each year this first-term. Would you like to see it as a focus for the second-term, if you will want to change the direction of that?
VICE PRESIDENT MICHAEL RICHARD PENCE: Well, I think the President has been very clear. And we've sharpened our pencils on our budgets, and we'll continue to do that. And in a second-term we'll continue to address those issues.
But President Trump really believes that the real long-term solution to the fiscal challenges in Washington D.C. is making sure that the budget of every American is growing. And you know. real income, after tax income for working families has actually increased by $5,000 a year in the last three years.
So. the President's going to stay focused on a growing American economy. And once we get this economy rolling, we're going to continue to hold Congress to account.
And we're going to work real hard, not just to get President Donald Trump four more years in the White House. But we're going to make sure that we have a Republican Senate, and a Republican House to keep America growing and to deal with those long-term fiscal challenges.
WILFRED FROST: Let's talk about the stock market Mr. Vice President, record highs of the clothes again yesterday and clearly. Another example of the strong economy this morning. Is there a belief here in the White House that the two are very closely linked?
VICE PRESIDENT MICHAEL RICHARD PENCE: Well, we within the stock market is just a reflection of consumer confidence and the confidence of the of investors around America. You know, the market actually was up over 1000 points over the last several days. And I think that that's all a reflection of the fact that everything President Trump said in the State of the Union address is being reflected all across the country. Businesses large and small are feeling it. And we're seeing growth in this economy.
And, and I think you have to you have to give the President's strong stand on trade a lot of credit for that, as well. He drove a hard bargain. We renegotiated our trading relationship with Canada and Mexico.
The USMCA is now signed into law. We think it's going to create hundreds of thousands of jobs. And we think very soon it's also going to be reflected in this economy. The Phase One deal with China, and negotiations go on to deal with some of the larger structural issues, we think is also going to greatly benefit, not just agriculture, but it's going to benefit businesses as we've begun to deal with some of those structural issues—intellectual property, forced technology transfers.
The President spoke to President Xi last night and those discussions are ongoing, even as China deals with the heartbreaking crisis of Coronavirus.
WILFRED FROST: How have you felt that China has dealt with that Coronavirus? And have you been a little more reserved, perhaps, on criticism of the initial sharing of information because of the warmer relationship off the back of Phase One?
VICE PRESIDENT MICHAEL RICHARD PENCE: Well we think that China has demonstrated an unprecedented level of transparency. And not just with the United States but with the world community. And in their discussion last night, the President and President Xi discussed increased cooperation.
They discussed the role of the World Health Organization. I mean, the loss of life, the Coronavirus that is impacting people of China, and fortunately, a small number of people in the United States to-date is heartbreaking. But we stand ready to work with China to provide them any and all support. The President made that clear last night to President Xi.
WILFRED FROST: 11 Americans among the 61 diagnosed on the cruise ship off the coast of Japan. That That aside, are you confident that the threat of this virus, as it relates to Americans here has peaked and is now declining?
VICE PRESIDENT MICHAEL RICHARD PENCE: Well, out of an abundance of caution, the President took unprecedented steps to end airline travel and limit access from China to the United States. And we were encouraged by the results were encouraged by the numbers. But we met late yesterday with leaders from the CDC, we got the latest briefing.
Our team is going to continue to lean into that. We think that the threat here in the United States remains fairly low because of President Trump's decisive action. Again, putting the health and safety of the American people first. But last night, President Trump also made it clear that the United States of America is ready, willing and able to deploy resources with the world health organization to help China address this crisis.
WILFRED FROST: Let's pivot back to the trade deal with China. Mr. Vice President, you and the President had been very critical in the passing of U.S. companies that have outsourced their production to China too readily or sought to make sales there in a tradeoff for access or information. Does the Phase One trade deal now mean that US companies can go all out again to seek profits in China?
VICE PRESIDENT MICHAEL RICHARD PENCE: Well, the Phase One trade deal gave some tariff relief, but it was only the tariffs that have been imposed since last fall. I mean, the vast majority of our tariffs remain in place with and that's because we have serious and long-term issues that still need to be addressed.
The President's made that very, very clear. With President Xi and with all of our negotiators, we think that it's a work in progress. But look, the President said early in this administration, we arrived, half of our international trade deficit was with China.
It was extraordinary. But I remember in early meetings, the President, the President sat down with Chinese officials, Liu He, the first time that he was in the Oval Office and spoke to the president. And he said, Look, the era of economic surrender is over. I don't I don't want to talk about what happened in the past.
The President's been openly critical of the policies of past administrations, in both parties. But we're beginning to see China's step up, be willing to take steps. In fact, the announcement yesterday of $75 billion in tariff relief wasn't even a part of the Phase One trade deal.
We think it gives evidence that that China is beginning to step forward, take the actions necessary. But we're going to continue to stand firm. The American people can be confident the President is going to continue to put American workers, American jobs, first.
We're going to stand strong on China, and we're going to continue to insist that China adopt, not only the more open market for U.S. goods, but also that they adopt the kind of structural reforms that have threatened intellectual property, resulted in intellectual property theft, forced technology transfer, those changes have to happen for us to truly have fair and reciprocal relationship with China in the long-term.
WILFRED FROST: How disappointed were you, Mr. Vice President, that the British decided to grant access to Huawei to that 5G network?
VICE PRESIDENT MICHAEL RICHARD PENCE: Well, I think the President's been very clear. Secretary of State Pompeo reiterated it this week. The United States is very disappointed that the United Kingdom has decided to go forward with Huawei for a portion of their information--
WILFRED FROST: One report suggested -- the President was apoplectic with fury. Is the gist of that accurate?
VICE PRESIDENT MICHAEL RICHARD PENCE: Well, I never, never comment on the President's private conversations with me or for others. But we were profoundly disappointed because look at when I went at the President's direction in September, I met with Prime Minister Johnson I told him the moment the UK is out of Brexit, we were willing to begin to negotiate a free trade arrangement with the UK.
And now the UK is out of Brexit. Our teams have begun that process to work, but we just don't believe that, that utilizing the assets the technology of Huawei is consistent with the security or privacy interest of the UK of the United States. And it remains a real issue between our two countries.
WILFRED FROST: Is it a deal breaker on a trade deal?
VICE PRESIDENT MICHAEL RICHARD PENCE: Well, we'll see. We'll see if it is, but we'll continue to make it very, very clear the President has a strong relationship with Prime Minister Johnson. And we, are anxious to build our economic ties. But we have made it clear to the Prime Minister Johnson and to officials in the UK that we that as we expand opportunities to build out 5G across this country, the FCC just announced a new arrangement that we think is going to catalyze the expansion of 5G technology.
We want to see, we want to see our companies meet the needs in the United States and UK and among all of our allies without the compromise of privacy, and the compromise of security that necessarily comes with Huawei and control by the Chinese Communist Party.
WILFRED FROST: On that note, the Attorney General said yesterday the U.S. should invest in companies like Ericsson and Nokia to help them catch up with Huawei in terms of 5G technology. Is that is that a realistic option in the short-term?
VICE PRESIDENT MICHAEL RICHARD PENCE: We have great respect for Attorney General Barr. But we believe the best way forward is what Ajit Pai announced just over the last several days, the FCC has a plan for dealing with the spectrum that we think is going to make 5G much more rapidly available all across the country.
And that's the plan the President has endorsed and will be carrying forward we can we can expand 5G especially expand 5G to rural areas of this country by using the power of the free market and American companies. And the United States and our allies around the world can meet those needs ourselves.
WILFRED FROST: One quick final question on the events of this week, Mr. Vice President, which I wanted to focus on was on Senator Romney decided to vote against the President. He said he felt it was his duty to do so. And he said quote, he had an inescapable conviction that my oath before God demanded it. Clearly, you disagreed with his vote. Can you forgive his motivation?
VICE PRESIDENT MICHAEL RICHARD PENCE: Well, look, I don't question his faith, I just question his judgment. We couldn't be more grateful for all the members of the House and the Senate, who not only stood by President Trump and stood by the presidency, stood by the Constitution and rejected this partisan impeachment, saw it for what it was look at the facts and acquitted the President of the United States this week in the United States Senate.
You saw the President yesterday thanking those individual members. And we will stay focused on the gratitude that this President this administration feels for all those who saw through this partisan impeachment, the sham investigation, sorry for what it was. But the remarkable thing when you think about the progress, that the President celebrated in the State of the Union Address 225,000 jobs in the January report that came out today.
This president did all of that over the last three years in the midst of unprecedented obstruction resistance, continuous investigations, recriminations, but as I said just an hour after the acquittal was voted in the Senate. The good news is, it's over America. And the President is right back to work today, just as he's been every day of this administration, working for a stronger, more prosperous America.
WILFRED FROST: Well, Mr. Vice President, congratulations on another strong jobs number. And thank you very much for having me today.