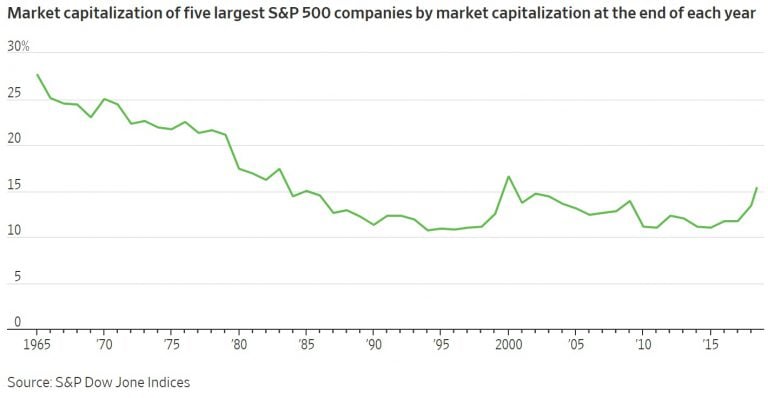 Ben Strubel's newsletter for investors for the month of January 31, 2020, discussing why having the largest stocks in your portfolio isn't such a bad idea.
Q4 2019 hedge fund letters, conferences and more
Dear Investors,
DG Value Adds 36.4% YTD As Distressed Stocks Surge
Dov Gertzulin's DG Capital is having a strong year. According to a copy of the hedge fund's letter to investors of its DG Value Partners Class C strategy, the fund is up 36.4% of the year to the end of June, after a performance of 12.8% in the second quarter. The Class C strategy is Read More
I have not sent out a newsletter for awhile because there hasn't been much to talk about--other than trade issues with China and I have already written several newsletters on China.
In this newsletter, I want to talk about two unrelated things: (1) what the 2020 elections might mean for the market; and (2) why having a handful of large stocks leading the market isn't a bad thing.
1. What will the elections mean for the market?
As American politics become more divided and as more extreme political figures appear, there is a tendency to fear calamity if the person or party you don't support wins. Since the 2020 election slate of candidates is polarizing, this prediction of calamity will reach fever pitch as November approaches.
Regardless of who wins in November, it's worth remembering that it's unlikely to change much on the economic and stock market front. The House is likely to remain in Democratic control, while the Senate is likely to stay in Republican hands. No matter who is elected President, one chamber of Congress will not cooperate. The next two years will likely resemble the final two years of the Obama administration and the past year of the Trump administration. Lots of political theater, but no big economic policy-changing developments. This isn't to say there might not be changes that affect your personal life or impact issues you are passionate about (e.g., immigration, Supreme Court decisions, etc.).
What I am saying is the likelihood of huge, economy and market moving changes that will affect your investment accounts is quite small. It's also worth keeping in mind that throughout American history, over the long run, the economy and the stock market have grown. We've weathered world wars, an oil embargo, political climates that favored the Right, and ones that favored the Left.
2. Why is having a few large stocks now not a bad thing?
If you have heard of the rise of the so-called FANG stock, then you may know it stands for Facebook, Amazon, Netflix, and Google. It really ought to be called MAGFA (Microsoft, Apple, Google, Facebook, and Amazon) since they are actually the five largest stocks. Some people call the market or the stocks "a bubble." The chart below, from the WSJ and Dow Jones shows the market weight of the top five companies since 1965.
largest stocks account for a lot of the S&P500
Right now, the five largest stocks account for a little over 16% of the S&P 500 (INDEXSP:INX). But back in the late 1960s, the five largest stocks accounted for up to 28% of the market! In fact, for much of the market's history, it's been relatively normal for a handful of large, successful companies to make up a big part of the market and drive market returns. Today's stock market is not unusual in historical terms.
I think the psychological scars of the Dot Com Bubble and the Great Recession have made people imagine danger and disaster around each corner. With this mindset, it's easy to envision bubbles.
Our portfolios are still sufficiently diverse, even though we own some MAGFA—or whatever acronym you'd like to use – stocks.