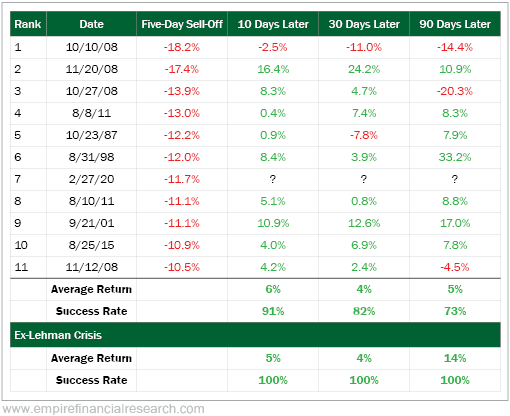 Whitney Tilsoin's email to investors sharing Enrique Abeyta's special update: 'This could be one of the – if not the – single best idiosyncratic market investing opportunities I've seen in my 25-year career'; More on corrections; Funny meme; articles about the coronavirus.
The Best Idiosyncratic Market Opportunity
1) My colleague Enrique Abeyta thinks that this could possibly be the best idiosyncratic market opportunity he has seen in his 25-year career. I think he's right, and I bought in my personal account this morning.
Q4 2019 hedge fund letters, conferences and more
How Warren Buffett Went From Hating To Loving Banks
Since the financial crisis, Warren Buffett's Berkshire Hathaway has had significant exposure to financial stocks in its portfolio. Q1 2021 hedge fund letters, conferences and more At the end of March this year, Bank of America accounted for nearly 15% of the conglomerate's vast equity portfolio. Until very recently, Wells Fargo was also a prominent Read More
Here's an excerpt from a special update Enrique just sent to his Empire Elite Trader subscribers, which he's allowed me to share with my readers:
Our view is that the current panic is creating an exceptionally attractive opportunity for investors.
A sell-off this sharp and quick is extremely rare. In the table below, you can see the 11 five-day corrections (defined as a 10% decline) in the S&P 500 Index over the past 40 years.
The 11.7% drop from last Friday through yesterday's close ranks as the seventh-worst, rivaling some of the most famous sell-offs in history – including the Lehman Brothers bankruptcy during the global financial crisis, 9/11, the failure of Long-Term Capital Management, and the Black Monday stock market crash of 1987...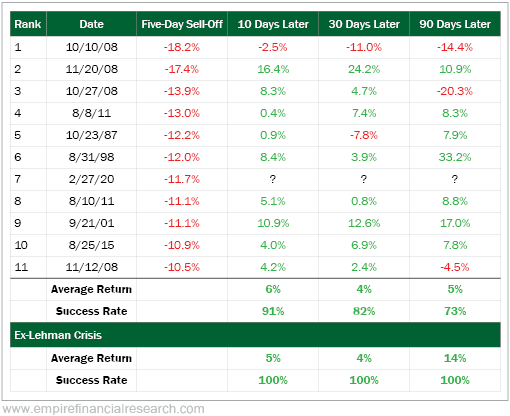 We've also seen a slew of different statistics and technical indicators (almost 30) that are all at record levels of oversold.
This is a unique period.
Most importantly, look at the returns from the table. You can see that investors with the courage to buy in the aftermath of the other 10 sharpest pullbacks over the past four decades made excellent returns the vast majority of the time over the next 10, 30, and 90 days.
And if you exclude the aftermath of the Lehman Brothers bankruptcy – which we think is reasonable, given that we're not even close to being in the midst of a structural economic recession – then the hit rates for all three periods are 100%... with a 14% average return in 90 days (69% annualized).
I've been examining the data over the past few days and think this could be one of the – if not the – single best idiosyncratic market investing opportunities I've seen in my 25-year career.
That said, we have no unique insight into the spread of the coronavirus, nor can we be certain that the market is bottoming right now. More negative news could emerge over the weekend and the market could get crushed again on Monday.
But the extensive long-term data strongly suggest that if you buy stocks (or the indexes) right now, you're likely to make money over the next 90 days.
Thank you, Enrique!
If you'd like to see the two positions that he's recommending buying today, click here to sign up for Empire Elite Trader. It's only $69 per month, and there's absolutely no risk whatsoever with a trial – you can cancel anytime within the first 30 days for a full refund.
How Long Do Stock Market Corrections Last?
2) CNBC has more data on the 26 market corrections since World War II: Here's how long stock market corrections last and how bad they can get. Excerpt:
There have been 26 market corrections (not including Thursday) since World War II with an average decline of 13.7%.
Recoveries have taken four months on average... But there's one big caveat. This is only if it does not fall into bear market territory, down 20% from a high. If the losses stretch to 20%, then there's more pain ahead and a longer recovery time.
Stocks Benefitting From Coronavirus Crisis
3) Not all stocks are getting clobbered... A handful that investors think will benefit from the coronavirus crisis are soaring. Exhibit A is video-conferencing company Zoom Video Communications (ZM), which will likely benefit as more businesspeople around the world choose to have meetings using Zoom's technology rather than in person.
I have extensive experience with Zoom's service, as my friend Glenn Tongue and I used it for two or three hours each day when we taught many online investing seminars in 2018. It's the best service we could find, it was reasonably priced, and the customer service was excellent... so I don't have a single negative word to say about Zoom.
The company has decent financial characteristics, especially relative to other recent IPOs (Zoom went public last April). It has $540 million in trailing 12-month revenue and – I hope you're sitting down – is actually profitable (insert heavy sarcasm), earning $15.7 million in net income.
The valuation, however, is another matter... I'm having trouble thinking of when I last saw a stock this wildly overvalued. It has nearly doubled since mid-December, giving the company a $33 billion market cap – meaning it's trading at 61 times revenue!
I have no doubt that Zoom will grow at a rapid rate for many years to come, but I think odds are close to zero that it can grow into its current absurd valuation...
4) Take a look at this funny meme that has been circulating, highlighting how computerized our markets have become.
Best regards,
Whitney