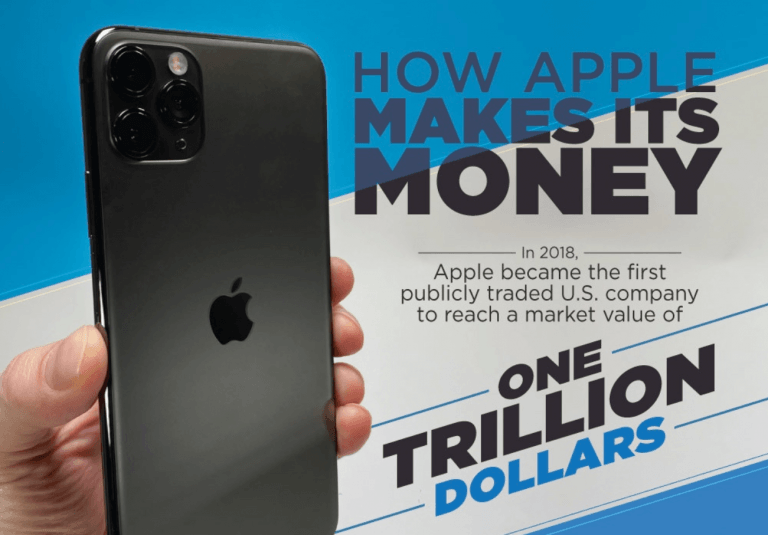 In 2018. Apple became the world's first publicly traded company with a market value of $1 trillion. Apple alone is worth over 1% of the world's GDP, and it's worth more than three of the world's highest net-worth individuals. Just selling phones and computers isn't what makes this brand so valuable, however. Much of Apple's net sales is from iphone, but there are many other components. The brand loyalty behind this tech giant extends to services you may have never even heard of.

Apple makes 41% of the smartphones in the United States, 38% of the tablets, and 46% of the smartwatches.Samsung is a distant second across all categories, but devices alone aren't the only generators of Apple's net sales.
Q4 2019 hedge fund letters, conferences and more
Connor Leonard Of IMC Explains: Here's What Value Investors Should Know About Moats
When it comes to value investing, one strategy that's often used is seeking out companies which have sizeable moats against competition. In a presentation for the Value Investing Club at Google earlier this year, Connor Leonard of the Investors Management Corporation explained two ways of looking at moats and how value investors can benefit from Read More
Apple's other services include Apple Music, Apple Pay, iCloud, Apple News+, Apple Arcade, Apple TV+, and Apple Care+, all of which provide additional revenue streams to the tech giant on top of its device sales.
Apple's Net Sales
For 2018, Apple's net sales were $266 billion, which included $167 billion for iPhones, $25 billion for Mac computers, $19 billion for iPads, and $37 billion for services. Apple's net operating costs for that year were $164 billion, leaving them with a net profit of $102 billion.
When the iMac was released with a redesign in 2002, it sold 3 million units. When the iPhone was released in 2007, it sold 1 million units. When the iPad was released in 2010, it sold an astounding 7 million units. Along with the popularity of Apple's devices comes an upsell to more and better services that make your device better. Why have an iPhone if you aren't going to use Apple Music or the iCloud? Because of the popularity of these devices the services practically sell themselves.
Steve Jobs' philosophies on quality are a large part of why this company has remained so popular over time. On design, Jobs said the aesthetic for each Apple product should be carried all the way through every aspect of the product's design. He placed an emphasis on quality over quantity, and his marketing philosophy was to think differently. Leadership and innovation were at the top of Jobs' list when it came to his company's success. This has driven Apple's net sales on a long term basis by securing customer loyalty.
The Value Of Refurbished Apple Products
Macs have always had many benefits that PCs just don't offer. Updates and improvements for Macs are pushed out more frequently, while the quality of Macs over PCs has always been apparent. Macs tend to have longer lives with better support, and all apple products offer seamless integration across devices.
Thanks to this high quality, there is a huge market for refurbished Apple products. It's no surprise that something so well made holds its value. Learn more about how Apple's net sales are driven from this division in the infographic below.


Updated on