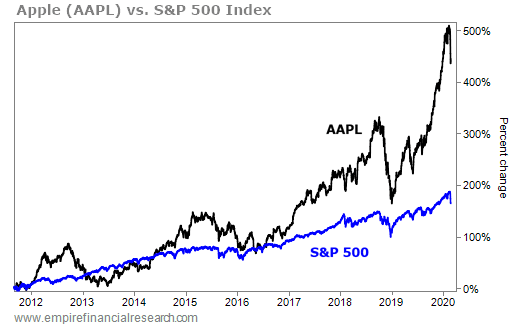 Whitney Tilson's email to investors discussing his first Apple annual meeting; how it could be better; thoughts on Apple; Tim Cook is one of the most underrated CEOs in the country; the question he wanted to ask him.

Q4 2019 hedge fund letters, conferences and more
Whitney Attends The Apple Annual Meeting
1) My cousin who lives in the Bay Area had an extra pass to Apple Inc. (NASDAQ:AAPL) annual meeting yesterday, so I flew out here (my second visit in eight days!) to go to it with him and two of his children. Here's a picture of us:
[Exclusive] ExodusPoint Is In The Green YTD Led By Rates And EM/ Macro Strategies
The ExodusPoint Partners International Fund returned 0.36% for May, bringing its year-to-date return to 3.31% in a year that's been particularly challenging for most hedge funds, pushing many into the red. Macroeconomic factors continued to weigh on the market, resulting in significant intra-month volatility for May, although risk assets generally ended the month flat. Macro Read More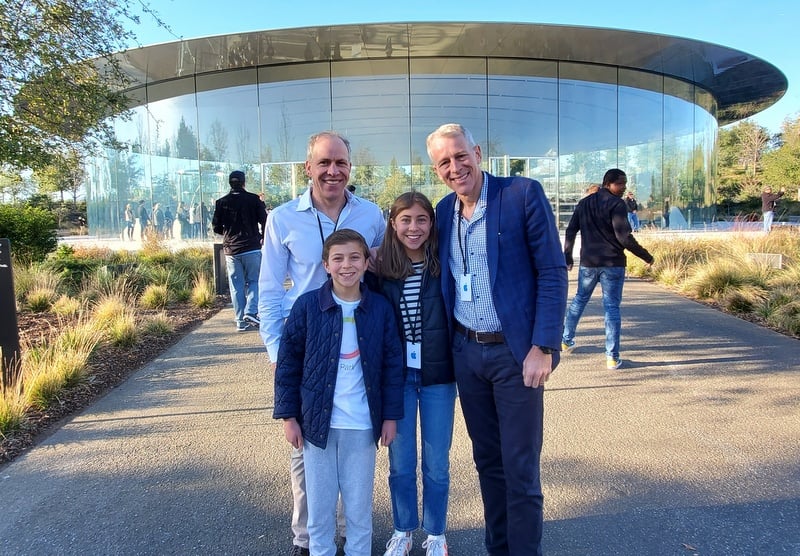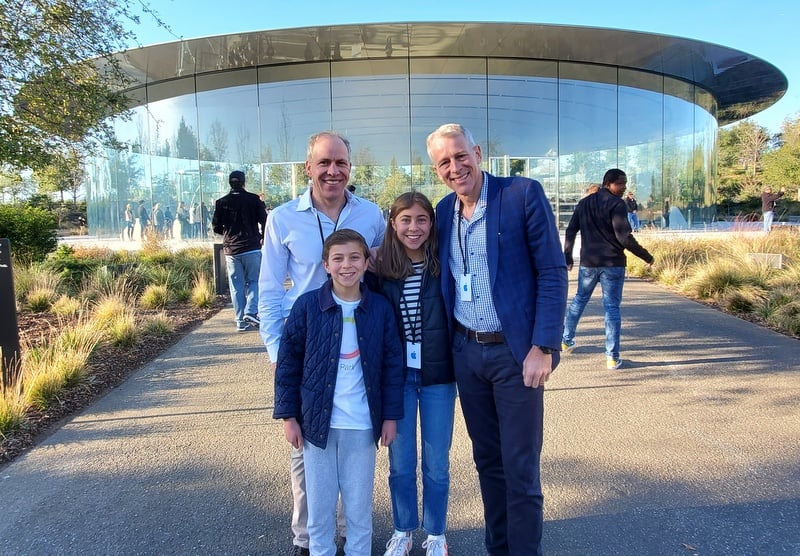 Behind us, you can see the venue for the meeting: the Steve Jobs Theater, which is stunning. Here's an article about it, The incredible architectural secrets of Steve Jobs Theater, and here are some pictures I took inside: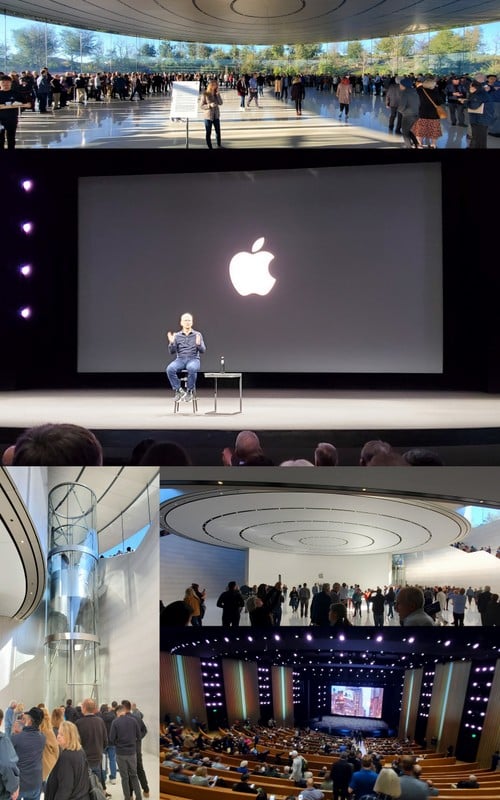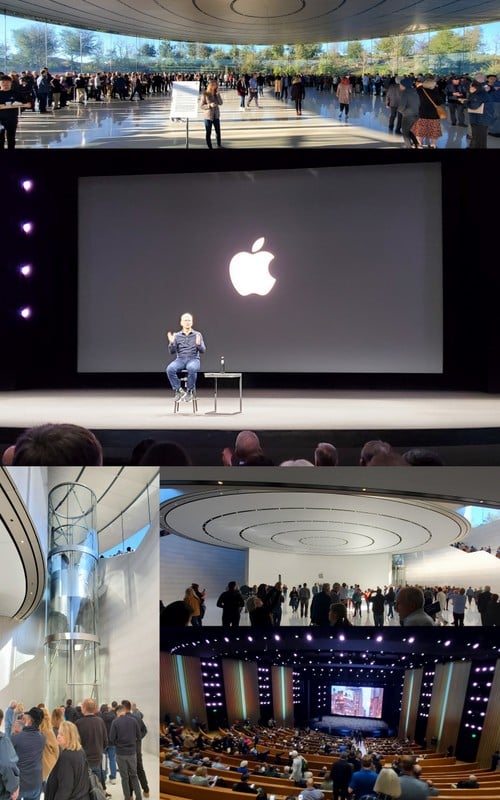 I'm glad I went to the meeting. It was fun and interesting, but I don't think I'll come again unless Apple changes the format – it was only an hour long and the first half was consumed by official business, including a few activists reading shareholder proposals (which didn't pass).
The best part was immediately after, when CEO Tim Cook took the stage. First, he shared the company's highlights over the past year for 10 minutes.
Apple's business
One thing he said jumped out at me: that Apple's wearables business – which includes AirPods, Apple Watches, and Beats headphones – would be a Fortune 150 company as a standalone entity. That's extraordinary, given that the business is less than five years old!
But then again, Apple has been doing extraordinary things for most of its storied history. On Monday, Berkshire CEO Warren Buffett called it "probably the best business I know in the world" – and he's exactly right.
That said, as I discussed in my January 23 e-mail, I still can't see where meaningful future growth is going to come, so I like Alphabet's (GOOGL) stock better... but Apple will do well, too.
After his prepared remarks, Cook took questions for 20 minutes – half from the audience and half from online submissions.
The Specialness Of The Apple Annual Meeting Venue
The first question was from a shareholder of both Apple and Berkshire Hathaway (BRK-B), who encouraged Cook to hold the meeting in a larger venue so it could be more like the Berkshire event (the Steve Jobs Theater only holds around 1,000 people).
Cook replied he was at the Berkshire meeting last year, loved it, and encouraged everyone to attend. He said he's considering moving the Apple meeting, but worries that it would lose its "specialness" if it's moved off the company's campus.
I don't have a strong opinion on this suggestion, but had three of my own that I e-mailed to Cook last night, all based on my experiences at the last 22 Berkshire meetings: first, livestream the meeting and make the video available afterward... second, take questions for much longer – ideally three hours... and lastly, save the required aspects of the meeting for the end, so shareholders who aren't interested in this can leave.
Yesterday was the first time I'd seen Cook in person, and I was very impressed (and not just because we share a birthday – November 1). It reinforced my view that he's one of the most underrated CEOs in the country. It's clear that he's a fabulous manager as well as a great guy.
I'm not sure any incoming CEO ever has had bigger shoes to fill than he did – replacing a legend like Steve Jobs in 2011 – and it's incredible how well Cook has done. Below, you can see how well Apple's stock has done since he became CEO on August 24, 2011, relative to the S&P 500: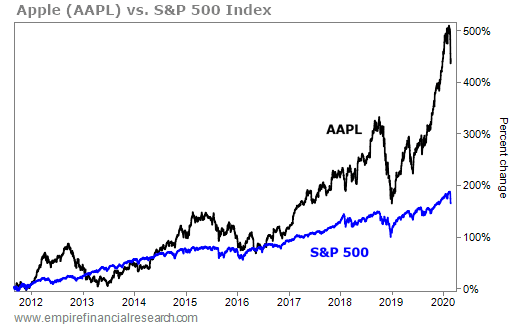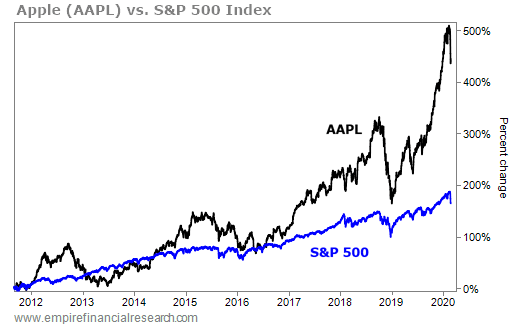 The question I wanted to ask him was: How did you do it? I suspect part of the answer is that Cook didn't try to be the next coming of Jobs. In fact, in many ways I think he's succeeded by being the anti-Jobs!
Best regards,
Whitney
P.S. There must be quite a bit of overlap in the shareholder bases of Apple and Berkshire because three guys came up to say hi... They recognized me from the many events I've hosted at the Berkshire meeting over the years (my invitation to this year's parties was in Tuesday's e-mail). Here are pictures of me with two of them, David Simpson (in orange) and Andrew Whitiak: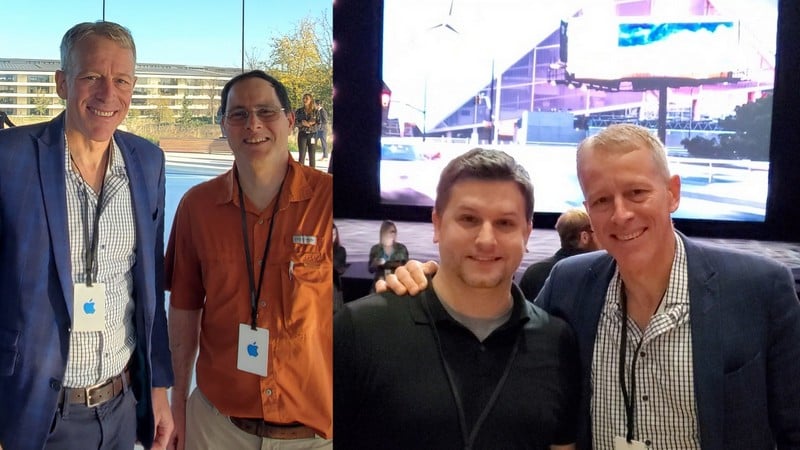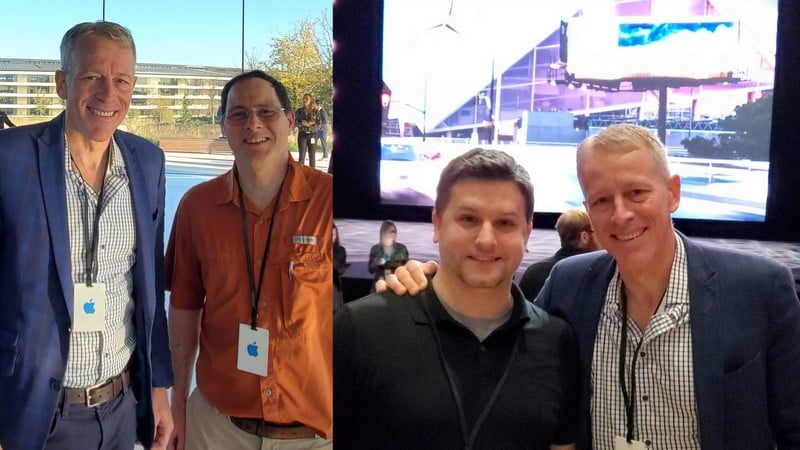 Updated on