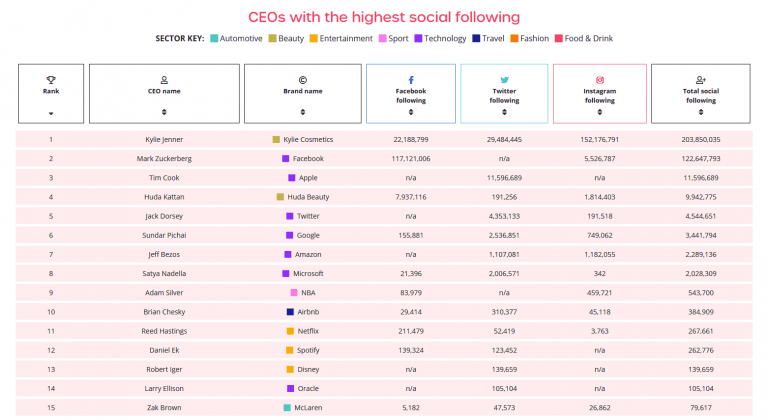 Do you have to be a certain type of person to be one of the most successful CEOs? Could your personal traits play a part in you becoming super successful at the top?

New research by BusinessComparison has revealed which traits some of the most successful CEOs in the world have in common – how do you compare?
How A Weakening PE Market Serves As Another Sign Of A Weakening Economy
Amid the turmoil in the public markets and the staggering macroeconomic environment, it should come as no surprise that the private markets are also struggling. In fact, there are some important links between private equity and the current economic environment. A closer look at PE reveals that the industry often serves as a leading indicator Read More
Q4 2019 hedge fund letters, conferences and more
How gender plays a role
The majority of the CEOs analysed in the report were male - 46 of the 50, in fact. That leaves four females, which included Kylie Jenner of Kylie Cosmetics, Huda Beauty's Huda Kattan, ITV's Carolyn McCall, and Yves Saint Laurent's Francesca Bellettini.
Male CEOs dominated every industry, too, with only entertainment, fashion and beauty naming female CEOs.
What about age?
Age doesn't necessarily mean success, and this report proves that age doesn't always influence your level of success.
In fact, Millennials make up 45% of the world's most successful CEOs in this research - and every single one of these Millennials founded their own company,
Kylie Jenner is the youngest boss at just 22 years old and the oldest is Canon CEO, Fujio Mitarai, who is 84, however the average age of the CEOs is 55.
Years to most successful CEO status
Does it take years and years to become a CEO?
The average age to reach CEO status, was revealed by the report, to be 41, but becoming a CEO is the most common amongst the top 50 between the ages of 46 and 51.
Most successful CEOs look to the stars
Could your astrology determine whether you would make a good CEO? According to this report, your star sign could very well hold the key to CEO success.
Taurus was determined to be the most common star sign amongst the top 50 CEOs in the world, so if you are born between April 21 and May 21, you could very well make a great CEO.
In fact, Mark Zuckerberg from Facebook is possibly one of the most famous Taureans, and just look at how successful he has become!
Don't worry if you aren't born under Taurus, though; Leo's comes a close second, with six CEOs, followed by Pisces with five CEOs being born under the sign.
Which countries produce the most CEOs?
As one of the biggest business centres in the world, it probably comes as no surprise that 36% of all the top 50 CEOs hail from the States.
However, it is Japan that ranks second, with 10% of the CEOs being of Japanese nationality, with a further 8% of them being British or Italian.
Most successful CEOs and education?
We're always told that education is the key to success, but does this apply to CEOs?
The research revealed that 86% of the CEOs on the list have a college degree or higher, so there is definitely some truth in success being linked to the level of education a person achieves.
It also appears to be that the more prestigious the educational establishment, the more likely you are to be a successful CEO. A total of eight of the 50 CEOs from the research have attended Ivy League institutions; these include Facebook's Mark Zuckerberg and boss of Adidas, Kasper Rørsted, who both attended Harvard, and Jeff Bezos graduating from Princeton University.
But education isn't the be-all and end-all. if you have found yourself dropping out of education, that's not to say you can't be successful. Spotify's Daniel Ek, Twitter's Jack Dorsey and Oracle's Larry Ellison all dropped out of their studies and were still highly successful CEOs.
Kylie Jenner also proves higher education from a prestigious Ivy League establishment isn't always essential; the youngest successful CEO has her high school diploma as the highest level of education.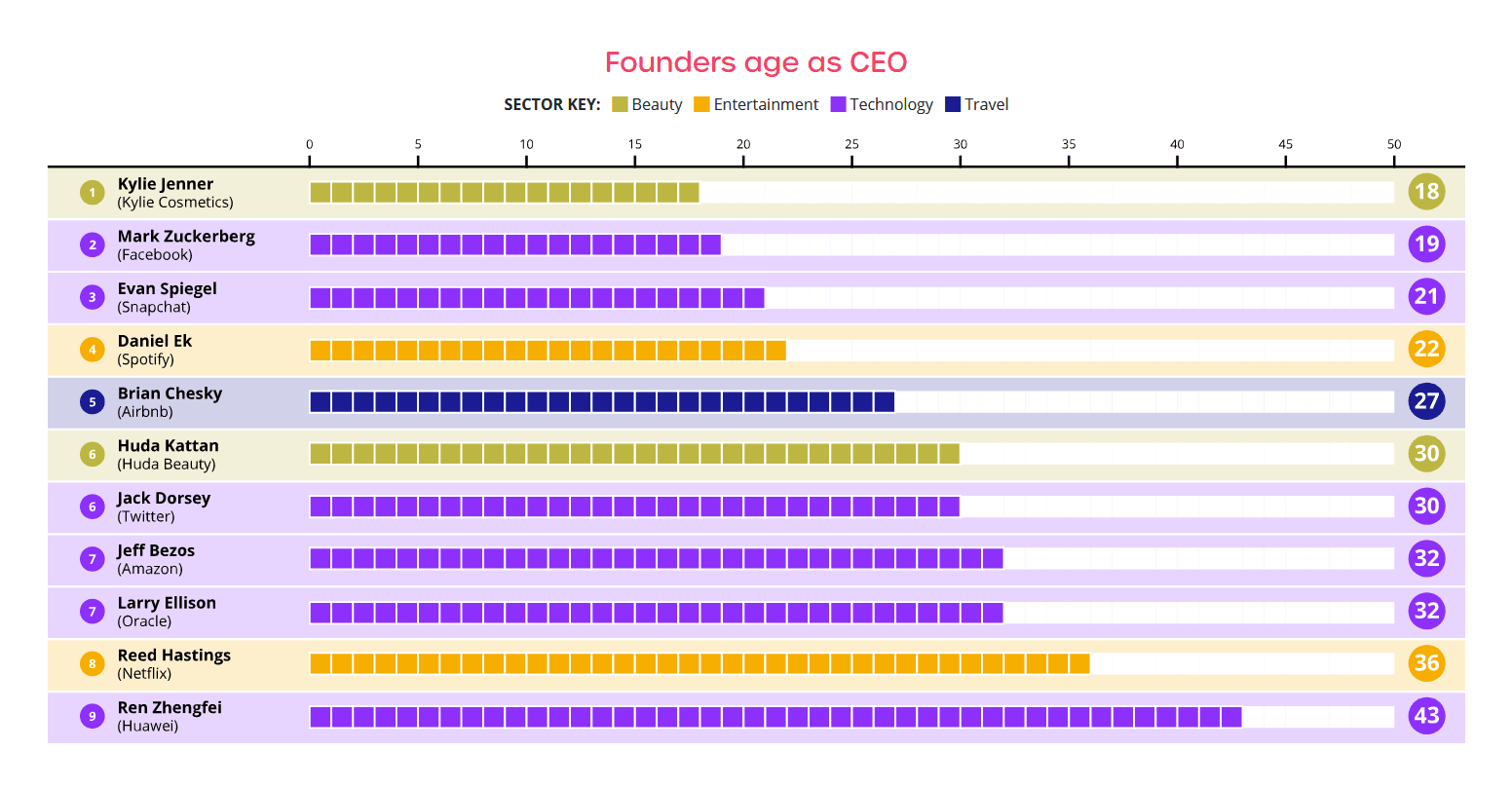 Do you have to found your own company?
CEO status doesn't mean that you founded the company that you are head of. So how many of the world's most successful CEOs can actually say they founded their own business, and who has worked hard to earn the title in another business?
The research reveals that only 11 of the 50 CEOs actually founded their own companies - that's 39 individuals who have stepped into the CEO role of someone else's company.
Only half of the females in the study founded their own brands; Kylie Jenner and Huda Kattan.
Those who were revealed to have founded their own companies were also more likely to rise to CEO status earlier in life than those who didn't found their own company. Those founders achieved CEO rank by an average age of 28, whereas their counterparts who didn't would find themselves waiting until an average age of 45 until they rose to the top.
However, playing the long game when it comes to promotion isn't a bad thing. Take Canon's Fujio Mitarai, for example; he worked for 34 years before he was appointed CEO of one of the world's biggest tech companies!
For the rest, it took an average of 11 years to become a CEO in a company - that's still more than a decade of hard work!
Updated on