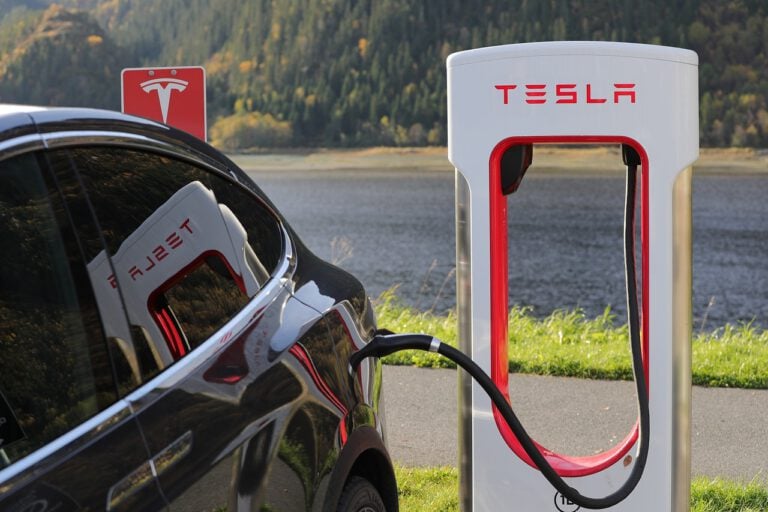 Tesla may be busy working on the new vehicles, including the Model Y and Cybertruck, but that does not mean the company has forgotten its flagship models. If the latest leak is to be believed then the automaker could be planning several upgrades to the Model S and Model X. Tesla often updates its vehicles via over-the-air software, but this time, it could be planning major hardware modifications.
Expected upgrades to Model S and Model X
This latest leak comes from Greentheonly, which is known for Tesla-specific leaks. As per the tipster, upgrades to Model S and Model X could include changes in the suspension, upgraded seats, two new battery types, new charge port type and a built-in wireless Qi charger.
Adding a Qi charger might also mean a broader interior redesign, talks of which have been going on for the past few months. There are also chances that upgrades to the Model S and Model X may include a touchscreen similar to Model 3 and Model Y.
DG Value Adds 36.4% YTD As Distressed Stocks Surge
Dov Gertzulin's DG Capital is having a strong year. According to a copy of the hedge fund's letter to investors of its DG Value Partners Class C strategy, the fund is up 36.4% of the year to the end of June, after a performance of 12.8% in the second quarter. The Class C strategy is Read More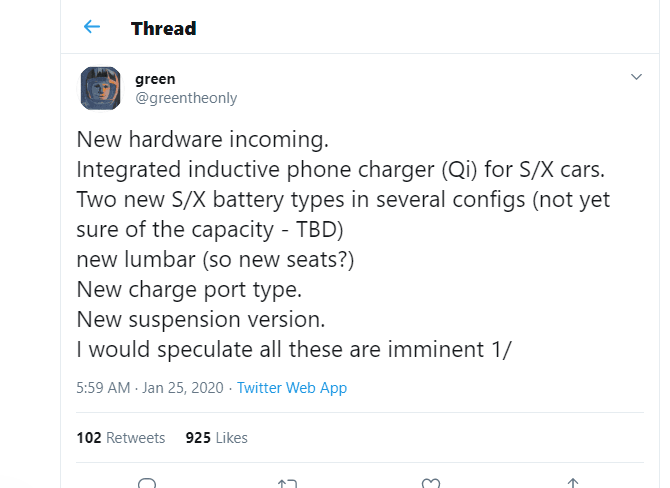 The tipster also talks about the reason why Tesla may go for such upgrades to the Model S and Model X. Greentheonly notes that many people believe that the current hardware on Tesla's flagship models are "somewhat stale" and if there are no fresh changes, people may switch to other brands.
Irrespective of what some people might say, both the Model 3 and the Model S got the "recommended" title from Consumer Reports in Nov. 2019. Earlier this month, it was reported that Tesla sold more cars than ever in 2019.
Why Tesla needs to update Model S and Model X?
Tesla specifically sold about 300,000 Model 3 units last year, which is more than the sales of the 2017 and 2018 combined. These sales numbers came despite users reporting a few issues with the Model 3, such as stuck latches or malfunctioning doors.
However, the Model S and Model X sales numbers were not that impressive. Last year, the company sold 14,100 units of the Model S and 19,225 units of the Model X in the U.S. These sales figures were 45.2% and 26.3% below the Model S and Model X sales in 2018, respectively.
Also, both Model S and Model X are due for an update. Tesla started making Model S in 2012. Though the company routinely updates its flagship models with tweaks and configurations, the last major exterior change for the Model S came in 2016 when it got a sharper-looking front end.
There were reports last year of upgrades to Model S, and Musk also confirmed that an upgrade to Model S could arrive this year featuring bigger battery packs. There are also talks of the car maker developing a Model S featuring a powertrain called Plaid. This will include three electric motors — one up front, two out back. Along with Plaid, the upgraded Model S could get suspension changes as well for better handling.
Tesla Model X, on the other hand, entered production in 2015 and remained the same ever since with a few minor tweaks. Now that both the flagship models are eight and five years old, respectively, they are due for an update as per the industry standards as well.
More about upgrades to Model S and Model X
Talking about the expected upgrades to Model S and Model X, the two flagship models currently use the 18650 battery cells. The Model 3, however, uses the more advanced 2170 cell format. It is possible that Model S and Model X may also get the advanced 2170 cell format.
Previously, Musk hinted that the company is working on a battery pack with a service life of 1 million miles. Or, it could also be that Model S and Model X get a 110 or 120 kWh battery option as Model 3 will soon have a 100 kWh option. If so, it could give Model S a range of up to 400 miles, well ahead of anything offered by the competitors.
Talking of a new charge port type, Tesla may add the ability to use CCS charging stations. If such is the case, it could be a huge change (or, we can say a revolution) as it would massively increase the number of places that drivers could plug in while away from home.
In terms of what to expect in terms of the seats, Greentheonly recently noted that Model 3 might get premium Yanfeng seats. Though there is no further information on it, we may expect something similar for the Model S and Model X as well. Talking of suspension, we don't expect any radical new system, but rather improvements and refinements to the current suspension systems.