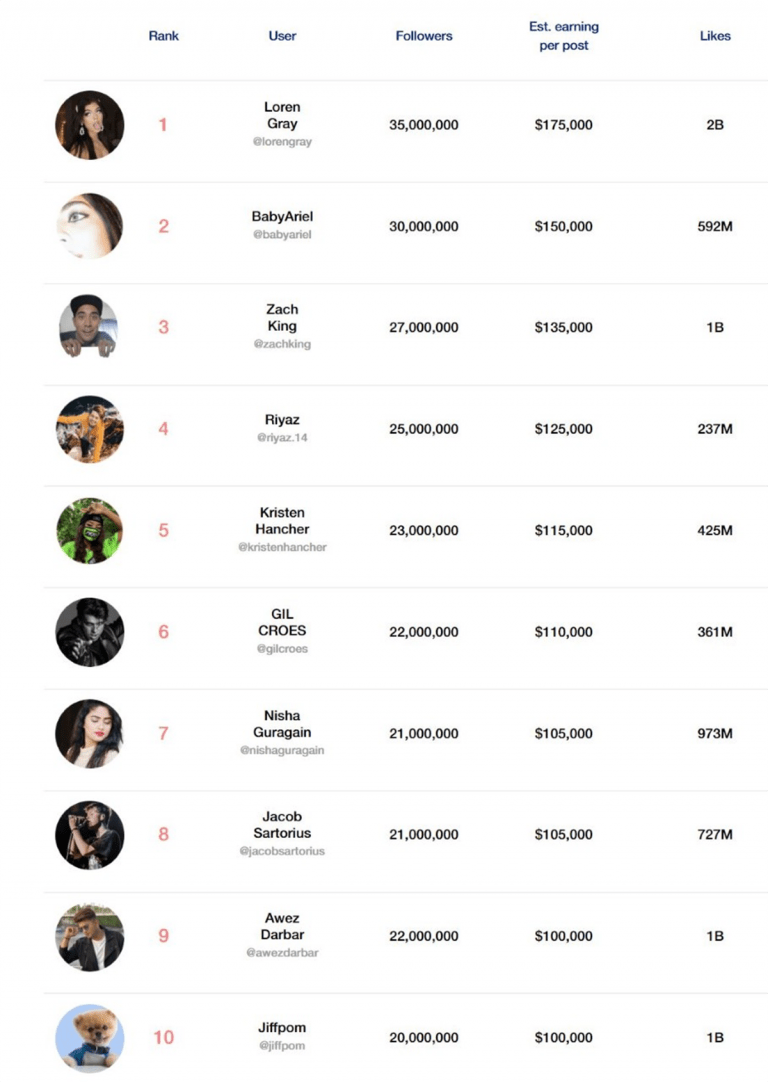 dA new report has revealed how much the richest tiktok stars are earning per post and how much they'll be earning in a years' time.
The highest earning TikTok influencer is 17-year-old Loren Gray, who could charge $175,000 per post
In a year's time, 19-year old actress Aashika Bhatia will have the most fans, with 194 million.
Pomeranian Jiffpom is the only animal in the rankings, taking the current 10th spot with 20 million followers
Q4 2019 hedge fund letters, conferences and more
Whilst the world has been oblivious, the app TikTok has risen sharply in popularity in the last year, now boasting over 1.5 Billion users worldwide.1
Star hedge fund macro trader Colin Lancaster warns: Inflation is back
Talk of inflation has been swirling for some time amid all the stimulus that's been pouring into the market and the soaring debt levels in the U.S. The Federal Reserve has said that any inflation that does occur will be temporary, but one hedge fund macro trader says there are plenty of reasons not to Read More
Dominated by teenagers and tweens, many have shot to fame on this short video app. But just how much money could TikTok celebrities and influencers be earning?
A new report by Online Casinos has revealed the richest TikTok stars now, and how this will change over the next 12 months. This data was taken December 2019.
The current top ten richest TikTok stars
The highest potential earner on TikTok is Loren Gray, who could make up to $175, 000 per sponsored post. That's 265 times the weekly average salary2, for one 60 second video.
The young star has 35 million followers on TikTok, posting daily. She was born in Pottstown, Pennsylvania, but moved to LA after being bullied following her growing fame. Loren is a singer and social star, first coming to fame through her musical.ly account, lorengray. She is now also an actress, model and dancer.
The top ten influencers can be seen below:
The top ten wealthiest stars in the next year
Aashika Bhatia is going to have the most fans on TikTok in a years' time, and she'll be worth $973,720 per sponsored post.
Aashika Bhatia is an actress from India, starting her on-screen career playing young 'Meera' in the TV show, Meera in 2009. In 2015, she made her Bollywood debut with Prem Ratan Dhan Payo. She posts a variety of videos, from lip syncing to skits, with her popularity on the app set to skyrocket.
The top richest tiktok stars of the future can be seen below:
Full details on the report can be seen at: https://www.onlinecasinos.co.uk/tiktok-rich-list.htm
---
Sources:
Methodology
Estimated price per posts was calculated using https://realtimetiktok.com/ - it is estimated that profiles can get paid up to $0.005 per follower.
Future followers  for the richest tiktok stars have been calculated via https://cloutmeter.com/
About Online Casinos
OnlineCasinos.co.uk is a gambling reviews website devoted to covering the UK's top betting sites. Our UK-based team of gambling enthusiasts write about the best online casinos, gambling platforms, and sports betting sites – our content is written by players and for players.