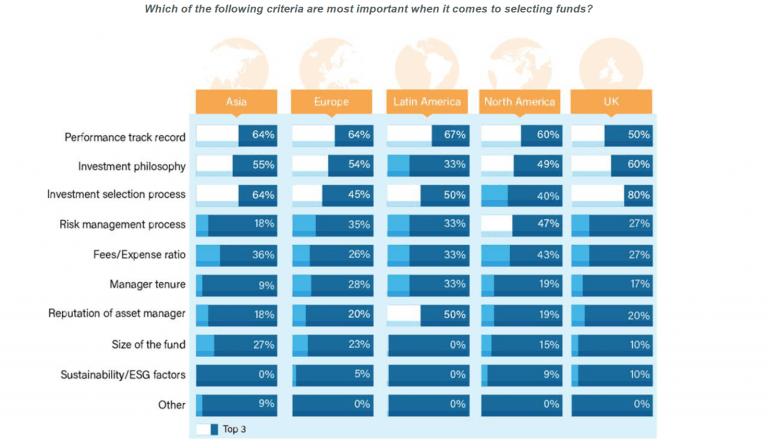 Performance track record is seen as the most important fund selection criteria (London, January 2020) Less than one in 10 global professional fund buyers say ESG is a key factor when selecting funds, new research shows.

Q4 2019 hedge fund letters, conferences and more
From The Archives: Apple IPO Original Document
Today, Apple is the largest public company in the world, and the group's iPhones can be found in stores all over the globe, but not long ago the company was a baby when the Apple IPO was filed in the 1970s. Not only is Apple the world's most valuable company, but it's also arguable that Read More
A CoreData Research global study of 200 professional fund buyers found only 7% point to ESG/sustainability factors as one of the most important fund selection drivers.
Professional buyers in the UK (10%) and North America (9%) attach the most weight to ESG. But no respondents in Asia or Latin America say ESG is a prime selection driver, with just 5% of buyers in Europe citing it as a major influence.
"The surprisingly small role assigned to ESG in the fund selection process may reflect difficulties evaluating the sustainable credentials of funds due to a lack of transparency and reported data," said Craig Phillips, head of International, CoreData Research. "While the market has seen a proliferation of ESG funds, there are growing concerns about so-called greenwashing."
Professional fund buyers and ESG
Performance track record, cited by six in 10 (60%) respondents, is seen as the most important driver when selecting funds. Professional buyers in Latin America (67%), Europe (64%) and Asia (64%) regard past performance as particularly important, while those in the UK (50%) assign it the least significance.
After performance track record, global buyers point to the investment philosophy (53%) and investment selection process (51%) as the next most important fund selection drivers. But far fewer buyers cite the influence of manager tenure (23%), asset manager reputation (21%) and fund size (18%).
"This shows how professional buyers are looking beyond those factors associated with the manager and are instead focusing on fund-specific dynamics," added Phillips. "They are basing decisions around the particular investment approach and style and how successful it has been rather than the manager's reputation and tenure."
The focus on performance is seeing professional buyers conduct frequent reviews of active managers. Globally, over half of respondents conduct a comprehensive review of active managers either monthly (18%) or quarterly (34%).
Respondents in the UK and Latin America are keeping the closest tabs on active managers. Seven in 10 UK buyers review either monthly (20%) or quarterly (51%) and two-thirds of Latin American respondents review monthly (33%) or quarterly (33%).
Professional buyers in Europe and North America conduct less frequent reviews. About four in 10 European selectors review either monthly (19%) or quarterly (24%), while less than half of North American respondents carry out monthly (15%) or quarterly (34%) reviews.
Key Findings
Methodology
CoreData Research gathered the views of 200 professional fund buyers during November 2019 via an online survey.
Professional fund buyers were based in five key investment markets around the world: Asia, Europe, UK, Latin America and North America.
The professional fund buyers surveyed are researchers and analysts responsible for the fund selection process at organisations including private banks, funds of funds, independent wealth managers, insurers and DFMs.
For further information, please contact Will Roberts at CoreData Research UK at [email protected]