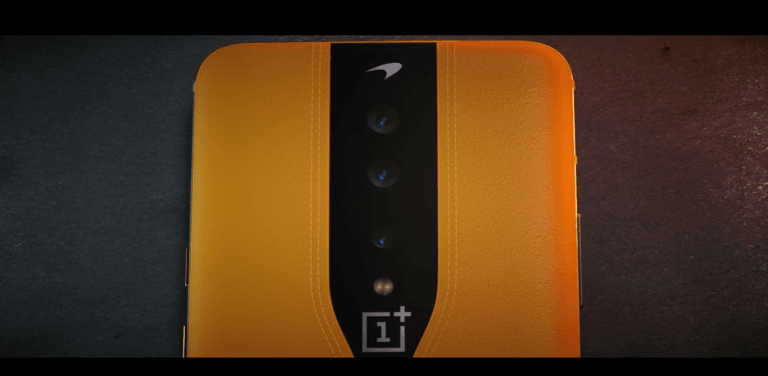 OnePlus unveiled its first concept phone at CES this week. The device is called the OnePlus Concept One, and it features a disappearing camera that hides behind electrochromic glass on the back of the device. We've heard plenty of rumors about cameras being hidden underneath displays in upcoming smartphones, but this is the first time we're hearing of a device with a hidden rear-facing camera.
OnePlus Concept One with disappearing camera
In a post on the company's forums, OnePlus CEO Pete Lau provided details about the Concept One. He described it as marking "a breakthrough exploration in smartphone CMF (color, material, finish) design," adding that it "lays the foundation for future smartphones with radically new designs and capabilities."
The Chinese handset maker partnered with luxury automaker McLaren on the design of the Concept One. It draws inspiration from the McLaren 720S sports car, which sports a glass roof that can change its tint and control how much light is able to get through. The Concept One also draws inspiration from the high-quality leather used in McLaren's cars.
David Abrams Explains How To Value Stocks
Continued from part one... Q1 hedge fund letters, conference, scoops etc Abrams and his team want to understand the fundamental economics of every opportunity because, "It is easy to tell what has been, and it is easy to tell what is today, but the biggest deal for the investor is to . . . SORRY! Read More
Lau shared a video of the Concept One on the forum post and on YouTube:
How the camera disappears
Lau explained that the OnePlus Concept One's disappearing camera hides behind glass made from organic particles. The particles are able to change the transparency of the glass in less than a second from an opaque black color to clear. When the camera isn't being used, the camera lenses disappear behind the opaque glass back. Lau described the OnePlus Concept One's disappearing camera and invisible design as an example of their "burdenless" design philosophy. He also called it "Electronic CMF" and a new approach to industrial design.
In addition to becoming opaque to hide the camera lenses, the glass on the back of the Concept One also serves a practical use. It doubles as a polarizing filter for the camera so that users will be able to capture sharp pictures with more details even in strong light.