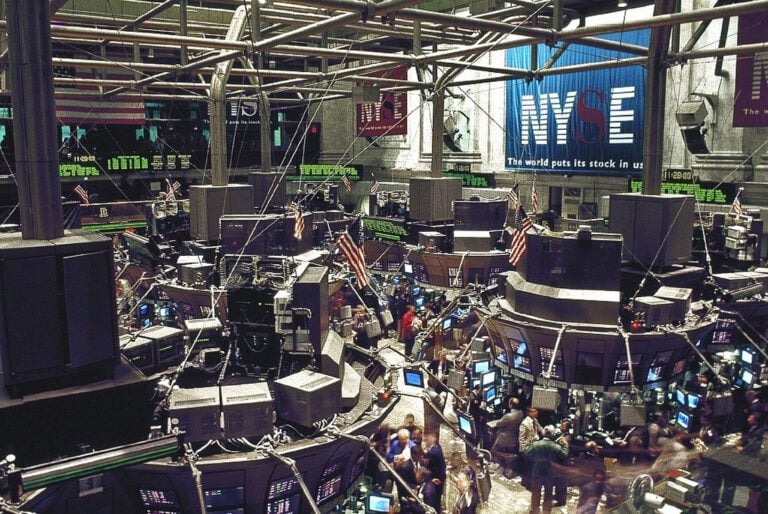 The stock markets had their best return in six years in 2019. Even if you are not keen on stock markets, President Trump is never shy to remind everyone of his signature achievement on Twitter. Just over a week into the New Year, every stakeholder is wondering how this year will pan out for stocks. For investors setting their financial resolutions for 2020, time is ripe for appropriate analysis.
The year started on the wrong footing with a severe escalation from the souring US-Iran relationship. However, stock markets seem to have shrugged off these concerns and continued to build on last year's gains. If you are looking to trade NASDAQ, it is fitting to find out the events that will shape up its performance in the coming few months.
Q4 2019 hedge fund letters, conferences and more
Crypto Hedge Fund Three Arrows Blows Up, Others Could Follow
A few years ago, crypto hedge funds were all the rage. As cryptocurrencies rose in value, hundreds of hedge funds specializing in digital assets launched to try and capitalize on investor demand. Some of these funds recorded double-digit gains in 2020 and 2021 as cryptocurrencies surged in value. However, this year, cryptocurrencies have been under Read More
The NASDAQ stock exchange is located in New York, with a market capitalization of about $10 trillion. This figure places it only second to the New York Stock Exchange (NYSE) among stock exchanges. Similarly, the NASDAQ Composite is a stock market index of common stocks and similar securities on NASDAQ. Notably, a high number of stocks on this index are from tech companies.
US-China Relations and the US General Election
The fact that 2019 was a record year for stocks shouldn't automatically mean that you should expect a correction the next year. Some would look at the stock markets drop in late 2018 as the precursor for the 2019 rally and expect the reverse to happen. Already, stock indices like the Dow Jones and the S & P 500 are showing no signs of slowing down.
China is undoubtedly the most significant factor for current stock traders. Traders are focusing on phase two of a US-China trade deal. In the past two years, escalating tensions between the two trading giants rocked markets at different points.
The US-China trade war will be a significant factor in the early part of the year. Even though the Phase 1 of the trade deal did not meet all investor expectations, the rollback of tariffs was enough assurance for markets.
As investors await the second phase of the trade deal, all eyes are on official announcements to this effect. Easing the trade tensions would be enough to extend the bullish run in stocks, at least for the early part of the year.
President Trump remains as unpredictable as ever. Given his heavy-handed negotiation style, it is not clear when negotiations for a trade deal will reach completion. However, the US economy has proved itself capable of handling tariffs far better than expected..
The second major factor for this year is the upcoming US election in November. From recent history, a change in administration doesn't necessarily mean a quick economic turnaround. Those from the Bernie Sanders and Elizabeth Warren camp would obviously want to see a faster effect on the economy.
However, they have no more chance of election that Trump has of being reelected. The net effect on stocks will not be as dramatic as the campaign bluster may suggest.
The Federal Reserve - Will Powell Slash Rates?
In the aftermath of the 2009 financial crisis, two key factors have boosted subsequent growth. One is the economic strength that each country continues to build on. The other, which often escapes much scrutiny, is the easy monetary policies of many major central banks.
The Federal Reserve (FED) has a policy of ultra-low interest rates as parts of easing policies to inject cheap liquidity into the economy. Many would not be aware of this were it not for Trump's public spat with Fed chair, Jerome Powell, on lowering rates. Low-interest rates offer an economic stimulus, and the President wants to keep growth going as long as possible.
Stock markets responded well to rate cuts in 2019. However, a reversal in this policy could cause a significant drop. After the record gains of last year, a rate hike could be the wrong move.
The Bottom-Line
These factors have the most significant role to play in how the NASDAQ will fare in 2020. Given the historic rally of 2019, it is unlikely that 2020 will feature a similar rally. Even if the US-China dispute reaches a complete resolution, a NASDAQ rally of over 30% is highly unlikely. That said, there is nonetheless room for growth.
Some of the leading tech companies like Microsoft, Amazon, and Google are listed on the NASDAQ composite. These tech stocks have been extremely rewarding in the last few years. Therefore, you can explore such listings on the NASDAQ 100 to add to your portfolio,
The events that will shape the performance of stocks this year are mostly political. A resolution of geopolitical disputes would be massive for stock markets. An escalation of these events can be negative for NASDAQ. All in all, it makes for an exciting year for stocks.
Updated on