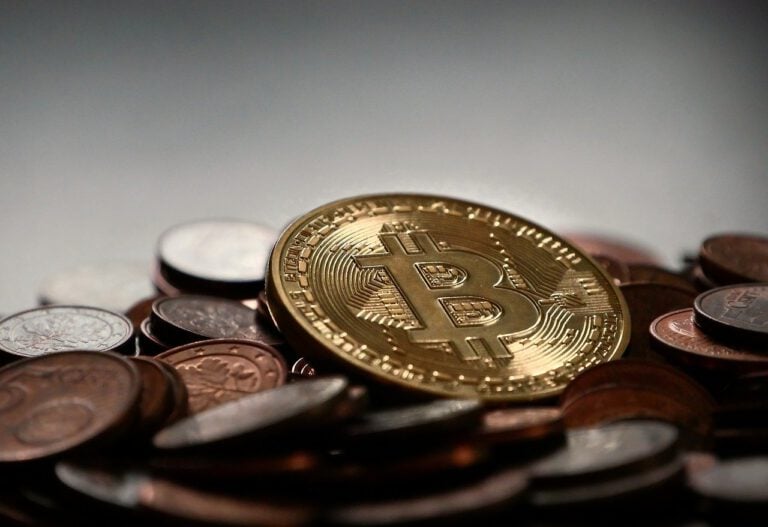 The bitcoin price has stalled after strong gains so far this year, but some upcoming events could drive even more increases in the price this year. Increased institutional investor adoption, the halving that's set to happen in May, and questions about whether bitcoin is a safe-haven asset all have the potential to drive future bitcoin gains.
Volatility in 2019
In a note this week, Canaccord Genuity analyst Michael Graham recapped 2019 and looked forward to bitcoin in 2020. He noted that last year started with a continuation of the so-called "crypto winter" that started in 2018, when the bitcoin price plunged more than 80% from record highs to a little over $3,000. The price started to rebound by the end of the first quarter when Fidelity launched its Digital Asset Services business.
The bitcoin price started to recover in April and then took off after Facebook unveiled its Libra project and released the white paper about it in June. Bitcoin climbed from about $9,000 to about $14,000 in a little more than a week. Optimism about Libra drove bitcoin gains as multiple big names were associated with it. Unfortunately though, it didn't last, and regulatory scrutiny started to weigh, resulting in PayPal, Mastercard, Visa, Stripe and eBay all withdrawing from the Libra Association, causing a volatile summer for bitcoin.
DG Value Adds 36.4% YTD As Distressed Stocks Surge
Dov Gertzulin's DG Capital is having a strong year. According to a copy of the hedge fund's letter to investors of its DG Value Partners Class C strategy, the fund is up 36.4% of the year to the end of June, after a performance of 12.8% in the second quarter. The Class C strategy is Read More

Bitcoin as a safe haven?
As debate about bitcoin continued to shift into mainstream conversations, Federal Reserve Chairman Jerome Powell made an interesting statement about the cryptocurrency in an attempt to explain it to President Trump and Treasury Secretary Steven Mnuchin.
In testimony before the senate in July 2019, he said, "They use it as an alternative to gold. It's a store-of-value, a speculative store of value, like gold."
Graham also pondered whether bitcoin might ever live up to the claims of those who see it as a sort of digital gold. He suggested that the bitcoin gains that occurred around the turmoil with Iran suggest that it may already be serving as a safe-haven asset.
He noted that earlier this month, the U.S. carried out an airstrike that killed Iranian general Qassem Soleimani, which increased tensions in the Middle East. Oil prices and gold prices both climbed following that event, as they would be expected to do, but there were also bitcoin price gains in response to it. There were more bitcoin gains after it was reported that Iran retaliated by conducting airstrikes on U.S. military bases in Iraq. In fact, the bitcoin price approached levels it hadn't seen in more than two months amid the growing uncertainty.
However, when it was revealed that no lives were lost in the Iranian airstrikes, some of those bitcoin gains were erased. Of course, there's no way to prove that the markets were seeing the cryptocurrency as a safe haven during a time of crisis, but Graham believes the bitcoin price increase during such events is a signal of this type of view.
Progress among institutional investors
He also considered whether institutional investors might finally start to increase their adoption of cryptocurrency in 2020. He notes that progress was made on this last year after the launch of Fidelity Digital Asset Services, which was later designated as a trust company and expanded into Europe.
Also last year Grayscale filed Form 10 with the Securities and Exchange Commission to report that it plans to become a registered reporting company. Grayscale wants to open its Bitcoin Trust and other products to more investors, and a digital assets ratings infrastructure began to emerge.
"With more 'plumbing' in place and a longer time period with bitcoin's price remaining in the multi-thousand-dollar range (helping investors feel more confident in its widely-held value, similar to gold), investors may be more likely to embrace the potential for BTC to contribute to portfolio diversification," Graham wrote.
He still sees limited potential for institutional investors to dive into any cryptocurrencies other than bitcoin, however.
One other area of importance is regulation, and Graham notes that progress has been made there too. Although the SEC hasn't approved any crypto ETFs yet, Grayscale is on the path to become a registered reporting company. Commodity Futures Trading Commission Chairman Heath Tarbert said he sees bitcoin and Ethereum as commodities in their current form. Graham looks for more formal designations this year, which could drive even more bitcoin gains.