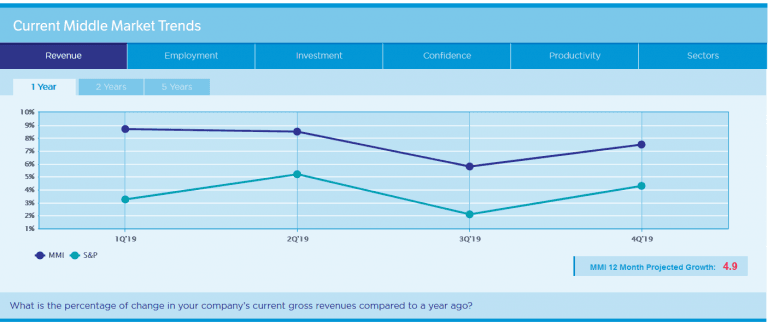 COLUMBUS, OH — The National Center for the Middle Market (NCMM) released its 4Q Middle Market Indicator (MMI) today with data showing that the performance of middle market companies rebounded from a relatively weak third quarter. Middle market executives' economic confidence, investment plans and short- and long-term projections have also risen, though not back to the levels of 2018 and the first half of 2019.
Following Q3's report of a 5.8 percent annual revenue growth rate, Q4 saw an increase to 7.5 percent. This increase is driven by a larger number of companies growing at a rate of 10 percent or more. Similar to the previous quarter, executives still expect revenue growth below five percent in the next 12 months. Nearly half of middle market companies report plans to introduce a new product or service in 2020, and a similar proportion expect to expand into new domestic markets. These data align with reports of increased confidence in the global, national and local economies.
Carlson Capital Thinks The SPAC Boom May Be Over [Q1 Letter]
Carlson Capital's Black Diamond Arbitrage Partners fund added 1.3% net fees in the first quarter of 2021, according to a copy of the firm's March 2021 investor update, which ValueWalk has been able to review. Q1 2021 hedge fund letters, conferences and more At the end of the quarter, merger arbitrage investments represented 89% of Read More
Q4 2019 hedge fund letters, conferences and more
"Although actual growth numbers are lower than reported one year ago, plans for expansion and investment have recovered." said Thomas A. Stewart, executive director of the NCMM. "The middle market may well be poised to begin 2020 on a strong note — but with clear undertones of anxiety."
Middle market companies: What the data shows
Talent continues to be the top challenge faced by middle market companies, as they try to better-train workers to support growth in a low-unemployment economy. They also appear to be building cash reserves as protection in case the economy slows; asked what they would do with an extra dollar, 17 percent say they would put it aside as cash.
"While stronger numbers are reported for Q4, these results should not be interpreted as full-speed ahead," said Doug Farren, managing director of the NCMM. "However, we cautiously believe the middle market is poised for positive growth in 2020."
Two-thirds of middle market companies report improved company performance, while 8 percent report deteriorated performance in the previous 12 months. Middle market investment plans show an increased emphasis on information technology. This continuing trend has been seen in previous quarters and will be the focus of NCMM's major research in 2020.
---
About the National Center for the Middle Market (NCMM)
The National Center for the Middle Market is a collaboration between The Ohio State University Fisher College of Business and Chubb.