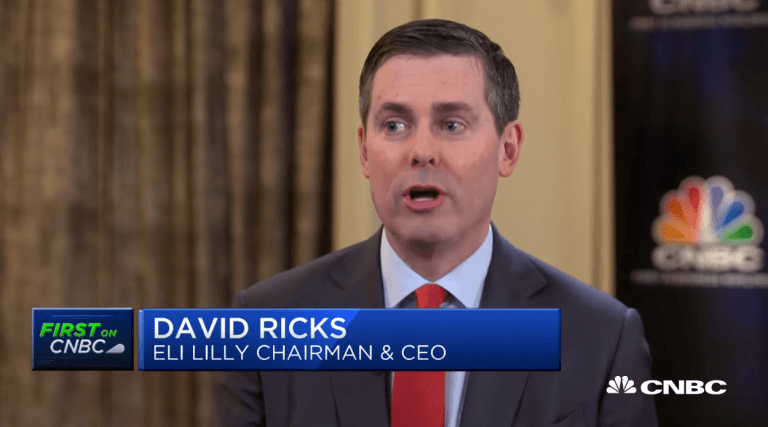 The following are excerpts from CNBC's Meg Tirrell and CNBC's Jim Cramer's live interviews from the J.P. Morgan Healthcare Conference, today Monday, January 13th, including: Eli Lilly CEO David Ricks; Bristol-Myers Squibb CEO Giovanni Caforio; Regeneron CEO Len Schliefer; Gilead Sciences CEO Daniel O'Day; and Illumina CEO Francis DeSouza. The interviews from the JPMorgan Healthcare Conference aired across CNBC's Business Day programming.

Q4 2019 hedge fund letters, conferences and more
[Exclusive] ExodusPoint Is In The Green YTD Led By Rates And EM/ Macro Strategies
The ExodusPoint Partners International Fund returned 0.36% for May, bringing its year-to-date return to 3.31% in a year that's been particularly challenging for most hedge funds, pushing many into the red. Macroeconomic factors continued to weigh on the market, resulting in significant intra-month volatility for May, although risk assets generally ended the month flat. Macro Read More
Links to video of the interviews on CNBC.com are provided below.
First On CNBC: Eli Lilly CEO David Ricks Speaks with CNBC's Meg Tirrell on CNBC's "Squawk on the Street Today"
Watch CNBC's full interview with Eli Lilly CEO David Ricks at the JPMorgan Healthcare Conference
David Ricks on EQRx:
This is an idea that's been tried before. There are lower list price launch drugs in many categories. Unfortunately, they haven't found as much success as one might think. And I think that exposes the complexity of the supply chain and how medicines get to patients, and the role that the supply chain plays, which I think is much stronger one than the consumer demand. I think there is so much innovation right now in our industry. That's exciting. We need more innovation on the payment and reimbursement side. And so, I would welcome any ideas.
David Ricks on Pricing:
We have significant price competition when we lose our patent and go generic. I think the idea here is to create sort of 'me too' medicines that would be a lower priced alternative. That can work but usually the primary reason doctors choose a medicine for a patient is the evidence behind it. So, it's a difficult to both pursue a robust R&D agenda, to have a full list of indications and great data and to afford to charge less.
David Ricks on Legislation:
I'm so excited by what's happening in our early stage pipeline for really tough conditions that can affect, in a very significant way, the health of Americans and around the world. At the same time, the policies by which they get to the market as we've been talking about need change. And we're for change. There are a number of bills on the Hill now that Lilly and the pharmaceutical industry are for to reform part D, to make the system more transparent.
---
CNBC Exclusive: Bristol-Myers Squibb CEO Giovanni Caforio Speaks with CNBC's Jim Cramer on CNBC's "Squawk on the Street Today"
Bristol-Myers Squibb CEO on the drug pipeline, 2020 outlook and more
Giovanni Caforio on Eloquis:
We've done a great job because of the profile of Eloquis to establish it as a leading agent globally. There are further opportunities for growth. We're continuing to replace Warfarin, which was the old standard of care. But there are many patients who have not yet been diagnosed, there are many patients who have not yet been treated. There is tremendous opportunities for growth with Eloquis.
Giovanni Caforio on Pricing:
In 2018, pharmaceutical spend increased 2.5%. The issue really is that over the last few years, patients now spend 50% more on medicines because of the way benefits are designed. And so what's important is to make sure that we develop policies that help with the affordability of medicines for patients.
Giovanni Caforio on Executing:
We just executed a $7 billion share repurchase program. We've increased our dividend by 10%. We are going to have an opportunity to pay down the debt and go back to less than 1.50 debt to EBITDA ratio by 2023. These are all things we discussed here a year ago. And we're on track with the $2.5 billion in synergies. At the same time, we're executing really well on the value drivers of the deal.
---
CNBC Exclusive: Regeneron CEO Len Schliefer Speaks with CNBC's Meg Terrell on CNBC's "Fast Money Halftime Report" Today
Watch CNBC's full interview with Regeneron CEO Len Schleifer
Len Schleifer on Eylea at the JPMorgan Healthcare Conference:
There is always going to be competition. We have faced competition from Avastin, from Lucentis, from this drug. But we have a safety profile that I think is remarkable. We have an efficacy profile. We have all the indications. And we are pushing hard now to make a difference in diabetic eye disease, which this new drug doesn't even have the indications for that yet. So, I think Eylea is doing great.
Len Schleifer on Solutions:
We are in favor of some of the solutions that might be coming out of Washington. There was a compromise bill that came out of the Senate committee. When the Democrats and the Republicans can agree on something, that probably means it is pretty good. And that was limited seniors' out of pocket to a few thousand dollars for the year period for their drugs. Something like that is the kind of thing we need to do. But we don't believe that some of the more radical solutions will take hold.
Len Schleifer on Immuno Oncology:
We think this immuno oncology field is a matter of having a whole portfolio approach. We have Libtayo, which of course we are a partner with Sanofi on. But we have our bispecific CB20, CB3, which is showing some very exciting data on Lymphomas. And we have myeloma bispecific. And we have a new class of bispecifics that was just published in the scientific literature last week which could change the whole field.
---
Gilead Sciences CEO Daniel O'Day Speaks with CNBC's Meg Tirrell on CNBC's "Power Lunch" Today
Watch CNBC's full interview with Gilead CEO Dan O'Day at the JPMorgan Healthcare Conference
Daniel O'Day on Strength:
We want to take that same level of high bar relative to science and now apply it to new diseases. So, we're talking here about the strength and support in our HIV business and the continued innovation that will go on there. But we're taking our science now to areas like inflammation and rheumatoid arthritis with a product we'll launch this year. Cancer, with our cell therapy programs. And we'll be looking for business development opportunities to grow and strengthen in our areas of core strength.
Daniel O'Day on 2020 Election:
What I have a preference on is that we continue to work on affordability of medicines for people in this country. It's a real issue and I take it very seriously. Gilead takes it seriously. The research-based industry is taking it very seriously. I myself and colleagues  at Gilead have been working with policymakers in Washington to look at ways that we can contribute more, Gilead and other research-based industries, to help patients have less burden and out of pocket costs.
---
Illumina CEO Francis DeSouza Speaks with CNBC's Meg Tirrell on CNBC's "Closing Bell"
Watch CNBC's full interview with Illumina CEO Francis deSouza at the JPMorgan Healthcare Conference
Francis DeSouza on Forecast:
I think there was a little bit of a higher expectation around what that number would be, primarily driven a little bit by a higher expectation around the direct-to-consumer market. And so we called that market down this year. Having said that, I think, overall,  there's good news around what we expect to do in our sequencing business.
Francis DeSouza on Roche Partnership:
Roche one of the largest diagnostic players in the world, is going to be building tests that they are going to take to market to help patients select the right cancer therapies Another part of the partnership is, you know, Roche has a very broad portfolio of oncology therapies. And so, we are working with them so that the tests that we sell to the market as well also help customers choose the oncology therapies that Roche provides.
Francis DeSouza on Pacific Biosciences:
As we looked at what Pac Bio had in terms of its products, we saw a real opportunity to get involved with their portfolio, drive the cost of sequencing down in the long read market and accelerate that market. So, that's what precipitated us talking to them. Ultimately, the FTC didn't give approval to get that deal done. Because they felt we had a big position in the market. We obviously disagreed with that assessment. But now we're looking at alternatives.
Updated on