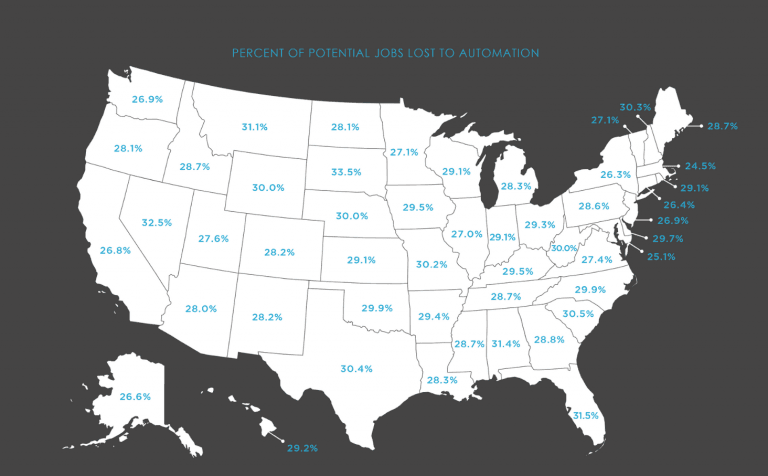 As automation in the workplace becomes more common and artificial intelligence continues to complete tasks previously done by humans, the very real threat of jobs lost looms over many throughout the country. Just how bleak is the future of working for American employees?

A shocking 28% of all U.S. jobs – roughly 41 million in total – are considered to be the most susceptible to automation by the Bureau of Labor Statics Occupational Employment Statistics. Many states could see a total of more than 1 million jobs lost, and California tops the list at 4.5 million. Positions in the service industry, including but not limited to those taken by cashiers, retail salespersons, and fast food employees, are considered to be the most at-risk for automation.
[Exclusive] ExodusPoint Is In The Green YTD Led By Rates And EM/ Macro Strategies
The ExodusPoint Partners International Fund returned 0.36% for May, bringing its year-to-date return to 3.31% in a year that's been particularly challenging for most hedge funds, pushing many into the red. Macroeconomic factors continued to weigh on the market, resulting in significant intra-month volatility for May, although risk assets generally ended the month flat. Macro Read More
Q4 2019 hedge fund letters, conferences and more
In a new study conducted by Illinois-based Kempler Industries, research shows that employees in South Dakota, Nevada, and Florida could see the most potential job loss due to automation. Of those states' current workforces, each is poised to see a total loss of 33.5%, 32.5%, and 31.5%, respectively – that's a staggeringly high number of jobs, clocking in at a combined total of 3,288,670. Florida alone could see a total of 2.7 million jobs lost to machinery and robots in the name of advancement. The hardest-hit occupation in all three states? Retail salespersons.
Despite being the least susceptible states on the list, Massachusetts and Maryland could still both see a quarter of all jobs lost (24.5% and 25.1%, respectively) – over 1.5 million jobs combined.
Jobs lost data
In an effort to view the impact on a more granular level, researchers analyzed the percent of potential jobs lost in the 50 largest metropolitan areas in the country. Florida, the Sunshine State, faces a grim reality with most cities within the top ten, including Orlando-Kissimmee-Sanford (30.9%), Miami-Fort Lauderdale-West Palm Beach (30.7%), Tampa-St. Petersburg-Clearwater (30.5%), and Jacksonville (29.7%). Combined, the four metro areas could see 5.8 million jobs lost. Texan cities are also considered to be high risk, as three metropolitan areas cracked the top ten: San Antonio-New Braunfels could see a potential 30.2% of jobs lost, followed by Dallas-Fort Worth-Arlington (29.9%), and Houston-The Woodlands-Sugar Land (29.4%).
Rounding out the list as the least-susceptible metropolitan areas are Seattle-Tacoma-Bellevue (24.8%), San Francisco-Oakland-Hayward (24%), Boston-Cambridge-Nashua (23.8%), Washington, D.C.-Arlington-Alexandria (23.2%), and San Jose-Sunnyvale-Santa Clara (21%).
While automation has the potential to transform industries, jobs, and lives in unprecedented ways, the scale and pace of that transformation – as well as the good and the bad – remains to be seen. Regardless of how much they may try, there are some things that machinery and robots simply can't replace and that's the social perceptiveness, manual dexterity, persuasion, and originality of hard working, human employees.
Updated on