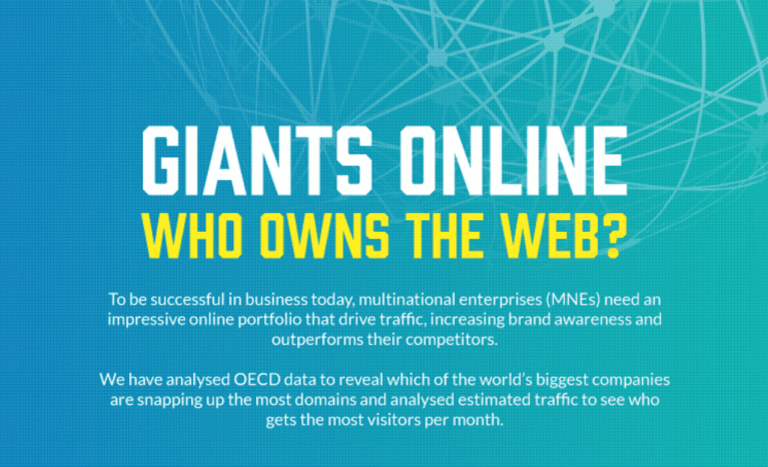 WebsiteToolTester has analysed OECD domain data to find out which corporate giants are getting the most online traffic and which are snapping up the most domain names.
Alphabet Inc owns the web when it comes to traffic, with their 422 domains reaching approximately 119 billion visitors per month and their biggest domain google.com reaching 77 billion visits
Microsoft Corp sees the second-highest sum of traffic with 7 billion visitors across their domains, and their biggest site being live.com
Despite briefly having a $1 trillion valuation, Amazon comes in at third for traffic, reaching around 6 billion visitors across their 258 domains
The company that owns the most domain names overall is Unilever NV with an impressive 1,181 domains including those of Ben & Jerry's, Dove and Hellman's
Q4 2019 hedge fund letters, conferences and more
Philip Carret And Warren Buffett: Why Sell If There's Nothing Wrong?
Philip Carret was an investor and founder of Pioneer Fund, one of the first mutual funds in the United States. Carret ran the mutual fund for 55 years, during which time an investment of $10,000 became $8 million. That suggests he achieved a compound annual return of nearly 13% for his investors. Q1 2021 hedge Read More
January 2020: To be successful in business today multinational enterprises (MNEs) need an impressive online portfolio that drives traffic, increases brand awareness and outperforms their competitors. WebsiteToolTester has analysed OECD data to reveal which of the world's biggest companies are snapping up the most domains alongside their estimated combined traffic, to see which companies are getting the most visitors per month. You can view the findings in full here. 
Which companies receive the most traffic?
The online giant receiving the most traffic is Alphabet Inc which receives almost 120 billion visits (119,879,300,000). Alphabet owns 422 domains with the biggest being google.com which receives over 77 billion visits - making up well over half of Alphabet's monthly traffic. Over 77 billion visits per month equates to 29,726 visits every second! Youtube.com is the company's second-biggest domain which sees 27.8 billion visits. Some of the company's famous acquisitions can also be seen in their bank of domains, with the likes of GPS navigation software Waze, computer programs company DeepMind and workplace pension scheme Nest - which was purchased for over $3 billion in 2014.
Microsoft Corp is the second biggest company in terms of total traffic with their domains reaching a total of 7.2 billion visits. The online giant owns 139 domain names, including msn.com, bing.com, and linkedin.com, which it famously purchased for over $26 billion in 2016. But the domain generating the most traffic for Microsoft is live.com - the personal email website which receives over 2.2 billion visits.
Retail giant Amazon.com Inc receives over 6 billion total visits across their 258 domain names. Unsurprisingly, taking the lead for Amazon Inc is amazon.com, which sees over 2 billion visits in total.
See the top 10 companies with the most traffic in the table below:
Which companies own the most domain names?
The company owning the most domain names is Unilever NV who own 1,181 domain names including the likes of Ben & Jerrys, Dove and Hellman's. Their group of owned domains is over eight times more than Microsoft and over double that of Alphabet. Despite owning domains for some of the world's most well-known brands, when it comes to traffic, their two biggest sites are cleanipedia.com and dollarshaveclub.com which combined, see around 5 million visits a month.
Nestle SA ranks in at second place for the largest amount of domain names, owning 907 - double that of Sony Corp, and over three times that of Pepsico Inc.
Following closely behind are Johnson & Johnson who own 895 domain names, Procter & Gamble Co who own 857 and Volkswagen AG who own 651.
Robert Brandl, CEO of WebsiteToolTester comments:
"It's really interesting to gain insight into the different domain names that companies own, with some large corporations such as Walt Disney Co receiving over 782 million visits in website traffic, and giants such as Microsoft Corp reaping the traffic of its domains such as live.com and linkedin.com."
"Some of the monthly traffic across certain domains is surprising with the likes of Amazon.com alone receiving over 2 billion visits and google.com seeing a staggering 77 billion visits every month."
For more information on which corporations rule the web, visit WebsiteToolTester.
---
Methodology:
Data and methodology can be found here
About WebsiteToolTester:
Since launching in 2009, WebsiteToolTester has helped thousands of individuals and small business owners create their own website, without them having to write a single line of code. WebsiteToolTester offer free e-books, resources and regular blog posts with tutorials to help users create their own websites.