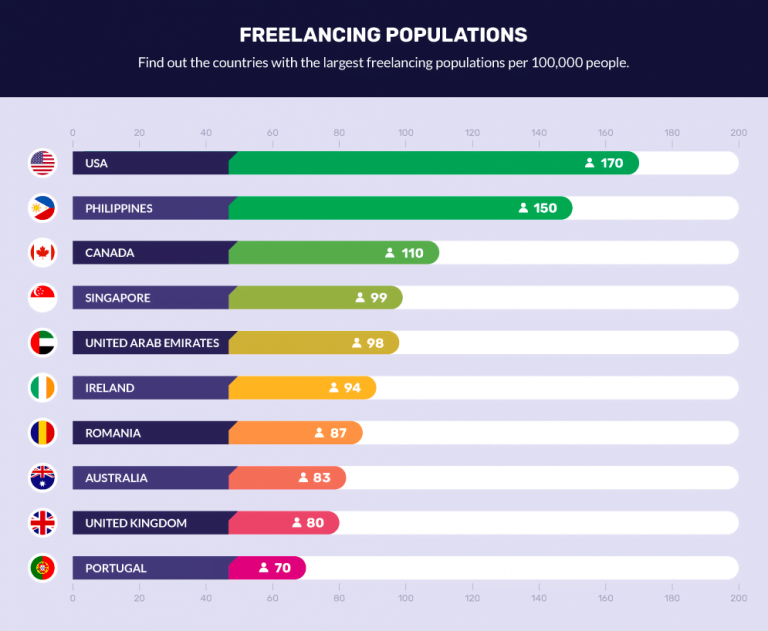 Dubbed the 'global generation' over half of all millennials would consider moving abroad for work opportunities, and an increasing amount are starting their own business ventures. With possibilities of owning a home becoming increasingly difficult in the world's cities, rent prices soaring and the political climate changing, research shows that millennials are less financially stable compared to previous generations. But this isn't just an age-related factor – since the economic crisis in 2008, the freelance economy has seen a surge as workers were forced to think about different ways to finance their lives. A shift in norms has also inspired a generation to opt to work independently, with more people thinking about how freelance jobs can help  avoid long working hours, building other's dreams and creating their own streams of income.
Q3 2019 hedge fund letters, conferences and more
In new research by SmallBusinessPrices.co.uk, it was found despite Paris being the number one destination for working as a freelancer or working remotely, currently 41% of French freelancers would prefer to continue working independently and find more clients, whilst 32% would prefer to return to a full-time salaried position.
David Abrams Explains How To Value Stocks
Continued from part one... Q1 hedge fund letters, conference, scoops etc Abrams and his team want to understand the fundamental economics of every opportunity because, "It is easy to tell what has been, and it is easy to tell what is today, but the biggest deal for the investor is to . . . SORRY! Read More
This was similar to the UK's response, with 30% of freelancers wanting to continue, whilst 21% saying they would like to find a full-time role.
Brazil, India, Indonesia and Sweden had more than 50% of freelancers say they wanted to continue freelance work, with Spain, Japan and the United States following closely behind.
The Top 5 Cities for Freelancers and Remote Workers
Paris, France - One of the fashion capitals of the world, Paris also has an emerging creative scene, meaning the demand for freelancers has increased over the last few years. Whilst the average rent for a one bed apartment in the city centre could set you back £1,079 ($1,380), the city has the lowest average amount of working hours per week at 35. It also has the highest amount of freelance jobs available.
New York, USA - This was once the city of dreams, knocked off its top spot by Paris - New York City is still one of the best destinations to launch your remote worker career. It's the most expensive city to live in, with a one-bed apartment setting you back nearly £2,541 ($3,276)! But the average salary in this city is around £3,954 ($5,100) - meaning there's lots of money to be made.
London, UK - Whilst considered a financial hub, London's isn't just limited to finance - it's the home of thousands of startups and creative projects. Similar to Paris and New York, London's average rent for a one-bed apartment is around £1,701 ($2,193). It has the second highest amount of freelance jobs available, and over 240 coworking spaces for you to use.
Singapore - One of the financial and technological centres of the world, Singapore is unlike any other city in Southeast Asia. Whilst the number of freelance jobs available are just below 2,000, the average salary in the city is around £2,483 ($3,202). If you're a freelancer, you can pick your own working hours, but the average number of working hours per week is around 44 here, so work culture is something to consider.
Hong Kong - Also recognised as a financial centre, Hong Kong may be a popular destination for freelancers in accounting or finance. The average salary in the country is around £1,830 ($2,360), but the cost of living is extremely expensive with monthly rent averaging around £2,014 ($2,597) per month.
Ian Wright of SmallBusinessPrices.co.uk stated:
"In a new digital age, working from home or being a freelancer has become much easier over the last five to ten years. The use of social media to build networks, apps, and websites such as Fiverr or PeoplePerHour to find jobs, mean that people can find their dream job in a matter of a few clicks. The research produced is to highlight those cities where opportunities to become a freelancer are widely available along with consideration of living costs and general day-to-day needs."
Populations with growing freelancer economies
The United States has one fastest-growing freelancer economies in the world with 170 freelancers per 100,000 people. This was closely followed by the Philippines, which had 150 freelancers per 100,000.
Canada, Singapore and the United Arab Emirates also feature in the top five for growing freelancing economies.
Top Tips on getting freelance jobs
Here are five tips to ensure you can make the most out of becoming a freelancer, and the best ways to make sure you don't burn yourself out.
Get organised - Managing your own time can be difficult, and when you're working alone it can be even harder. Use a diary to manage your projects, and create a small office space you'd like to work in.
Keep your profile updated - If you want to bring in new business, ensuring your LinkedIn or job profiles are up to date are key. If you have a portfolio, update it with your latest work and try to record some client recommendations, as these can go a long way.
Don't forget to network - You might enjoy being alone, but don't forget to attend industry events to meet other remote workers or potential clients. It's also a great way to get away from working indoors and looking at a screen everyday.
Be prepared for the long game - Sometimes being a freelancer can be difficult, especially when you're relying on invoices being paid on time, hoping for a constant flow of work and trying to avoid a barrage of emails! Remember it's a big commitment, and can take years to establish a long-standing career.
Make time for yourself - Becoming a freelancer is exciting, but don't forget to unwind and remember your home is still a home, not just your office space.
To see which cities are the best for freelancers or attitudes to freelancing from around the world in more detail, you can take a look at SmallBusinessPrices.co.uk's research here.