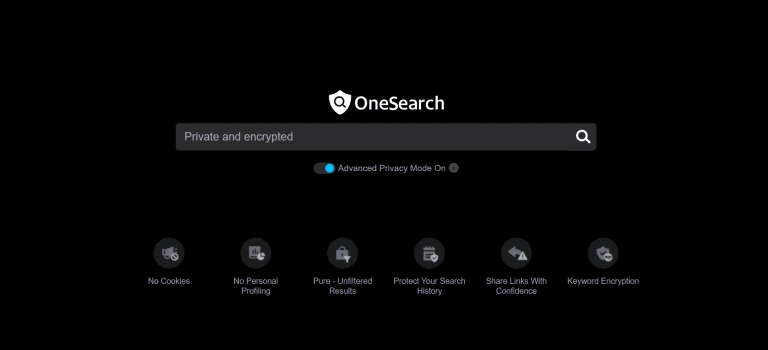 Internet users are growing increasingly tired of having Google track their every online activity. DuckDuckGo, a privacy-focused search engine, is nowhere near as popular as Google, but it has been growing exponentially. DuckDuckGo's average daily search traffic has skyrocketed from just 33,209 in January 2010 to 42.3 million on January 22, 2020. Verizon Media, which owns Yahoo, has now launched a new privacy-focused search engine called OneSearch. Its features suggest it's going to compete directly with DuckDuckGo. In this DuckDuckGo vs OneSearch comparison, let's check out how they stack up and which one is more trustworthy. Both offer similar privacy protections.
DuckDuckGo doesn't seem worried by the launch of Verizon's OneSearch. A DuckDuckGo spokesperson said, "Overall we believe that more choices are good for consumers." Verizon chose to use a new 'OneSearch' name for its search engine even though it already owns Yahoo.
DuckDuckGo vs OneSearch: User privacy
Verizon Media said in a statement that OneSearch will allow users to "search the Internet with increased confidence, knowing your personal and search data isn't being tracked, stored, or shared with advertisers." The search engine is available worldwide on desktop at www.onesearch.com. Verizon Media plans to roll out the Android and iOS apps by the end of January.
ValueWalk's August 2021 Hedge Fund Update: Point72 Suffers Loss; Hedge Fund Assets Hit $4 Trillion
Welcome to our latest issue of ValueWalk's hedge fund update. Below subscribers can find an excerpt in text and the full issue in PDF format. Please send us your feedback! Featuring Point72 Asset Management losing about 10% in January, Millennium Management on a hiring spree, and hedge fund industry's assets under management swell to nearly Read More
OneSearch won't record your searches, create user profiles, or share the search data with third-party advertisers. It will give you "unbiased, unfiltered" results without personalizing results based on your search history or online activities. All users will see the same results for the same search terms.
In OneSearch, the privacy features are turned on by default. If you want more privacy, you can enable the Advanced Privacy Mode from under the search bar. It will encrypt your search terms and the links you click on. The search results can also "self-destruct" after an hour.
Verizon says its search engine will only personalize search results based on location, which will be collected from your IP address. It will locate users up to city level. As per the privacy policy of OneSearch, it will separate your IP address from your search results. Verizon will keep the search queries on a separate server from IP addresses.
Verizon will delete the IP addresses after four days. The company will have a third server to separately keep another set of data that links users to search requests.
Both DuckDuckGo and OneSearch allow you to block trackers, search privately, and secure connections. They don't filter search results or sell your data. DuckDuckGo also promises to never collect or share your personal information, or store your search history. To localize search results, DuckDuckGo shows Anonymous Localized Results without using or identifying your data.
There are a couple of things that set OneSearch apart from DuckDuckGo. One is its Advanced Privacy Mode, which encrypts search results and causes links to expire within an hour. Also, unlike DuckDuckGo, Verizon allows businesses to integrate OneSearch with their existing privacy and security products.
Search results
OneSearch is relying on Microsoft's Bing search engine to deliver search results. Yahoo is also powered by Bing. Verizon could share some of the data with Bing to improve the quality of search results. But your personal data including search history will remain private.
In contrast, DuckDuckGo uses more than 400 sources to deliver search results. The sources include Yelp, StackOverflow, Apple Maps, and even Bing. DuckDuckGo's search results could be different from OneSearch because it uses hundreds of sources rather than relying entirely on Bing.
DuckDuckGo vs OneSearch: Advertising
All search engines rely on advertising to make money. DuckDuckGo has tied up with Microsoft Advertising (formerly Bing Ads) to show you contextual ads. Contextual search ads are not based on your personal information, cookies, or search history. They are based on the search terms you use in your queries. The only personalization that takes place is your location.
Verizon's OneSearch will also show you only contextual ads in partnership with Microsoft Advertising. Just like DuckDuckGo, it will match ads to the search terms and your location. Neither search engine will store or share your data with third-party advertisers.
But it's too early to say how things will pan out in the future. Unlike DuckDuckGo, Verizon Media has its own ad network with more than 70,000 publishers and apps. Verizon Media could use OneSearch to improve its own ad-targeting technologies.
Which one should you trust?
DuckDuckGo has been around for a little over a decade. And it has an impressive track record. There have never been reports of major data breaches or privacy violations by DuckDuckGo. Its search traffic skyrocketed when Edward Snowden spilled the beans on the National Security Agency (NSA)'s program.
Unfortunately, the same can't be said about Verizon, Yahoo, and Verizon's other subsidiaries. In 2017 when Verizon merged Yahoo with AOL, it stated that it would use its network to target ads. The 2013 Yahoo data breach had put the personal data of more than 3 billion (not a typo) users in the hands of hackers. Verizon itself was fined by the FTC a few years ago for using super cookies to track users.
OneSearch is making some bold claims, and it offers excellent features. But neither Verizon nor Yahoo has the track record to suggest it will protect your privacy. You can give it a try if you want. But if you are really concerned about your privacy, a search engine from Yahoo and Verizon is not the best place until they build a track record and prove to users that they are serious about it.