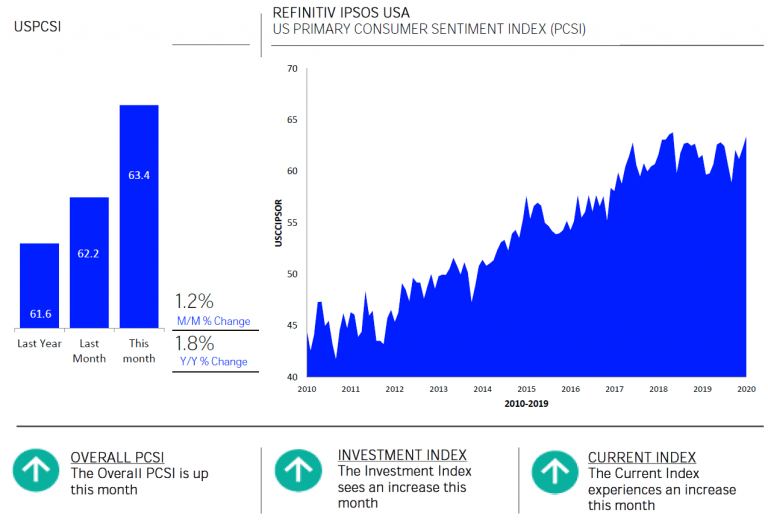 WASHINGTON, DC American consumer confidence, as measured by the Refinitiv/Ipsos Primary Consumer Sentiment Index, is up to 63.4 for the month of January 2020. This represents a 1.2 point increase from last month as job security perceptions increased.

The PCSI sub indices shows a general increase across all four indices: Current, Expectations, Investments, and Jobs.
Fund Manager Profile: Zhang Hui Of China's Southern Asset Management
Historically, the Chinese market has been relatively isolated from international investors, but much is changing there now, making China virtually impossible for the diversified investor to ignore. Earlier this year, CNBC pointed to signs that Chinese regulators may start easing up on their scrutiny of companies after months of clamping down on tech firms. That Read More
Q4 2019 hedge fund letters, conferences and more
"The job market ends 2019 with missed expectations; however, the low and steady unemployment rate appears to have bolstered consumer confidence in the United States," reports Chris Jackson of Ipsos. "Americans' current confidence in the economy improves in the first month of the year through a greater sense of job security, as well as renewed optimism in the strength of our personal finances."
Job security and other data
Jharonne Martis, Director of Consumer Research at Refinitiv, said, "January marks the last month of the retailers' fourth quarter earnings cycle. As the quarter comes to a close, the Refinitiv Same Store Sales Index is looking for a 2.4% SSS Q4 2019 growth vs. 4.1.% SSS in Q4 2018. This suggests that consumer spending was healthy during the holiday season, and bodes well going into 2020."
Current
The PCSI Current Condition Index shows an increase of 1.3 points since last month (currently at 56.4), and 1.9 points compared to a year ago. This month, the Current Index is driven by consumers' current confidence on being able to make major purchases.
Expectations
The PCSI Expectations Index is up by 1.2 points this month (currently at 67.6), and 1.2 points against last year. Consumers are more optimistic about the future strength of their local economies and personal finances over the next six months.
Investment
The PCSI Investment Index sees an increase this month. Climbing to 57.1, the Investment Index score improved by 1.5 points since last month, and by 2.2 points since last year. Consumers are more comfortable making a major purchase today than they were a month ago.
Jobs
The PCSI Jobs Index is up 1.1 points against last month. Currently standing at 74.3, the Jobs Index score has increased by 1.5 points compared to a year ago. This month, consumer perceptions of job security has improved; however, this month reports unchanged levels of experience with job loss.
Updated on