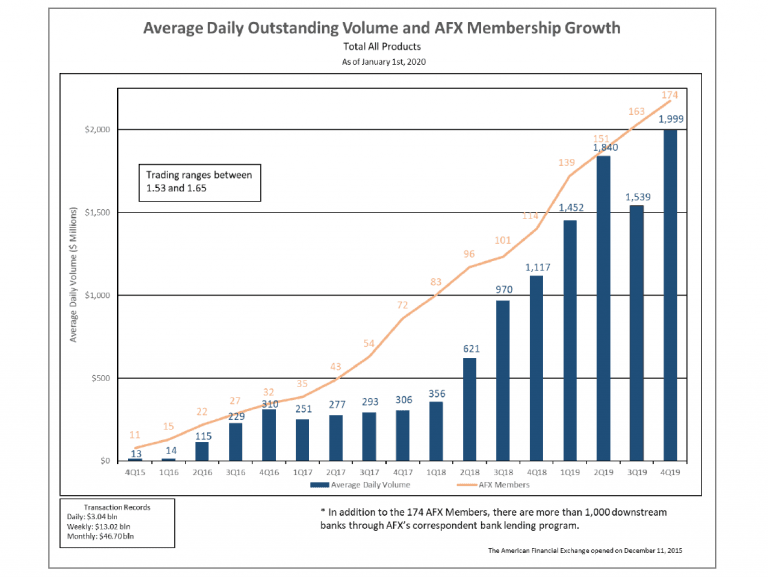 American Financial Exchange® Announces Record Volume Highlights for AMERIBOR® Benchmark Cash Market and Futures Contracts
CHICAGO – January 13, 2020 —The American Financial Exchange (AFX), electronic exchange for direct interbank lending and borrowing for American financial institutions, announced volume highlights and summary for 2019.
Q4 2019 hedge fund letters, conferences and more
Hedge Fund Launches Jump Despite Equity Market Declines
Last year was a bumper year for hedge fund launches. According to a Hedge Fund Research report released towards the end of March, 614 new funds hit the market in 2021. That was the highest number of launches since 2017, when a record 735 new hedge funds were rolled out to investors. What's interesting about Read More
Annual volume in 2019 in the AMERIBOR benchmark cash market reached $428.792 billion in transactions. This marks a 123 percent increase in volume from 2018 levels when $192.179 billion were transacted.
AMERIBOR futures volume, which were launched August 16, 2019, traded 8,591 contracts by the end of 2019 equal to approximately $75 billion in notional value.
Why is the cash market soaring?
In addition, the following trading records were set in 2019:
A daily record was set on September 19, when $3.035 billion traded across all AFX products.
A weekly record was set on September 16 – 20, when $13.017 billion traded across all AFX products.
December was a record month with $46.7 billion traded across all products.
In futures, October 21, 665 contracts were traded across both the three-month and seven-day futures contracts.
The AFX facilitates the determination of AMERIBOR, a transaction-based interest rate benchmark for banks and financial institutions via its electronic trading platform. Since the start of the AFX and the AMERIBOR benchmark, more than $745 billion in value has transacted in the cash market.
"We are pleased with the continued volume growth of the AMERIBOR cash market and futures complex. Banks and corporations can turn to the AMERIBOR Benchmark for price transparency and low volatility in rates," said Dr. Richard L. Sandor, Chairman and CEO of AFX."
Currently the AFX has 174 members across the U.S., which includes 136 banks and approximately 1000 correspondent banks. In addition, membership includes 38 non-banks, which is comprised of broker-dealers, private equity firms, business development corporations, hedge funds, futures commission merchants, insurance companies, asset managers and finance companies.
For more information about AFX or AMERIBOR, visit www.ameribor.net.
Updated on