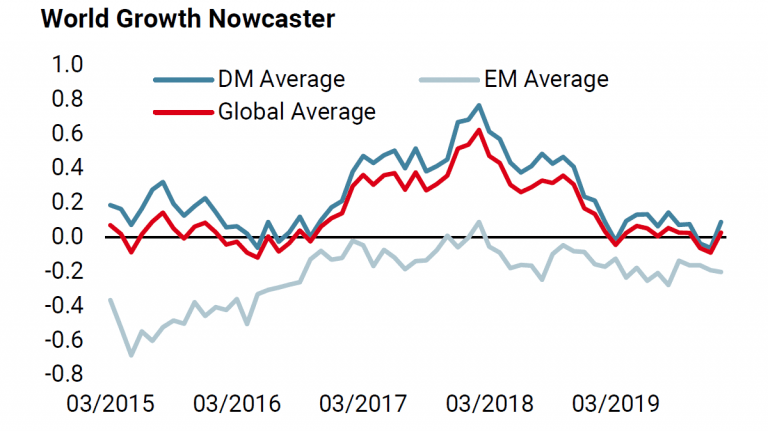 After a strong start to the year, markets have been dancing to a different, slower beat. Even though it cannot yet be called a transition from "risk on" to risk off", a number of signs indicate that risk appetite is now accompanied by an increase in cautiousness: volatility is not declining, government yields are declining and credit spreads are widening. The market's honeymoon post the trade deal in December seems increasingly far fetched, meaning most assets are priced for perfection and sentiment is close to record highs. But there are clouds appearing on the horizon. The outbreak of the Coronavirus ahead of the Chinese new year could act as a trigger to a broader sentiment shift which would only be accelerated by high valuations across the board.

Q4 2019 hedge fund letters, conferences and more
How A Weakening PE Market Serves As Another Sign Of A Weakening Economy
Amid the turmoil in the public markets and the staggering macroeconomic environment, it should come as no surprise that the private markets are also struggling. In fact, there are some important links between private equity and the current economic environment. A closer look at PE reveals that the industry often serves as a leading indicator Read More
What's Next?
Don't be fooled by the eye catching headlines of stellar year-to-date returns posted by the likes of Apple, Tesla and Beyond Meat, as well as the broader US market and US tech sector in particular. These performances are not representative of what has been happening more broadly, where the picture looks less rosy. What seems to be an extension of the 2019 rally is in fact US-centric and much more fragile. US indices aside, the STOXX Europe 600 index is up a mere 0.3%, while the MSCI Emerging Markets index has turned negative year to date. Credit markets, which were strong in December, have also posted negative returns in all segments so far in 2020. Spreads widened across the spectrum of high yield, investment grade and emerging market indices. Volatility has picked up again and the next available VIX future trades at a substantial premium to spot, currently 15.5. All of this indicates fragility in risky assets, with investors becoming increasingly selective and adding hedging positions. From a different angle, and viewed through the eyes of a fixed income investor, markets have been trading on a negative note in January.
Central banks will remain supportive
We are keeping a close eye on the heartbeat of central banks, as changes in rhetoric, even minor, could trigger swings in investor sentiment. Last week was busy on this front with the Bank of Canada, Norges Bank and the ECB holding their monetary policy meetings. The main takeaway from these is that accommodation is here to stay, and most likely for a prolonged period of time. Macroeconomic conditions remain fragile, in spite of the very recent uptick in growth momentum and as observed in our proprietary Growth Nowcaster. Market pricing has started shifting lower, with 25bps of cuts priced in for the US, Australia, Canada and the UK over a 12-month horizon.
All eyes will now turn to this week's FOMC meeting in the US. Attention will focus on forward guidance and repo operations, which many argue have been the reason behind the last leg of the equity rally. The latest declarations of Fed members indicate confidence in future economic strength and the inflation path within the context of appropriately low interest rates. Our central scenario remains that central bank action will not be a headwind in 2020, and key measures to anticipate adverse changes in stance will be inflation-related, not growth-related.
Are investors complacent?
Last year we advocated that sentiment would be in the driver's seat. Have investors became complacent, has optimism reached a peak and have valuations gone wild?
Expensive valuations are an early sign of crowding. They measures investors' willingness to pay a higher price for future streams of return. When comparing current measures with history, they can give a sense of confidence in the asset class, but when they reach extremes, that can be called complacency. The P/E ratio on the MSCI World index now stands above 17, in the top decile of expensiveness. For the S&P 500, the STOXX Euro 600, the FTSE 100, the CAC 40 and most other major stock indices, P/E multiples sit within historical top quintiles of expensiveness. P/E expansion has been substantial and only a very solid earnings season could help reduce that gap. So far, about 65% of companies have beaten expectations for their Q4 2019 results, but average earnings growth in the US has been less than 1%, way too low to cheapen valuations.
In addition, the returns of diversified portfolios are reaching record highs. As an example, the rolling one-year performance for a 50/50 stocks/bonds allocation was up almost 20% in December 2019, a rarity that since 2000 has only occurred post the dot com bubble and post 2008's GFC. Credit spreads are hovering around all-time lows too, and one-year returns have been historically negative on average following a drop to sub-50 bps levels in investment grade and sub-300 bps in high yield. Here too, perfection is priced in and complacency is in full flow.
Excesses in valuations and sentiment have been around for some time, rooted in the wall of liquidity that central banks have created in the last decade. However, these two key factors have increasingly become a source of concern. Although not a trigger for financial turmoil in themselves, they will act as accelerators in the case of a market correction.
Positioning: reasonable to seek protection
These observations have prompted our assessment, and the resulting dynamic positioning, to turn more cautious. To reflect the current combination of acceptable macro conditions, supportive monetary policies, over optimism and stretched valuations, discrimination among and within assets becomes key. We have strongly reduced our exposure to risk assets, especially credit, and increased hedges with overweights in government bonds and the Japanese yen. In addition, we have implemented protection on equities to cover the next FOMC meeting and the upcoming Super Tuesday on March 3rd (the Tuesday in a presidential election year when the largest number of states and territories hold a presidential preference primary or caucus).
We still believe that over the medium term, fundamentals remain sound enough to prevent a major shock, but we are bracing ourselves for more turbulent times in the near term.
Weekly Change
Our world Growth Nowcaster was flat over the week, with a modest improvement in developing market economies offsetting weakness in emerging market economies.
Our world Inflation Nowcaster was also unchanged over the week, with lower inflation pressures in the UK offset by higher pressures in Canada.
Finally, our Market Stress Nowcaster moved up as volatility rose and spreads widened due to concerns around the spread of the new Coronavirus.
Sources: Unigestion, Bloomberg, as of 27 January 2020.
Updated on