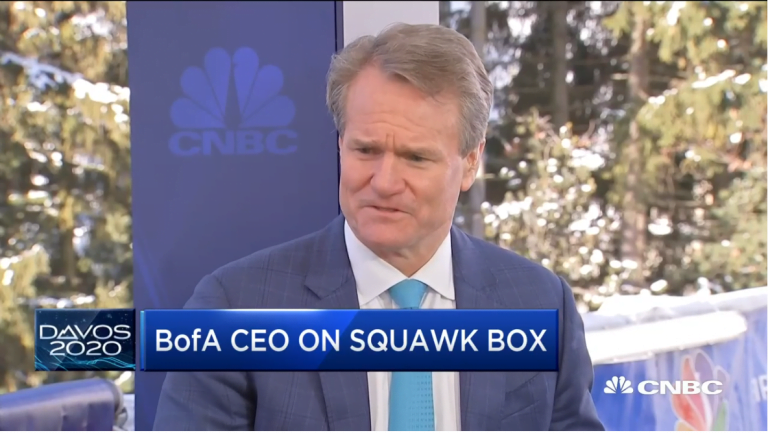 Bank of America Corporation (NYSE:BAC) Chairman and CEO Brian Thomas Moynihan Speaks with CNBC's "Squawk Box" From Davos Today
WHEN: Today, Tuesday, January 21, 2020
WHERE: CNBC's "Squawk Box" – Live from the World Economic Forum in Davos, Switzerland
Crypto Hedge Fund Three Arrows Blows Up, Others Could Follow
A few years ago, crypto hedge funds were all the rage. As cryptocurrencies rose in value, hundreds of hedge funds specializing in digital assets launched to try and capitalize on investor demand. Some of these funds recorded double-digit gains in 2020 and 2021 as cryptocurrencies surged in value. However, this year, cryptocurrencies have been under Read More
Following is the unofficial transcript of a CNBC interview with Bank of America Chairman & CEO Brian Thomas Moynihan on CNBC's "Squawk Box" (M-F 6AM-9AM) live from the World Economic Forum in Davos, Switzerland today, Tuesday, January 21st. Following is a link to video from the interview on CNBC.com:
Q4 2019 hedge fund letters, conferences and more
Watch CNBC's full Davos interview with Bank of America CEO Brian Thomas Moynihan
All references must be sourced to CNBC.
BECKY QUICK: You know, this January marks 10 years in Brian Thomas Moynihan's tenure as CEO of Bank of America. The stock has more than doubled in that time and is now hovering near its 52-week high. Joining us right now to talk about the health of the economy, the banking industry, and his views on corporate responsibility is Bank of America CEO Brian Thomas Moynihan. And Brian, it's great to see you here.
BRIAN THOMAS MOYNIHAN: It is great to be here again, Becky, in this wonderful setting.
BECKY QUICK: It is.
JOE KERNEN: Beautiful.
BECKY QUICK: I actually can't believe it has been 10 years that you've been in charge of Bank of America. In some ways I can, because so much has changed at the bank over that period of time. I guess I'd ask you, 10 years later, I mean, when you took over, we were still in the midst of the financial crisis trying to deal with what was happening at that point. What is your outlook on where we are now, where banking is, and where Bank of America is?
BRIAN THOMAS MOYNIHAN: Well, time flies when we are all having fun. So, if you think about the company, we're well positioned. We just came off a record earnings year from an operating basis. That's on top of the year before. The customer scores, the teammate scores, the shareholder returns, everything is in good shape. And we are delivering it the right way, we think, in terms of the themes of Davos, in terms of delivering for the broader society, and things like that. As you look ahead, we're constructive on 2020.
Our team thinks the U.S. will grow at 1 .75%. What we see inside our customer base is the customer spent, through last year, increasing during the year. And it's started off to good shape in January as we see the reports coming out weekly. So, if the U.S. consumer is in good shape that usually bodes well for the rest of the U.S. economy, just because of that sheer volume. And we see about $3 trillion a year in spending go through our customer accounts, and just see that rise about 5% year-over-over, plus.
BECKY QUICK: When I talked to you in August, we got the chance to catch up with you, and you said a recession did not look like it was anywhere on the horizon at that point. There were so many concerns about it at that point in the market. What do you see right now?
BRIAN THOMAS MOYNIHAN: Well, at that point, you'll remember, the yield curve inverted and everybody went to the conclusion and then it didn't happen. And I think, as we think about the market, Joe said earlier, even though you move up and down every day, you're sitting on, you know, sort of very high – highs, and things like that. But what's coming under it is the underlying earnings streams.
The companies are still strong. The combination of regulatory reform, tax reform, the ability of people to adjust to some of the uncertainties that were occurring, whether it was Brexit or trade wars are now settling down with a Phase One deal, and the USMCA proceeding through. These are good things to get out of the way, so businesses are more aggressive.
The big negative last year was that businesses were conservative during the year because they kept trying to read the uncertainty. And you felt that heaviest in August, coming after Labor Day. You can see that's stabilized and they've been in pretty good shape. And we'll have to see how they react to the good news of the last three, four weeks of major things getting done.
BECKY QUICK: Too early to really tell, after the trade deal at this point, if businesses are ready to really spend more aggressively?
BRIAN THOMAS MOYNIHAN: I think they flattened out, you know, as it came down during the year. But I think, you have to think about the different types of businesses. Small businesses, which are exposed to the U.S., and the U.S., they are aggressive and going out and hiring people and doing good things and spending. As you've got the largest companies that have had to deal with repositioning supply chains and issues like that. That takes energy away. And, because you're doing all that work, yet, you are not doing one new product, one new service, or one new capability for a company, for your customers. So, I think, really, it was related to the size of the company. And hopefully, with the settling down of the open conflict of debate about tariffs and things like that, you'll see that mitigate.
JOE KERNEN: Brian, you can make a case that the earnings improvement across the board justifies where stock prices have gone. Because I've seen, in recent weeks, more and more people drawing charts of the re-expansion of the Fed balance sheet and the move in the stock market, as if it's totally related to the recent moves by the Fed. And that's a way of saying this isn't real, we're out over one's skis. You think there are underlying fundamentals that justify that?
BRIAN THOMAS MOYNIHAN: Well, how did you feel in the middle of 2018, the last time the short-term rates were here, and then we had to expansion the market after that? So, it's really going to come down to the earnings growth. And our team is constructive, whether it's Chris Hyzy, who has been on your show many times, or Candace Browning-Platt and the research team on the institutional side. You know, it is going to be an earnings growth driven outcome. And valuations are -- have moved up dramatically. Our stock is still cheap and the financial sector is still cheap, relative to the industry. But that's a given.
BECKY QUICK: And you are buying back?
BRIAN THOMAS MOYNIHAN: We're buying back a lot. But I think, the debate will be had. But I think people extrapolate from correlations, you have got to be careful. Because the last correlation we had was back in August–when people were saying, 'Oh, we are going to right into recession.' Yet, no economist you talked to had a prediction for a recession in 2008.
ANDREW ROSS SORKIN: Do you think it a mistake for the Fed to do it then?
BRIAN THOMAS MOYNIHAN: I think it was a mistake did what they should have done, which was to provide a safety net as the Chairs called it, or insurance or whatever. And you can look back to the precedents of the Fed and they've been clear about where they stand. But as long as employment stays strong and wage growth is picking up, and that's the good news for the U.S.
ANDREW ROSS SORKIN: Would you raise interest rates?
BRIAN THOMAS MOYNIHAN: I think they are going to hold. And I think--
ANDREW ROSS SORKIN: I think they are going to hold. But do you think that is a mistake?
BRIAN THOMAS MOYNIHAN: I don't guess what they'll do. It doesn't really—help.
JOE KERNEN: You saw Dalio notes that there is not a Central banker in the world that wants the preempt inflation at this point. So, we're in big – we're -- no one is going to do it, so, we are going to get out, you know, we are going to mess up by letting the pendulum swing too far.
ANDREW ROSS SORKIN: That is the question.
BRIAN THOMAS MOYNIHAN: That is the debate. And we'll find out probably in five years whether that happened or not.
JOE KERNEN: You have a good story. You are in Davos now. And I'm surprised you admitted to doing buy backs. Have you got your act together -- your story together about why in your case buy backs are not horrible? A way not to take it out of employee's pockets and put it back in shareholders, CEOs pockets?
BRIAN THOMAS MOYNIHAN: Well, let's think about that. We, last year, we bought back a lot of stock. And what did we do? We went from $20/hour for minimum starting wage in our company, beginning in this quarter. Two years ago—a year ago, I told you it was going to take us two years.
We did it in one year. We did $1,000 special bonuses in cash to everybody under $100,000. And we did shares above that. We just had a large bonus pool that we'll pay out over the next few weeks. So, we are sharing success to our teammates. We've generated record amounts of small business loans. We're the largest small business lender.
JOE KERNEN: What is the justification for the buy backs, though? I'm sure you could have found – that would have been a better use than the buy backs.
BRIAN THOMAS MOYNIHAN: --this is a hard sort of conceptual debate.
JOE KERNEN: Playing devil's advocate.
BRIAN THOMAS MOYNIHAN: Our issue is not capital. Our issue is expense dollars. And so, we--
JOE KERNEN: Banks are -- capital.
BRIAN THOMAS MOYNIHAN: And so, we have more capital. And what we're using is we're using the excess capital, we built up in the early part of the decade that Becky referenced earlier and we're giving it back to shareholders. And that's what we're up to. So, we can both do buy backs and deliver what society needs from our teammates, from $250 million to charity, $5 million to low-to-moderate income housing, hired 6,000 people from low-to-moderate income neighborhoods. If that's not a great track record--and we're doing buy backs. The point is, you can do both, if you manage both outcomes.
ANDREW ROSS SORKIN: We are going to hear from the President in just about 20 minutes. Is there something you want him to say?
BRIAN THOMAS MOYNIHAN: You know, I think predicting what comes out of Davos--
ANDREW ROSS SORKIN: Not predicting what he's going to say. But, is there something you'd like him to say?
BRIAN THOMAS MOYNIHAN: Well, I think the idea of keeping work on the trade deal, so that the global economy can continue to function with more certainty, I think would always be a great thing. And I think that resolution with China, the USMCA starting to move through the system, and ultimately, something has to happen with Europe and other countries, because we need in a tax deal with France, these are all important pieces of the --
JOE KERNEN: Schwarzman is going to come on here in a second and say that was a transformative deal in China. Not just a truce where we stop hitting our head against the wall, and just, you know, arrive at some truth. But actually, transformative in terms of changing the way we do business with China in a positive way. Do you agree with that?
BRIAN THOMAS MOYNIHAN: I agree it's a positive thing to get the deal done. I'll let—
JOE KERNEN: Just to get it done or—
BRIAN THOMAS MOYNIHAN: --predicting what the President is going to say and predicting what Steve is going to say is probably --
JOE KERNEN: They might be on the same page.
BRIAN THOMAS MOYNIHAN: Yeah. They might be on the same page.
BECKY QUICK: You are also the head of the International Business Council. And I know you've been looking at a lot of things that have been circulating through Davos, talking about sustainability and other issues. I think you have some news about what Bank of America is up to with some of those issues right now.
BRIAN THOMAS MOYNIHAN: Yeah, so we have had a commitment to environmental sustainability for a long period of time. I think the word sustainability is used in the Davos context as a broader one, I'll get back to that. But, when I became CEO, we had a commitment I think to $25 billion. We doubled it to $50. Four years ago, we went to $125 billion. And we completed it in four years. It was a ten-year agreement. So, given that, we've now announced a $300 billion commitment over the next ten years.
To make sure we can do that on a business basis, and drive the business, Anne Finucane who runs a lot of this for us, our ESG work and everything, is on a team with Tom Motag who runs the business, in a Sustainable Markets Council. Because the business opportunity to deploy that money is huge, whether it's green bonds, whether it's different types of financings for solar installations, wind installations and different technologies is tremendous.
So, every business has to give to the office in order to get $300 billion done. Whether it's small business making transition, medium-sized business or large, getting to carbon-neutral commitments, we can help finance that. So, we need the whole company to be driving at it. And Anne and Tom will drive that for us.
ANDREW ROSS SORKIN: Between what you're doing and the kind of things you're hearing from Larry Fink, do you think it's actually going to change the way business operatess? Meaning, do you think that companies are actually fundamentally going to change because they want a better score from Larry and because they want a loan from you?
BRIAN THOMAS MOYNIHAN: Well, it is even deeper than that. It's that we have to get – what we're working with the International Business Council is to define Klaus' Vision of Stakeholder Capitalism, starting 50 years ago through all the derivations, the BRT statement, the 2017 signature by all of us that we're going to support the SGTs, the 2015 SGTs. So, what you are trying to say is you can deliver profit, you can deliver success for customers, employees and shareholders. And you can deliver on the SGTs. And so, we're defining the metrics to judge that.
That ought to allow owners of assets, managers like Larry Fink of assets, and operators to say success is an along this dimension. So, to give you a simple way to think about it, Klaus and I sent out a letter, along with Fink, sent it out to everybody saying what date are you carbon neutral and can you commit to it?
And if all the companies, the partners of Davos, commit to carbon neutrality. We are carbon neutral as of this year, as a matter of fact. We made it year end. That will help drive the demand for the alternative energies that the power companies to get them carbon neutral. And so, that kind of iteration by having a simple set of 22 metrics is what we're shooting for.
BECKY QUICK: Is that a message that resonates with investors?
BRIAN THOMAS MOYNIHAN: It does. Because as you, to Andrew's point, as you go into investors now, the people that own the assets, our $3 trillion at Merrill Lynch, $25 billion of it is already in ESG funds and more of it is going there. But more, all investors are saying, Hey, I want you to invest in companies that are doing the right thing by society.
ANDREW ROSS SORKIN: Isn't there a cost for all of this? And the reason I say this is because for you to be carbon neutral, you are buying carbon credits from other people. And it effectively means that long-term, everybody can't buy carbon credits. Because there is not going to be enough of it.
BRIAN THOMAS MOYNIHAN: This is why the power companies have to make the real progress. Because, at the end of the day, the power generation scheme—
JOE KERNEN: It has to work though, too, Brian. I mean, The Journal had a great editorial on this, on whether down the road a lot of IPCC forecasts were way overstated on what the warming is going to be. If their wrong about how serious it is going to be in the next 20 to 30, 40 years, and you're forcing a to move into renewables where gigawatt prices is twice what it should be, it's going to hurt developing countries, it's going to hurt everyone, it's going to hurt shareholders. And making these decisions, it's going to have consequences. Being woke is going to have consequences if it doesn't work out right. So--
BRIAN THOMAS MOYNIHAN: So, the key is to think about that balance. And to let companies and let the industries and their owners drive it, as opposed to having it mandated. Whether we're going to be right--
JOE KERNEN: --BlackRock voted against 80% of climate initiatives in proxies.
ANDREW ROSS SORKIN: I did see that.
JOE KERNEN: It sounds great. And we're in Davos, and everybody is talking the talk.
BRIAN THOMAS MOYNIHAN: Well, I get that. People say isn't this green washing? And I say, which part of $300 billion do you understand is not green washing? This is not some small thought process. And it's a business force. And so, we do a lot of—so the point is—
JOE KERNEN: We'll see what happens. Like the guy who is going to talk in about an hour would say, we'll see what happens.
ANDREW ROSS SORKIN: He has a very different view of all of this.
JOE KERNEN: He does. He does.
ANDREW ROSS SORKIN: Okay.
JOE KERNEN: The economic sustainability. Just don't forget that.
BRIAN THOMAS MOYNIHAN: Record profits and delivering--
JOE KERNEN: Good job. Kudos, Brian.
BRIAN THOMAS MOYNIHAN: Hopefully that's good enough for you.
JOE KERNEN: I don't know. You never live up to your brother's expectation. That's all I know.
BRIAN THOMAS MOYNIHAN: Never live up to yours either.
BECKY QUICK: Brian, thank you very much for joining us today.
JOE KERNEN: Aspire.
BECKY QUICK: Brian Thomas Moynihan, Bank of America.
Updated on