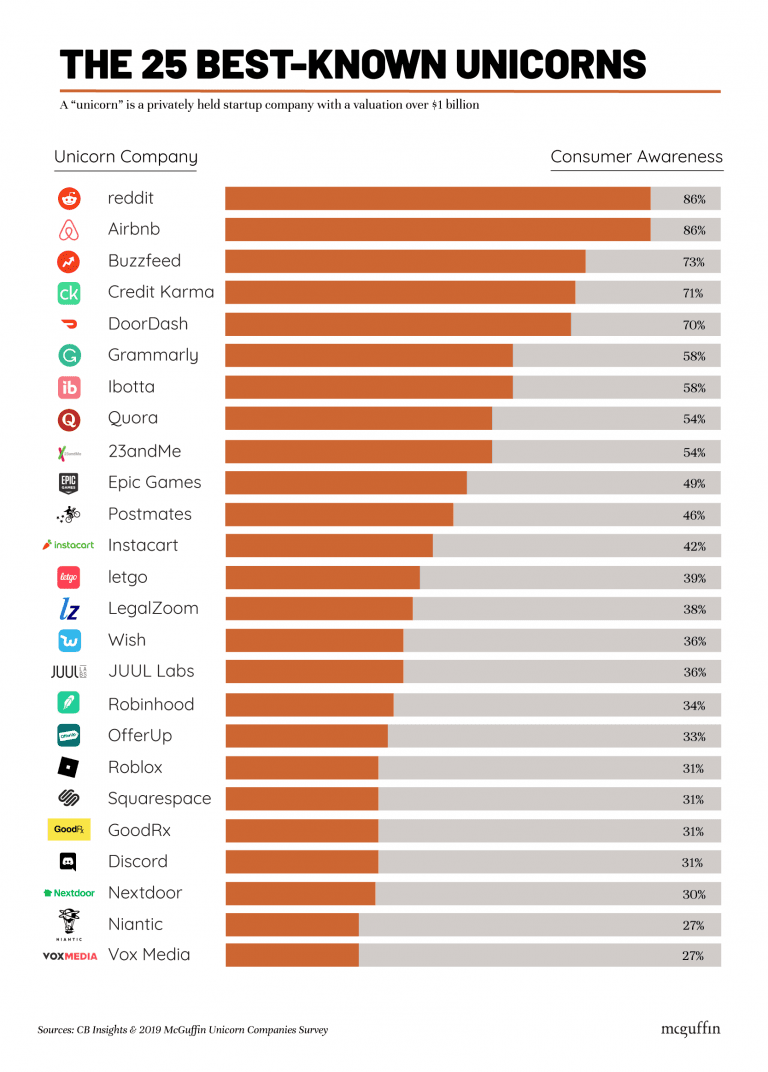 Unicorn companies are defined as a privately held startup company with a valuation over $1 billion dollars. The list of companies that have reached "unicorn status includes household names like best-known names such as Uber, Spotify and Twitter. There are currently 444 Unicorns worldwide according to CB Insights, 178 of them located within the US.

McGuffin Creative Group set out to explore the relationship between valuation and brand awareness among US-based Business 2 Consumer unicorn companies. To do this, they surveyed over 4,000 consumers to determine which unicorn companies' consumers are most familiar with. The analysis by McGuffin Creative group analyzed the top 25 best-known unicorns, how brand value aligned with consumer awareness, the fastest growing unicorns as well as demographic breakdown for the best-known unicorns by gender and by age.
Q4 2019 hedge fund letters, conferences and more
Connor Leonard Of IMC Explains: Here's What Value Investors Should Know About Moats
When it comes to value investing, one strategy that's often used is seeking out companies which have sizeable moats against competition. In a presentation for the Value Investing Club at Google earlier this year, Connor Leonard of the Investors Management Corporation explained two ways of looking at moats and how value investors can benefit from Read More
Reddit, Airbnb, Buzzfeed, Credit Karma and DoorDash are the best-known unicorn companies. Listed below is the full top 25 list ranked from top levels of consumer awareness to least:
Reddit (86%)
Airbnb (86%)
Buzzfeed (73%)
Credit Karma (71%)
DoorDash (70%)
Grammarly (58%)
Ibotta (58%)
Quora (54%)
23andMe (54%)
Epic Games (49%)
Postmates (46%)
Instacart (42%)
Letgo (39%)
LegalZoom (38%)
Wish (36%)
JUUL Labs (36%)
Robinhood (34%)
OfferUp (33%)
Roblox (31%)
Squarespace (31%)
GoodRx (31%)
Discord (31%)
Nextdoor (30%)
Niantic (27%)
Vox Media (27%)
Best-known unicorns by popularity
Reddit and Airbnb's popularity transcended age and gender differences to remain the two best-known companies on the list. While the bulk of the data tells us that a higher valuation leads to higher awareness, there are exception like JUUL Labs who is valued at $50 billion but is known by just 36% of consumers.
The second part of the analysis looked beyond the most well-known unicorn companies and focused on the fastest growing Unicorns. The fastest-growing unicorns are JUUL labs ($68.7M per day), Epic Games ($34.7M per day), Scopely ($20M per day), DoorDash ($18M per day) and Airbnb ($11.1M per day). Growth is indicated by the value added per day since the company joined the unicorn list.
The full list of fastest growing Unicorns can be seen below:
JUUL Labs
Epic Games (Fortnite)
Scopely (WWE Champions)
DoorDash
Airbnb
Coinbase
com
Robinhood
Wish
Root Insurance
Impossible Foods
Compass
Lemonade
Niantic (Pokemon GO)
Instacart
WeWork
Bird Rides
Postmates
Zume Pizza
Magic Leap
Lime
OpenDoor Labs
Vice Media
LegalZoom
Machine Zone (Mobile Strike)
The last part of the analysis focused on demographic breakdowns for the best-known unicorns by gender and age. Men were most familiar with Reddit, Airbnb, Buzzfeed where women were most familiar with Airbnb, Reddit and Credit Karma. There was much more variance when it came to the generational familiarity with Unicorns.
To see the full breakdown of the most well-known unicorn startups by McGuffin Creative Group, see the graphics below.
Updated on