Small-to-medium enterprises around the world are all striving for success, with many already generating very high incomes and revenues. But what does it take to be the leader in your industry such as the likes of Amazon, Apple and Microsoft in the tech industry?

Tech giant Amazon's current yearly revenue sits at $265.468 billion, but how does the revenue of small businesses around the world compare to the tech giant's fortune? Latona's has analysed Eurostat and United States Census Bureau data to reveal how the revenue of small businesses compares to that of Amazon. You can view the full findings here.
Q4 2019 hedge fund letters, conferences and more
[Exclusive] ExodusPoint Is In The Green YTD Led By Rates And EM/ Macro Strategies
The ExodusPoint Partners International Fund returned 0.36% for May, bringing its year-to-date return to 3.31% in a year that's been particularly challenging for most hedge funds, pushing many into the red. Macroeconomic factors continued to weigh on the market, resulting in significant intra-month volatility for May, although risk assets generally ended the month flat. Macro Read More
The findings compare the total number of SME's in a country that equates to the value of the tech giant, Amazon, with some countries seeing over 500,000 SME's total revenue only just meeting that of Amazon's revenue.
So what does the SME market look like across the world compared to Amazon's revenue? See the top 10 below: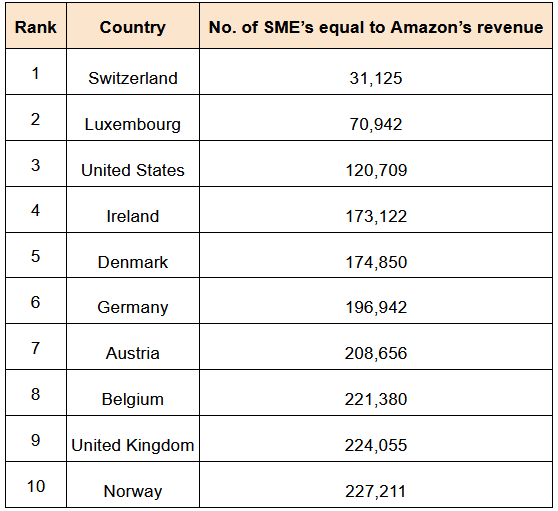 Coming out on top is Switzerland, where the average turnover of a small to medium enterprise (SME) is an impressive $8.53 million. This puts Swiss SMEs far ahead of the competition in terms of revenue, as the second-highest average SME turnover is $3.74 million in Luxembourg. This means that it would take the combined turnover of over 31,000 Swiss SMEs to match Amazon's, which currently stands at $265,468.
Average SME turnover
Ireland's SMEs come in 4th place, surpassing the UK's by quite a margin, with the UK coming in 9th place. Ireland's average SME turnover is at $1.53 million while the UK's is $1.18 million. While this is an impressive achievement for Ireland's business sector, it still puts them way behind Amazon's gigantic turnover, which is equivalent to 173,122 Irish SMEs and 224,055 UK SMEs.
The US is inching slightly closer to Amazon's turnover, with an average SME turnover of $2.20 million putting them in 3rd place in the race to meet Amazon. However, the race is clearly more of a marathon than a sprint as it would still take the combined turnover of 120,709 US SMEs to match Amazon's turnover.
Coming in sixth place is Germany, home to a number of huge car companies with the likes of Mercedes, BMW and Audi generating a lot of money for the country's economy. However, Germany's SME's still have a long way to go to compare to the tech giant, Amazon. In fact, it would take 196,942 SMEs combined turnover to equal that of Amazon, with the turnover of one SME in Germany averaging at $1.35 million per annum.
Just making it into the top 10 is Norway whose SME's average annual turnover sits at $1.17 million,   over seven times less than that of Switzerland's SME's. Amazon's huge yearly turnover is equal to 227,211 SMEs in Norway.
Amazon vs SMEs
But which countries are struggling the most to battle with the likes of Amazon's huge revenue? Coming in 20th place is Cyprus with the average SME turning over $470,000 each year. This means a whopping 559,122 SME's in Cyprus would equate to the revenue of Amazon. Coming closely behind in 19th place with 557,025 SME's equaling Amazons yearly wealth is Slovenia. Third, from bottom is Spain where the average turnover of an SME is $510,000 meaning it would take the turnover of 523,682 SME's to reach Amazon's yearly turnover.
With Amazon's giant platform only set to rise in the next few years, with constant new developments such as the Alexa and Echo dot, will Amazon still be top in a few years time or will some of these SMEs be leading the way in their industry?
Rick Latona, Director of Latona's, comments:
"Our research shows the huge scale of Amazon's wealth in comparison to SMEs around the world but it also shows that both in Europe and the US there are millions of small businesses thriving, and expanding. 
It's great to see smaller countries like Belgium and tech-forward Estonia making it in the top 20. It just goes to show that innovation and hard work are the cornerstones of a successful business.'

Updated on